David Coulthard column: Hamilton parks private life in Hungary

By David Coulthard
BBC F1 co-commentator
Last updated on .From the section Formula 1
I have to admit I had not been paying attention to the ups and downs of Lewis Hamilton's love life, so I only became aware that he was not in a happy place when we did his BBC interview after the race and he said he had been finding it really difficult to focus on his racing.
Sometimes people ask you as a Formula 1 driver whether your mind wanders to other things. Well, when you're in the car in real moments of intensity, you don't think about anything else.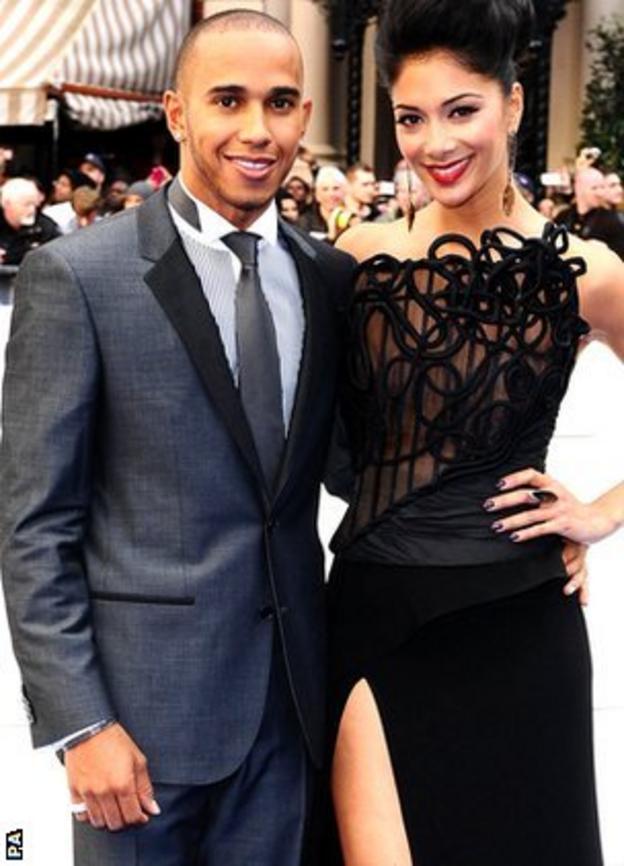 When his engineer spoke to him in the race, Hamilton's attitude was: "Leave me alone, man, I'm concentrating."
I said after qualifying that his pole position was as flawless as the diamonds in his ears. Well, the same goes for his drive in the race.
What I really enjoyed about it, compared with the win his team-mate Nico Rosberg took in Monaco, was that he was clearly pushing hard for the whole grand prix. That was impressive.
Encouragingly for Mercedes, they did not suffer the rear-tyre problems they have been having in other races this season - although Hungary has a relatively low average speed so they have not necessarily gone for good - and off the back of that race, Hamilton and Mercedes have to consider themselves in a position to erode the lead Red Bull's Sebastian Vettel has in the championship.
That said, the German is not going to be out of the top three very often even if Mercedes start a period of dominance, so it may well be that he has done enough in the first half of the season to secure a fourth title.
What Sunday's win also does is validate Hamilton's move to Mercedes.
I'm not sure that was even an issue, but it was interesting that before the weekend he felt the need to confirm that he still believed it was the right decision to make the move from McLaren. Either Hamilton has read some criticism or has been asked some questions, because he clearly felt the need to reaffirm that he was very happy with the team.
Throughout the weekend, in fact, he was his usual open self - and amazingly so after the race. He almost used the victory as a mating call to his former girlfriend Nicole Scherzinger.
It's admirable that he is so comfortable in his own skin that he doesn't hide anything - once the business of racing is done, at least. He's perfectly happy for you to know when he's having family problems and when he's having girlfriend problems.
The story of Lewis Hamilton the racing driver is so much more than what happens on the track - you get an insight into what's going on in his life day to day.
It's such a contrast with someone like Fernando Alonso, for example, about whom we know almost nothing apart from his sporting record. Hamilton lays himself bare.
On the subject of Alonso, the paddock was alive on Sunday morning with the revelation that his manager had had a meeting with Red Bull team principal Christian Horner over the weekend.
We mentioned in this column last time that Alonso had to be questioning his future at Ferrari and I think this development is real on a number of levels.
First of all, it's a manager's job always to know what the options are and clearly there is an option at Red Bull that wasn't there in the past.
It's as flattering - and destabilising - for Red Bull to have to take a meeting with someone who is a serious contender as it is flattering to Alonso and destabilising to Ferrari to hear rumours that their star driver, their main asset, might be going somewhere else.
I know that my former team McLaren would always talk to other teams' drivers, even if they had no intention of signing them.
You are gathering intelligence - it's amazing what you learn in that sort of pillow talk - and you can destabilise the other team by pretending you'll pay twice as much and give the driver four times the love. It's part of the game of F1.
Will Alonso go to Red Bull? I think it's less likely than Kimi Raikkonen or Daniel Ricciardo going there. But that's nothing more than a gut feeling - based on all sorts of contractual issues, as well as Vettel's interview with the BBC's Lee McKenzie after the race.
Vettel was very clear that he would rather have Raikkonen over Alonso, and let's not underestimate his influence in that decision.
Another big talking point in Hungary was the two penalties earned by Romain Grosjean in the race.
The Lotus driver has had a couple of strong weekends now, and on balance he was fast and secure and making a race of it in Hungary.
I said in the commentary that I felt for him, but in actual fact the penalties were justified.
The incident with Jenson Button was a bit clumsy - Grosjean did not give the McLaren enough room and the Frenchman missed the chicane.
The rules are quite clear - you are not allowed to gain an advantage by going off the track. Grosjean could argue he was past Button before the chicane, but if he wasn't trying to overtake then he wouldn't have missed it. So he had 20 seconds added to his race time on the basis of what a drive-through penalty would have cost him.
He also got an actual drive-through in the race for going outside the track limits when passing Ferrari's Felipe Massa a few laps after the Button incident.
It was a brave move and he pulled it off.
Now, if you went through there on your own and ran wide by going half a tyre's width beyond the white line, as Grosjean did, you would not get any penalty. And if you did it repeatedly, you would probably get a warning.
I understand that people probably think it's harsh because it was an exciting overtake on one of the most difficult corners on the track, but the bottom line is that in overtaking he went beyond the circuit limits.
In golf, if you touch the ball, it's a stroke. In tennis, if the ball is over the line, it's out.
If it's only a millimetre out, and it was a great shot, should it be called in because it was so close?
Out is out, and ultimately the stewards have the final say.
David Coulthard was talking to BBC Sport's Andrew Benson