Lewis Hamilton's Hungary GP win shows he is F1 title contender

By Andrew Benson
Chief F1 writer
Last updated on .From the section Formula 1412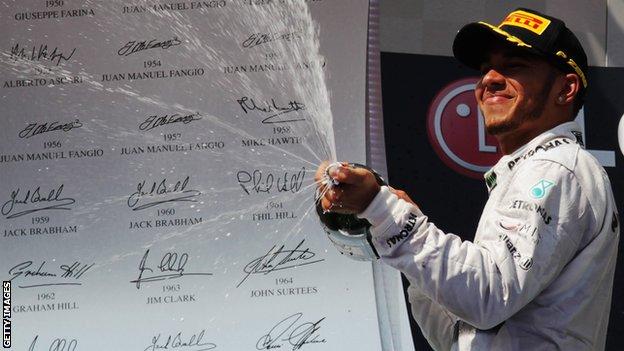 Lewis Hamilton's dominant victory in the Hungarian Grand Prix made clear something that should have been more obvious already - the Mercedes driver is a genuine world title contender.
Hungary was the effective mid-point of the 2013 season - the 10th of 19 races, and the last before F1's summer break. The general perception of the first half of the year for Mercedes is one of a super-fast car held back by its excessive rear-tyre usage.
That perception is accurate, but even allowing for the team's tyre problems - on which count, Hungary augured well - their performances are starting to form a pattern that spells danger for Red Bull's Sebastian Vettel.
Hamilton is 48 points behind championship leader Vettel, with nine races left and 225 points still available.
Closing that gap will not be easy. But on the form Hamilton showed in Hungary, Vettel is far from out of reach. He said on Sunday evening he felt the Mercedes was fast enough to potentially win all the remaining races.
"The tyres are going to play a massive part," he said, "but I truly believe in this car. It feels awesome."
Since the start of the Monaco Grand Prix weekend in May, Hamilton has scored only nine points fewer than the German. That includes a mistake behind the safety car that dropped him from second to fourth in Monte Carlo, and the tyre failure that robbed him of victory at Silverstone, where Vettel retired from a lead inherited from Hamilton.
Taking the best results of a Mercedes driver at each of those races - bearing in mind Hamilton's team-mate Nico Rosberg won in Monaco and inherited the victory at Silverstone - produces 17 more points than Vettel.
Meanwhile, there is another pattern emerging, which makes talk of a theoretical best Mercedes more than a merely interesting but ultimately irrelevant statistical 'what if'. And that is the steepening graph of Hamilton's own performances.
After six races, the qualifying score between Hamilton and Rosberg was 3-3. The Englishman looked uncomfortable, and complained he was struggling to adapt to the car.
He still is, albeit less so, but the comparison now looks very different. Since Rosberg took pole in Monaco - because his team-mate had not quite got his front tyres up to temperature for the start of his lap - Hamilton has out-qualified the German for four races in a row.
Hamilton also seems to have got on top of how to handle the tyres in races as well.
When heavy tyre degradation hit the team in Spain, Hamilton sank backwards through the field much more quickly than Rosberg, finishing 12th to Rosberg's sixth after they started together on the front row. But when it happened again in Germany four races later, Hamilton was in no worse shape than his team-mate.
It is beginning to look as if Hamilton was right all along - that there was much more potential in him waiting to be unlocked.
In other words, the bar set for Rosberg by Hamilton's speed appears as if it was artificially low early in the season, and the German was just managing to clear it. Only now is it beginning to become apparent where that bar really is.
The potentially exciting aspect of Hungary for Mercedes was the hint that the introduction of a new tyre design - aimed at preventing the multiple failures seen at the British Grand Prix - could have played into their hands and made them even more formidable than they already were.
The new tyre uses Kevlar composite in its construction rather than steel and it not only runs cooler, but dissipates the heat that builds up better.
The fact Hamilton could run at the limit in the 50C track temperatures of a baking Hungaroring and not encounter the excessive thermal degradation that hurt Mercedes so badly in Bahrain, Spain and Germany bodes well for the team.
Admittedly, the characteristics of the Hungaroring do not put high lateral loads into the tyres, but the same is also true of the Nurburgring, which hosted the German GP three weeks previously. And there, on the old type of tyre, Mercedes did run into excessive degradation.
Given the problems Mercedes have had with tyres for the past three years, it would be a fool who said they were definitely over them, but the signs are promising, at least.
There are, though, far sterner tests of Mercedes's tyre usage to come - and one of them is the next race, the Belgian Grand Prix at the demanding Spa-Francorchamps circuit on 25 August.
As Hamilton put it in Hungary: "You go to the next race and you never know what these tyres are going to do.
"But considering we're at the hottest race we're probably going to have all year and we had the performance we had, it gives me confidence that, at least out of this next nine races we have moving forward, we are going to have some more good opportunities to do the same as we did today. Especially as at Spa it's cooler, and cooler temperatures work even better for us."
As far as Vettel is concerned, the form of Hamilton and Mercedes is bad news in several ways.
Not only is Vettel's points advantage potentially vulnerable to Hamilton, but if the German team can go on a run, then Hamilton and Rosberg will also prevent Vettel picking up the big points. And it is wins that really make a difference to a points margin - as Vettel proved when he hauled in Fernando Alonso's 39-point lead with four consecutive wins last year.
A super-competitive Mercedes adds to Vettel's problems in another way, too. The 25-year-old is a phenomenon, but he is most comfortable when at the front.
As has been proved time and again, vulnerabilities show, both in his driving and in his mentality, when Vettel has to fight in the pack - as they did in Hungary, when he damaged his front wing on Jenson Button's McLaren and finished third when he might have challenged Hamilton for the win.
Vettel's typical victory modus operandi is to qualify at the front, blast off into the distance and then protect his lead. But given Mercedes's form - one of their drivers has been on pole for seven of the last eight grands prix - he can no longer count on doing that.
A Mercedes that can compete for regular wins would also make it harder for Vettel to extend his lead over the men who remain his closest rivals - Lotus's Kimi Raikkonen and Ferrari's Alonso - as well as open up greater possibilities for them to reduce their deficit.
Whether they have the consistent pace to threaten Vettel is another matter. But Lotus had the speed to beat him in both Germany and Hungary, and while Ferrari have slipped backwards, they have high hopes for a development package they are introducing for Spa.
Hamilton, though, is a mere 10 points behind Raikkonen, who is one ahead of Alonso, and Mercedes's form suggests that, while the Finn and the Spaniard remain Vettel's closest rivals mathematically, it may yet be Hamilton who becomes his biggest.
There were, I pointed out to Hamilton in Hungary, a lot of tracks coming up where he has traditionally excelled. I reeled them off - Spa, Monza, Singapore.
"Abu Dhabi," he interrupted, finishing my sentence for me. "So I'm really looking forward to the second half; that is usually my favourite part."