Kimi Raikkonen link has 'no foundation', say Ferrari

By Andrew Benson
Chief F1 writer
Last updated on .From the section Formula 1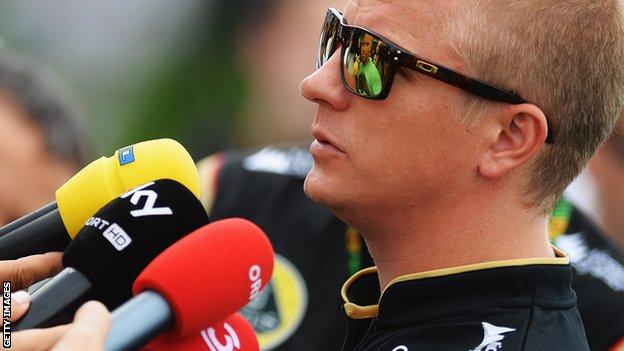 Ferrari say there is "no foundation" to claims they are considering Kimi Raikkonen as a team-mate for Fernando Alonso next season.
Felipe Massa, Ferrari's second driver, has had an inconsistent season and has been told to improve if he wants to retain his seat.
"Right now, we're really not giving any thought to the driver-market situation," said a Ferrari spokesman.
He added that the team were focused on reviving Fernando Alonso's title push.
"That is our priority," he said. "Drivers are not a problem for us even if we were to change Felipe."
Alonso is third in the championship, 39 points behind leader Sebastian Vettel of Red Bull, before the season resumes at the Belgian Grand Prix on 25 August following the summer break. Raikkonen is one point ahead of Alonso in second place.
Sources close to Ferrari say senior figures at the team believe Raikkonen would be the ideal replacement for Massa.
However, a decision to re-employ him would effectively be an admission that they made a mistake by paying off the Finn at the end of 2009, ending his contract a year early, when they signed Alonso.
At the time, they preferred to keep Massa alongside the Spaniard even though he was recovering from a fractured skull suffered in an accident at the 2009 Hungarian Grand Prix.
Raikkonen won the world championship for Ferrari in 2007, his first season for the team after five years with McLaren, but through 2008 and 2009 he was out-scored by Massa in the championship until the Brazilian's injury.
But Massa has struggled to regain the form that saw him narrowly miss out on the world title to Lewis Hamilton in 2008 and Ferrari may be attracted by Raikkonen's consistency.
He has finished every race since he returned to F1 at the start of 2012 following an unsuccessful two years in the world rally championship.
Ferrari are keen to employ a driver who will push Alonso harder than Massa has been able to do.
Despite Alonso's consistently impressive performances for Ferrari over the last four years, some in the team believe he does not always get the best out of the car in qualifying and that more pressure from his team-mate might force him to dig deeper.
Massa started this season impressively, out-qualifying Alonso in the first two races after a strong end to 2012, but his form has since dipped.
Ferrari president Luca Di Montezemolo's preference is said to be to keep Massa if the 32-year-old can prove he can deliver consistent results - as he did in the second half of last season after a similar warning from the top.
Other candidates for the drive are Sauber's Nico Hulkenberg, Force India duo Paul Di Resta and Adrian Sutil and Marussia's Jules Bianchi.
Other than Bianchi, who is in his debut season, the list is virtually identical to the one Ferrari had last season, when Raikkonen was also considered although at that stage he was under contract to Lotus.
Lotus are hopeful they can keep Raikkonen for 2014. They believe his preference is to stay with them and are working on persuading him that the departure of their technical director James Allison, who has joined Ferrari, will not harm their competitiveness; and that they have the resources to continue as a leading team.
Red Bull, meanwhile, are intending to decide between Raikkonen and Toro Rosso's Daniel Ricciardo for the seat that will be left vacant by Mark Webber's decision to leave F1 at the end of the season.