Daniel Ricciardo thinks he will get equal status if he joins Red Bull

By Andrew Benson
Chief F1 writer at Spa-Francorchamps
Last updated on .From the section Formula 1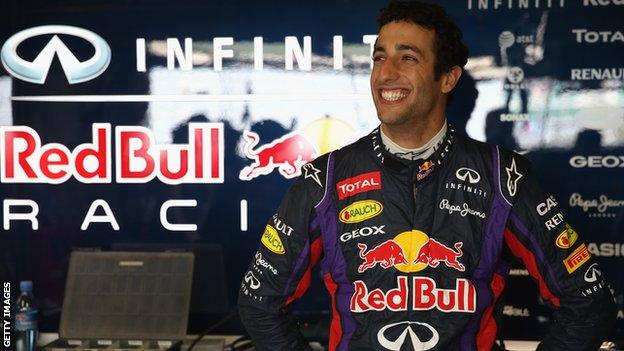 Daniel Ricciardo says he believes he will be able to race on equal terms with Sebastian Vettel if he is promoted to Red Bull next season.
The management of Kimi Raikkonen, the other contender, have said the Finn will not be driving for Red Bull.
"I'm sure if I was in a position to win a race in the future, I'd be allowed to," said Ricciardo.
The Toro Rosso driver added that it was "hypothetical".
It is a key issue because Webber, who is leaving Formula 1 at the end of the season, has several times not been allowed to challenge Vettel for races he believes he could have won.
And he and Vettel fell out earlier this season after the German disobeyed team orders not to pass Webber to win the Malaysian Grand Prix.
Ricciardo said: "I hear a little bit in the team about equality; people have different opinions on that.
"I'm sure if it was to all go forward and in my favour and if I was to get the shot there, I'd be given the same car and the same opportunity to show my skills, I guess. It wouldn't be a concern at all."
The 24-year-old said he had not yet heard from Red Bull about whether he would be racing for them alongside Vettel, a three-time world champion next year.
"The phone call, I haven't still got," he said. "So (it's) still a bit up for grabs.
"I can assure you I haven't heard anything from the people next door."
He said he was confident he would put up a good showing against Vettel, the most successful active driver in terms of titles won and ratio of victories to starts.
"If it was to all go forward in my favour, I would expect that of myself," he said.
"It's not an easy task but even though he has won three straight it's not been easy for him, I'll prepare and make sure I'm in the best position possible to make it all happen in a successful way."
Vettel admitted the idea of having Raikkonen as a team-mate appealed to him, but he was resigned to the partnership not being formed in 2014.
"Kimi would have been nice in many ways," he said.
"He is still young, I am still young, a lot of things can still happen so, never say never, but probably for next year, it is not going to happen."
Team principal Christian Horner insisted Red Bull had not made their final decision yet.
Asked why Raikkonen's management had ruled him out, Horner said: "I am sure Kimi's management should know what Kimi is doing.
"I wouldn't rule anything out at the moment. Until we finalise who is going to take the second seat, there is nothing much to say.
"Kimi is very much his own man. I think at the end of the day I am sure he will do what is best for him.
"We are in a fortunate position where there is an awful lot of interest in the seat and we have got a bit of time until we need to make any firm commitments, so we will use the time to evaluate the market fully and as soon as a decision is fully made then you will know very quickly.
He added: "You have to make sure you consider all the options and there are more options than you could possibly think."
Horner said the team would announce their decision "by the end of the European season" - which finishes after the Italian Grand Prix in two weeks' time.