Belgian Grand Prix: Raikkonen, Hamilton & Alonso must strike

By Andrew Benson
Chief F1 writer
Last updated on .From the section Formula 1211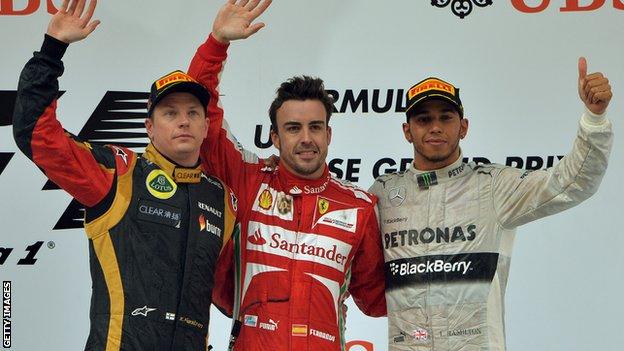 Formula 1 reconvenes after its summer break at Spa-Francorchamps this weekend, for the first of nine races in a hectic period that will decide the destiny of the 2013 world title.
This year's champion will be crowned in Brazil on 24 November - or some considerable time before that if Lotus's Kimi Raikkonen, Ferrari's Fernando Alonso or Mercedes' Lewis Hamilton cannot halt the seemingly unstoppable momentum of Red Bull's Sebastian Vettel.
The German, riding high on three consecutive world crowns and in the best team in the business, has been extending his advantage at an average of 3.8 points a race over this season's first 10 grands prix. If he continues like that, Vettel will have a fourth title wrapped up in Abu Dhabi on 3 November, with two races still to go.
If Messrs Raikkonen, Alonso and Hamilton want to do anything about that, they need to start in Belgium this weekend.
Other than in their dominant 2011 season, Spa - and the next race at Monza in Italy - have not been especially happy hunting grounds for Vettel and Red Bull. So the two races present an opportunity the German's rivals cannot afford to pass up.
Alonso has been Vettel's main challenger for most of the season, but the Spaniard slipped back to third place, a point behind Raikkonen, in Hungary, the last race before the month-long summer break.
Their swapping of positions was the result of a combination of two factors - Ferrari's slide into uncompetitiveness and two strong races for Lotus.
Raikkonen's only victory this year was in the season opener in Australia, but the Lotus had potentially race-winning pace in both Hungary and the preceding event in Germany.
That they did not win - losing out to Vettel at the Nurburgring and Hamilton in Hungary - owed as much to Raikkonen's grid position as anything else.
Starting sixth in Hungary and fourth in Germany gave him too much work to do in the race, putting him behind too many cars, although whether he had the pace to beat Hamilton at the Hungaroring is debatable.
For Raikkonen, it is the same story as last year. He is remarkably consistent, finishing every race since his comeback to F1 at the start of 2012, but the Lotus has so far lacked the outright pace to win on a regular basis. Given the team lack the resources of their three rivals, this has to be considered unlikely to change.
Ferrari do not lack for resources, but Alonso's problem is nevertheless the same as Raikkonen's.
The Spaniard only narrowly missed out on the title last year, but it was always close to a miracle that he even had a shot at it, the result of a combination of one of the greatest seasons by any driver ever and a unique set of circumstances at the start of 2012.
Ferrari actually started this year on a far stronger footing than they did last year.
Alonso won two of the first five races in impressive style. And had it not been for mistakes by driver and team in Malaysia and Bahrain, he would have been leading the championship after his victory in Spain in early May.
Since then, though, Ferrari's attempts to improve their car have not materialised, and they seem to have been negatively affected more than most by the enforced change of tyre specification in Hungary following the unacceptable series of failures at the British Grand Prix.
From qualifying in the top three on a regular basis in the early races, Alonso has more recently been fighting to scrape into the top five or six.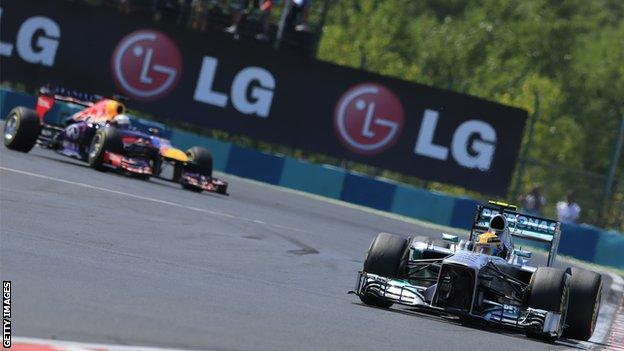 Alonso remains the best race driver in the field, nearly always fighting up into podium contention even if he starts at the wrong end of the top six, or even lower. But Hungary was a low point, and he could manage only fourth, never close to being in contention. It was an alarming sign for him and the team.
Thirty-nine points behind Vettel with only 225 still available, Ferrari know full well the championship is slipping through their fingers, their long-standing struggles with aerodynamic development coming back to hamper them again and again.
Team insiders are admitting privately that they simply have to claw back Vettel's lead in the next two races and get the car back into a position where Alonso can compete at the front from Singapore at the end of September, when the long-haul 'flyaway' races that end the season start and development becomes harder than ever.
But how realistic is it to expect a giant leap forward from Ferrari when it is nearly three years since Alonso's last dry-weather pole position?
Alonso will fight to the end, but if he cannot make up ground in the next two or three races, his team may find it hard to resist the temptation to switch more of their focus to the demands of 2014 and the new engine rules.
It is the fundamental lack of outright pace of the Lotus and Ferrari so far that mean Hamilton could yet prove to be Vettel's biggest threat over the second half of the season.
Mercedes are on a roll after six poles in the last seven races and three wins in the last five. More than that, Hamilton's victory in Hungary, held in track temperatures that nudged 50C, suggested the team might finally have got on top of the excessive rear tyre use that has hampered their race form since 2011.
Although temperatures at Spa will be nowhere near those of Hungary, the track's demands on tyres are far greater as a result of the high speeds and demanding long-duration corners.
If Mercedes can keep their tyres in good shape there, and match their domination of qualifying with the sort of race form Hamilton showed in Hungary, then the 28-year-old could become a real threat to Vettel, even with a 48-point deficit.
On the balance of probabilities, though, it is hard to see Vettel being beaten. Already immensely impressive, he has driven beautifully this season, matching his blistering qualifying speed with remarkable consistency.
In 10 races, he has won four and failed to finish on the podium only three times. Two of those were close fourths and the other when he retired from the lead at Silverstone - which he inherited from Hamilton - with a broken clutch shaft.
Vettel is not unbeatable, though, and Hungary - where he damaged his front wing in an ill-judged manoeuvre on Jenson Button's McLaren - showed he still has the same vulnerability to costly mistakes under pressure he always has.
But to make them, he has to be under pressure in the first place. And even if the others can start winning more regularly, it is hard to imagine he will not be racking up big chunks of points at almost every race.
If anyone is to beat him over the remainder of this year, it will take a massive effort.