Kimi Raikkonen 'wants Ferrari return' claims Eddie Jordan
Last updated on .From the section Formula 1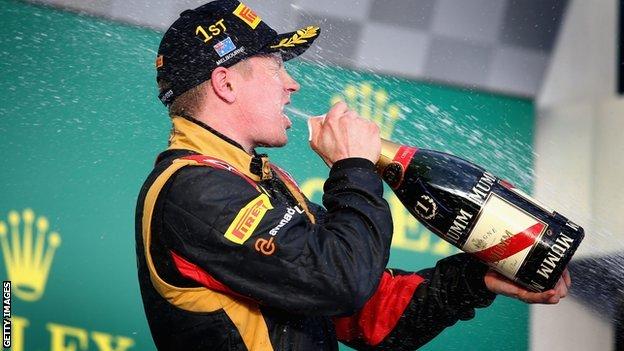 Kimi Raikkonen is targeting a move to Ferrari following Red Bull's decision to sign Daniel Ricciardo, BBC F1 chief analyst Eddie Jordan says.
A deal for the Finn to return to the team for whom he won the 2007 title may be announced as soon as next month's Italian Grand Prix, Jordan said.
Ferrari said the claim was "not true" and that no decision had yet been made.
Jordan added that Ricciardo, 24, had already signed to partner Sebastian Vettel at Red Bull next season.
Ricciardo's promotion from junior team Toro Rosso is to be announced at this weekend's Belgian Grand Prix, Jordan said.
A Red Bull spokeswoman said: "We don't have anything to announce at present but will advise when we do."
A Ferrari spokesman said the Italian team were concentrating on improving their car to boost Fernando Alonso's title challenge.
He added: "This is the exact same scenario as last year - with not only Kimi but a long list of other drivers allegedly going to Ferrari.
"At the moment our priority is produce the car for Fernando and Felipe (Massa) and a decision on the 2014 line-up will be made at the appropriate moment, which is not right now."
On Monday, Raikkonen's manager Steve Robertson told BBC Sport's chief F1 writer Andrew Benson that the 20-time grand prix winner, 33, would not be driving for Red Bull next year.
Robertson said: "Talks broke down. We haven't spoken for a little while and it's clear Kimi won't be driving for Red Bull in 2014.
"Kimi's a free agent. He still has options out there.
"There's a lot of things happening behind the scenes and I'm pretty confident he will be in F1 next year."
Asked specifically whether Ferrari were an option, he said: "Until they confirm their seats, my job is to speak to all the teams and see what's available."
Jordan said Raikkonen had made a return to Red Bull his first priority but when talks with the world champions broke down, he turned his attention to Ferrari.
He could also stay with current team Lotus for a third season.
Alonso is under contract until the end of 2016, but Ferrari are considering replacing Massa, who has had an inconsistent season.
BBC Sport understands that senior figures within the Ferrari team want Massa out and are keen for Raikkonen to return but that Ferrari president Luca Di Montezemolo is not keen on the idea.
Signing Raikkonen would be an admission they had made a mistake when they chose to end his contract a year early at the end of 2009 and pay him not to drive for them in 2010, when Alonso joined.
They preferred Massa as the Spaniard's partner, despite the Brazilian at the time recovering from a fractured skull sustained in an accident at the 2009 Hungarian Grand Prix.
Although Raikkonen won the title for Ferrari in 2007, Massa outscored him during the first of their two years together as team-mates, and was doing so again in 2009 at the time of his injury.
World champions Red Bull had made it clear they were choosing between Raikkonen and Ricciardo for the seat that has been made vacant for next season following Mark Webber's decision to leave F1 to drive for Porsche in sportscar racing.
Raikkonen was a known quantity and would be a choice they could guarantee would at least match the contribution Webber made to three consecutive constructors' world titles since 2010.
But Ricciardo's promotion will be a vindication for the Red Bull young driver programme, from which so far only Vettel has graduated to the senior team.
The 24-year-old is also likely to be a malleable choice who will play a support role for Vettel without the friction that developed between the German and Webber and which may well have emerged had Raikkonen, a former world champion, joined the team.
It remains to be seen whether Ricciardo has the ability to cope with the step up to the highest level of F1, and the pressure that brings.
His best result for Toro Rosso is a seventh place, although he has three times qualified sixth.