Belgian GP: 'The greatest racing circuit in the world'
Last updated on .From the section Formula 1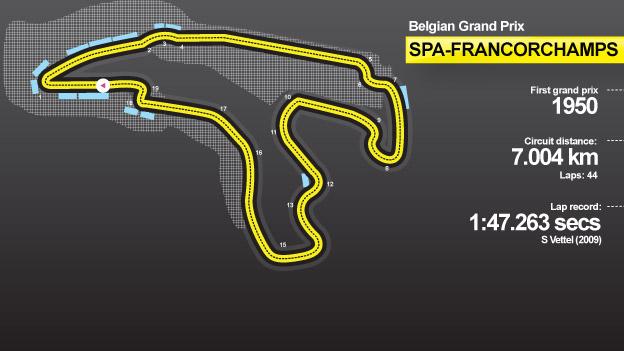 The summer holidays are over, the beach towels have been packed away and Formula 1 drivers and teams have made their way into the picturesque Ardennes forest region of Belgium for the 11th race on the calendar.
Reigning world champion Sebastian Vettel begins the second half of the season with a healthy 38-point lead at the top of drivers' standings but the Red Bull driver knows all too well that can change quickly.
Ferrari's Fernando Alonso arrived in Belgium 12 months ago in a stronger points position, but eventually lost out on the title to Vettel. The Spaniard will be determined to avenge that, starting with victory this weekend.
But Kimi Raikkonen of Lotus and Mercedes' Lewis Hamilton will also have their eye on standing at the top of the podium. Raikkonen has won four times previously at Spa while Hamilton - winner of the last race in Hungary - seems to have hit form at just the right time.
The title race could be about to get very interesting...
The track
At 7.004km, Spa is the longest circuit on the calendar. It is also one of the fastest, with an average speed of over 140mph. That, coupled with challenging corners such as the fabled Eau Rouge, Pouhon and Blanchimont, makes it a real test for drivers - but one they all relish.
The circuit's length also means strategy and tyre management can often prove particularly pivotal in determining the outcome of a race. The changeable weather conditions can also have a big say on events on the track and it is not uncommon for drivers to find themselves on a dry surface at one stage of a lap and on a soaking wet one at another.
Eau Rouge is a corner that proves particularly taxing on tyres - the downhill-left-uphill-right subjecting the front tyres to the heaviest vertical load of all the circuits. The corner also presents an overtaking opportunity for the very brave, while there are others at Turns One, Five and the Bus Stop chicane at the end of the lap.
The venue
Surrounded by hillsides, tall trees and farmhouses, Spa provides one of the most scenic destinations and is arguably the one adored above all others by drivers and fans alike.
Twisting and turning its way through the stunning Ardennes forest, the circuit is seeped in history and old-world charm. First used as a race circuit back in 1922, the venue hosted it's first grand prix three years later.
Originally measuring just over 14km using public roads, the circuit was reduced to its current length in 1979 and has been a permanent fixture on the Formula 1 calendar since 1983.
What the drivers say...
McLaren driver and 2012 winner Jenson Button: "Spa has always been on my shortlist of favourite circuits in Formula 1. I still remember my first grand prix there, back in 2000, when I out-qualified Michael Schumacher in a Ferrari - that felt pretty special. Then I think back to my victory there last year: I had pretty much the perfect weekend - my car was fantastic, I got pole position and just led the whole race. It was one of the most satisfying wins of my career just because I felt strong and confident for the entire weekend."
Ferrari's Fernando Alonso: "Spa is a very special circuit that always gets your adrenaline pumping, what with the way the track rises and falls and the very quick corners, which all go to make it a really fantastic experience for a driver. One lap of Spa is like 20 at any other track, in terms of the excitement and adrenaline it generates.
Lotus's Kimi Raikkonen: "For me there have only been good memories from Spa and it's great to go racing there. You can't get the same kind of a feeling anywhere else. It's great to race with a modern racing car at a proper circuit which has such a great tradition. I bet every driver likes Spa. For me it is the greatest racing circuit in the world. It is my favourite place."
Force India's Paul Di Resta: "We usually do well in Belgium and everyone is determined to get back to the situation we had at the start of the year when we seemed to be punching above our weight."
Sauber's Nico Hulkenberg: "I am probably not the only driver to say Spa-Francorchamps is one of my favourite circuits. It's a track with a lot of history. It's an old-school circuit with great corners like Eau Rouge and Pouhon. I have great memories from last year, it was my strongest career finish so far finishing fourth, which was really good."
Marussia's Max Chilton: "I'm looking forward to my first experience of driving a Formula 1 car at what is a very special circuit. It's a different challenge, with the exceptionally long lap and fantastic mix of long straights and high-speed corners."
A classic Belgian GP
There have been many stunning races at Spa, but 2008 was particularly thrilling as it ended in Lewis Hamilton being penalised after a frantic battle for the victory with Kimi Raikkonen.
Felipe Massa was gifted the win, with BMW Sauber's Nick Heildfeld second, after Hamilton was adjudged to have gained an advantage by cutting the Bus Stop chicane during his late-race fight.
Early on during the race Hamilton lost the lead to Ferrari's Raikkonen but made his way back up the field to challenge the Finn with just a few laps remaining.
Then, typically for Spa, the heavens opened. But instead of cautiously bringing the cars home to aid their championship bids, two of the sport's biggest battlers relentlessly chased each other through the torrential rain.
Hamilton passed Raikkonen for the lead, but lost it for a second time after both drivers came perilously close to colliding with Nico Rosberg's Williams, which was crawling back onto the track after an off.
Raikkonen discovered a gap between Hamilton and Rosberg and squeezed through, before spinning just yards later, handing the lead back to Hamilton. The Finn recovered, but then slid unceremoniously into the wall chasing down the Englishman.
It turned out to be worthwhile practice for Hamilton, who went on to snatch the drivers' title from Ferrari's grasp on the final corner of the Brazilian GP during a similar late downpour.