Belgian GP: Race wins a challenge for McLaren, says Jonathan Neale
Last updated on .From the section Formula 1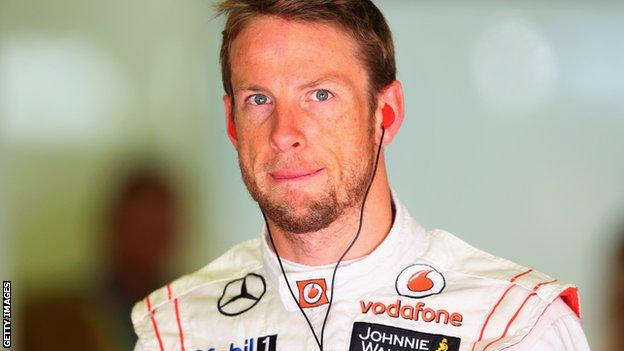 McLaren managing director Jonathan Neale says it will be "a real challenge" for the team to compete for race wins this season.
Neither of the team's drivers - Jenson Button and Sergio Perez - have managed a podium finish so far this year.
Button said before the summer break that he believed McLaren would be capable of winning a race this year.
But, speaking ahead of this weekend's Belgian Grand Prix, Neale said: "I think it will be a real challenge."
He added: "Both drivers are capable of scoring points and we have seen some double figure points scores, which is always pleasing.
"But we have certainly not achieved what we wanted to with this car, and there still remains an awful lot of work to do to make sure we properly understand that and get ourselves in good shape for next season."
Button returns to Spa-Francorchamps this week for the first time since what he described as his "perfect weekend" 12 months ago, when he won from pole position.
While the Briton does not expect a repeat of that success this weekend, he said last month he felt he could challenge for a podium.
However, Neale also suggested that will be difficult, saying: "Spa is a fantastic race; the drivers are always excited to get there and we love it as a circuit as well, but it's notoriously difficult.
"The weather forecast that I've seen says that qualifying and the race could well be wet this weekend, so Spa is tricky and I don't think anybody would go to Spa feeling that they were confident.
"I think we'll struggle to be right at the front but nevertheless we are hoping to make some further gains."
Apart from when they were excluded in 2007, McLaren have not finished lower than third in the constructors' championship in almost a decade.
They currently lie sixth in the standings with 57 points, 137 points behind Ferrari in third and 220 behind leaders Red Bull.
Neale admits the team's focus is primarily towards developing a competitive car for 2014.
"The areas that we're working on this car are areas that, either directly or indirectly, are relevant to our 2014 campaign," he added.
"Most teams by now will be switching the greater proportion of their resources and much of the design organisation across to next year's car.
"We're almost through August so it's four months until the end of the year.
"There's a lot of work to be done to get ready for next year."