Fernando Alonso: Ferrari boss rebuke down to misunderstanding

By Andrew Benson
Chief F1 writer at Spa-Francorchamps
Last updated on .From the section Formula 1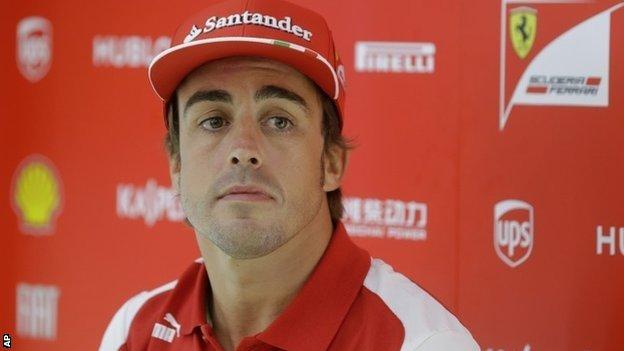 Fernando Alonso says Ferrari president Luca Di Montezemolo's decision to publicly rebuke him last month was caused by a misunderstanding.
But Alonso, who is third in the title race ahead of the Belgium Grand Prix, said: "It was wrong information coming to the president. (I said) nothing different to any other grand prix."
The double world champion insisted there are no problems between him and Di Montezemelo.
Alonso added that he had said "nothing different to defending the team and [trying] to do the best for the team and for our performance."
On his phone call from Di Montezemolo, which was made on Alonso's 32nd birthday, he said: "He is the father of this family, of Ferrari. He is a great motivator, a man who... tells us exactly what he expects from us, what he wants from us. Just that."
Alonso insisted rumours he could leave Ferrari at the end of the season are not true.
Asked directly by BBC F1 pit-lane reporter Lee McKenzie if he would be at Ferrari next season, Alonso nodded and said "yes".
He said Di Montezemolo had not even discussed the reports with him.
"The president is a very intelligent man (and is able) to separate what is rumours and what can be true," Alonso said.
"He never asked me. We have both been in F1 for many years now and we know what the summer break means in terms of rumours. It was never (a) question."
Alonso admitted he faced an uphill struggle trying to close the 39-point gap to championship leader Sebastian Vettel of Red Bull but insisted it is possible.
"It is difficult but we need to keep believing we can do it. We were 42 points behind in 2010 and I arrived in the lead (at the final race) in Abu Dhabi.
"Vettel was 41 points behind me last year after Monza and he arrived in (the penultimate race in) Austin in the lead.
"So the last two or three seasons we have some good examples of what we can do, or what we can hope [to do], if we do things right.
"For this we need to improve the car, we need to make some parts that work and the first steps in the programme [are] here in Spa. Red Bull will see some performance gain and we try to deliver what people expect from us."
Alonso said the forthcoming races in Belgium, Italy and Singapore would illustrate whether he, Lotus's Kimi Raikkonen or Mercedes' Lewis Hamilton would be Vettel's main rival.
Raikkonen is Vettel's closest pursuer, one point ahead of Alonso, while Hamilton, who won in Hungary, is 48 points behind the German.
Alonso said: "We have Spa, medium downforce, Monza, light downforce, Singapore, maximum downforce.
"These circuits - with completely different set-ups and configurations in the car - will tell us which is the main contender for Vettel [who] is the big favourite.
"Who will catch him or put him in some difficulties, we will see in the next races.
"After the form of Lewis in Hungary, he can chase for the title. Raikkonen will be there always because I think Lotus - with the tyre degradation they have - will be always a contender on Sundays and we hope and believe Ferrari will be in that group.
"We work for that with some changes we made (to the car) in the gap between races. More will come in Monza and more will come in Singapore. And in these three races we need to have the answers on our side. But I think Mercedes look good."
Vettel said: "I had a great first part of the season; we can be very happy with it. Looking at the calendar, it will be very busy for all of us but we have the same reason to be confident as at the start. Great team, great car - hopefully it is good enough to fight for victories in the next few races."
Hamilton added: "I feel we are in a good position. We have a good car and we should be competitive and take it one race at a time. I still feel Red Bull have the best car. So they are going to be tough to beat, but I don't think it's impossible."