Red Bull: Kimi Raikkonen & Daniel Ricciardo not only potential recruits

By Andrew Benson
Chief F1 writer at Spa
Last updated on .From the section Formula 1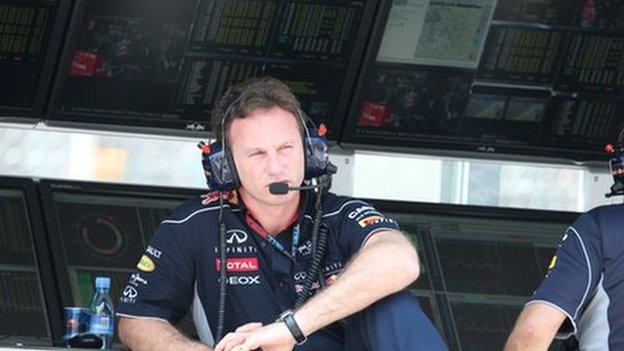 Red Bull are not considering only Kimi Raikkonen and Daniel Ricciardo for 2014, says team boss Christian Horner.
With Mark Webber leaving, Horner has a seat to fill, and told BBC Sport: "Kimi has a big chance to go to Ferrari. He is not the only other option."
He added: "There are only a few top grade drivers you'd be interested in."
He declined to say whether that meant Red Bull were contemplating Ferrari's Fernando Alonso but said Jenson Button was committed to McLaren for 2014.
Alonso, 32, and Button, 33, are the only other drivers who might fit Horner's description, along with Lewis Hamilton, though he is only in the first season of a three-year contract at Mercedes.
Alonso is contracted to Ferrari until the end of 2016, but there have been tensions between him and the team. The Spaniard was publicly rebuked by president Luca Di Montezemolo in an extraordinary public statement following the last race in Hungary.
Montezemolo's intervention has been interpreted as a message to Alonso, who is increasingly powerful within Ferrari, that he does not run the team.
Alonso said on Thursday he would be staying at Ferrari in 2014 but the team say they are not yet in a position to make a decision on who will partner the Spaniard next season.
McLaren have an option on Button for next season, which they are expected to take up.
Red Bull have a signed contract with 24-year-old Ricciardo, who drives for their feeder team Toro Rosso, as they look for a new partner for three-time world champion Sebastian Vettel.
That was finalised in a few days' intense work shortly after the Hungarian Grand Prix last month but since then there has been no further activity and Red Bull have not yet exercised their option on the Australian.
Sources close to the deal say there is no other explanation for that other than Lotus driver Raikkonen, at least, still being an option for Red Bull.
"I had no answer from them," Raikkonen told reporters in the paddock on Friday. "We will see what happens.
"You have to ask them what they will do. I don't know any better than you guys.
"We never heard anything for a while, which is not the ideal situation, but that's how it is."
But Raikkonen's manager Steve Robertson said earlier this week the 33-year-old Finn would not be driving for Red Bull next year.
Robertson told BBC Sport: "Talks broke down. We haven't spoken for a little while and it's clear Kimi won't be driving for Red Bull in 2014.
"Kimi's a free agent. He still has options out there."
Asked why Robertson would say that if Raikkonen was still an option for Red Bull, Horner said: "You'd have to ask him."
Horner denied there had been any disagreements with Raikkonen over the terms of a potential contract between the driver and Red Bull.
Red Bull motorsport chief Helmut Marko added they wanted the "two best drivers for the team".
Australian Webber, 36, announced in June he was leaving Formula 1 to join Porsche's new sportscar programme.