Suzuka extends Formula 1 grand prix contract until at least 2018

By Andrew Benson
Chief F1 writer at Spa
Last updated on .From the section Formula 1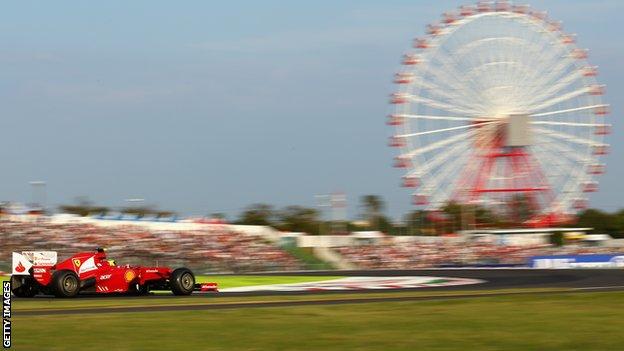 The classic Suzuka circuit will continue to host the Japanese Grand Prix until at least 2018.
The track, owned by Japanese car giant Honda, has signed a new five-year deal starting from 2014.
Suzuka is considered one of the greatest and most challenging race tracks in the world and is always cited by drivers as one of their favourites.
World champion Sebastian Vettel, who has won three of the last four races at Suzuka, said the track was "fantastic".
Vettel added: "We all enjoy it when we get to challenge ourselves, not only ourselves but also the cars, and really get the cars to their limit and feel, once or twice, on these special types of circuits, what the cars can do.
"The corner speeds we have just through the first sector at Suzuka is very impressive. I enjoy that a lot, to feel the speed, to really get that sensation.
"It's just a great level of satisfaction and that's why it's like a drug.
"You want more and more every lap and if you have a great car which fortunately I had the last couple of years, then it's just great to go for another lap and another lap."