Belgian GP: Michelin could replace Pirelli as F1 tyre supplier

By Andrew Benson
Chief F1 writer at Spa
Last updated on .From the section Formula 1148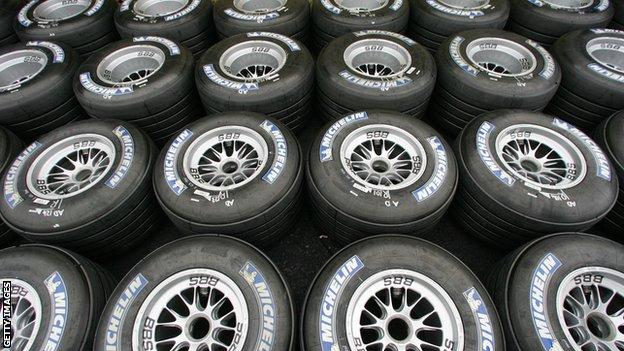 Michelin is in the frame to be Formula 1's tyre supplier next year.
The French company has had discussions with governing body the FIA about taking over from Pirelli, high-level sources say.
Michelin, which last supplied tyres to F1 in 2006, told teams it could produce the tyres, despite the late notice.
There is widespread discontent with current supplier Pirelli among teams and officials in F1 following a series of problems this season.
Most seriously, the specification of the tyres had to be changed to a more robust construction after multiple high-profile failures during the British Grand Prix at the end of June.
Michelin bosses are in favour of a return to F1, according to sources within the company, who say Ecclestone is to meet with Michelin director of motorsport Pascal Couasnon imminently.
A Michelin spokesman told BBC Sport the company would be "interested" in a return to F1, but said this would be contingent upon a change in the regulations.
Michelin would want a shift in emphasis in F1 away from the multiple pit-stop formula that has been provided by Pirelli's high-degradation tyres, at the request of the sport's commercial supremo Bernie Ecclestone.
It believes the current approach in F1 runs counter to the growing requirement and demand for environmental sustainability in automotive manufacturing.
Michelin had initially demanded that F1 shift to 18-inch wheels immediately, but has now softened its stance and would be prepared to stick with the current 13-inch wheels for no more than two years.
Michelin believes the 13-inch wheels have no relevance to road cars.
It was initially thought Michelin was opposed to the idea of being a sole tyre supplier with no competition, but the spokesman said that was not a problem "as long as there is a challenge within the regulations".
Michelin would want a chance to showcase its high levels of technology, including tread-free 'slick' tyres that can be used in wet weather.
Ecclestone has already signed a new commercial contract with Pirelli, who also have deals with a number of teams.
That raises the possibility of Michelin supplying tyres raced on tracks adorned with signage for Pirelli.
Meanwhile, Pirelli motorsport director Paul Hembery described the prospect of a tyre supply tender now, just months before the start of next season, as "farcical".
"Quite frankly, a tender in September, when we will be running in January, would be farcical.
"If you wanted to do that then it should have been done in September of last year. Everybody will look ridiculous in that scenario."