Sebastian Vettel's Spa treatment painful for Hamilton and Alonso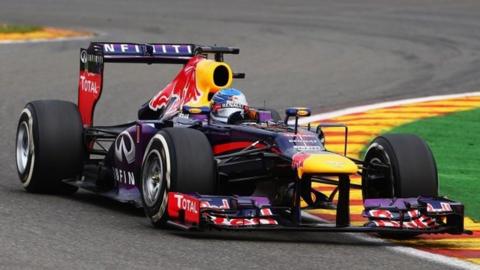 As reality checks go, it was a big one.
"You were so fast today," Lewis Hamilton said to Sebastian Vettel as they waited to go out on to the podium. "Jesus. Too quick. Too fast."
Standing slightly to one side, Ferrari's Fernando Alonso, who finished second between his two rivals, stared at the timing screens, taking in the bald statistics of the race.
Those screens showed that Vettel had finished 16.869 seconds ahead of the Spaniard. What Alonso would not have known at that moment, but had probably guessed, was that the German had been told to slow down and conserve his car as early as the third lap.
By the end of lap two, Vettel was already 2.8 seconds in the lead, having blasted past Hamilton out of Eau Rouge on the first lap and proceeded to disappear into the distance.
Even after backing off to ensure he did not over-work his tyres, Vettel was more than four seconds up on Hamilton after six laps.
He continued to edge away after Alonso had moved up into second place after passing Hamilton on the run down to Eau Rouge on lap 15. Sometimes Vettel pulled only a couple of 10ths on Alonso; on other laps it was nearly a second. The level of his domination was crystal clear.
Before the Belgian Grand Prix, the talk was all about how Hamilton was emerging as a serious threat to Vettel's position at the head of the championship. After the race, it looks as if only a run of catastrophic bad luck can prevent the German winning a fourth straight title.
"There's nothing you can do," Hamilton said. "It's difficult when people pull away from you and there is nothing you can do about it.
"I feel happy we've extended our lead ahead of Ferrari, collectively and also I'm up to third [in the championship]. So I have come and done what I planned to do. But it is difficult when he is pulling away at the rate sometimes he pulls away."
Hamilton has not enjoyed Vettel's domination of F1 over the last few years, largely because he is absolutely convinced within himself that it would be him doing all the winning were he at the wheel of the same car.
The two have been rivals since as long ago as 2005, when they were in Formula Three and Hamilton won the Euroseries, with Vettel finishing only fifth.
Alonso does not have the same historical comparison in the same machinery to bolster his belief that he could beat Vettel in the same car, but it's clear from some of the things he has said over the years that he thinks the same.
Whether either of them is right, of course, is a matter of conjecture, and they are almost certainly never going to get the chance to find out, much as the people who watch F1 would love to see it.
It seems certain that Daniel Ricciardo will get the Red Bull drive being vacated by Mark Webber at the end of the season, even if team principal Christian Horner continues to insist no decision has been made.
Four weeks ago, at the previous race in Hungary, the F1 world was buzzing at the discovery of what was claimed to have been an attempt by Alonso to express his interest in a Red Bull drive.
Sources within Red Bull insist Alonso's manager made a tentative approach to them; Ferrari, Alonso and his manager insist he did no such thing.
Whatever, the fall-out from that weekend was still reverberating around the paddock when everyone reconvened after their enforced break.
There were two main topics of conversation - the Red Bull vacancy; and the state of the relationship between Ferrari and its star driver.
The second had arisen as a result of the extraordinary intervention by Ferrari president Luca Di Montezemolo. Who, the team's own website announced, had phoned Alonso to "tweak his ear" about not showing enough support for the team.
Exactly what had exercised Di Montezemolo so much remains in doubt, but the message coming out of Ferrari in Belgium was that Alonso should concentrate on what he is best at - driving - and leave the team to take care of the rest.
The impression given was of a team at war with itself, but Ferrari insist this is not the case at all, that all they are focused on is getting their season back on track.
To a large extent, and whatever is going on behind the scenes, it would appear as if that has happened.
A mixed-up qualifying session, in which Alonso ended up ninth, confused the picture. But in the race Alonso proved what had been obvious if you looked at his sector times, or his performance in the first and second parts of qualifying, when he was first and second. The Ferrari was genuinely fast in Spa.
A typically brilliant first lap, mixing perfect race-craft with extreme bravery in passing Red Bull's Mark Webber into Eau Rouge - repeating in reverse the move Webber had pulled on Alonso two years ago - put him up to fifth.
He was third by lap six, dispatching Jenson Button's McLaren and Nico Rosberg's Mercedes with clinical efficiency, and then second by lap 15, when he passed Hamilton.
This was a brilliant piece of driving by both men, showing an awareness and respect from which some of the drivers who engaged in more questionable driving elsewhere in the race would do well to learn.
Hamilton made a mistake at La Source, allowing Alonso to pass him down the hill before Eau Rouge. But that meant Hamilton had use of the DRS overtaking aid as they went up the hill.
He seemed sure to re-pass his old rival but Alonso braked as late as he dared into the Les Combes chicane and just held on. He quickly pulled away - and just as quickly realised Vettel was out of reach.
As Alonso put it afterwards: "When you are the second fastest you deserve to be second."
Lotus's Kimi Raikkonen appears all but out of title contention after falling 63 points off the lead following his retirement.
Alonso and Hamilton still have a chance, but the difficulty of the task facing them was underlined by a throwaway comment by Red Bull team principal Christian Horner: "This race and the next one we were expecting to be perhaps our Achilles' heel as these tracks haven't been historically very strong circuits for us."
Red Bull may yet struggle as expected at high-speed Monza in two weeks' time; they may not. Either way, they look forbiddingly strong.
Alonso put out a fundamentally positive message after the race, but he is well aware of the size of the task at hand.
He reminded people about Ferrari's competitiveness at the start of the season, and pointed out that the team were back on track after a period when they were "lost".
This, he said, "gives us the possibility to get back to where we were" at the start of the season, when he won two of the first five races.
"If you can win four or five races you can recover very quickly," he said. "Whether we will be in a position to do that we will find out."
That would mean winning half of the remaining races while competing against Vettel, a man who has won five of 11 so far, and Hamilton, who has been on pole for four in a row.
It's a long shot, at best. For Hamilton, too.