Sergio Perez must be more careful - McLaren's Martin Whitmarsh

By Andrew Benson
Chief F1 writer at Spa Francorchamps
Last updated on .From the section Formula 1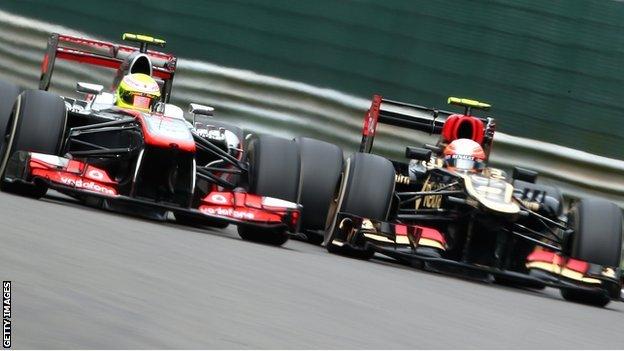 Sergio Perez must be "more careful" in close racing situations to avoid more penalties, says his McLaren team boss.
The 23-year-old Mexican was given a drive-through penalty for forcing Lotus's Romain Grosjean off the track during Sunday's Belgian Grand Prix.
McLaren team principal Martin Whitmarsh believes Perez is being targeted after a series of controversial incidents this year.
"When you're under scrutiny, you've got to watch it," said Whitmarsh.
Perez has angered most of the leading drivers with his tactics this year - Lotus's Kimi Raikkonen, Ferrari's Fernando Alonso, Mercedes' Lewis Hamilton and his own McLaren team-mate Jenson Button have all criticised him.
Many of the incidents have occurred following Whitmarsh's demand at the start of the season that Perez, who is in his first season with McLaren, should "get his elbows out" when racing, to establish himself as a leading driver who will not be intimidated.
"Inevitably, what drivers do when a young charger comes up, is that in drivers' briefings the experienced guys do try to gang up and create an environment where they are under some scrutiny," Whitmarsh said.
"I've seen that many times. One day Sergio will be one of those drivers."
Perez moved left towards Grosjean when passing him into the Les Combes chicane, failing to respect the rule that dictates a driver moving back towards the racing line must leave at least a car's width between his car and the edge of the track.
Whitmarsh said he felt that the penalty for the incident at Spa was "pretty harsh", pointing out that there was a similar incident between Sauber's Nico Hulkenberg and Toro Rosso's Jean-Eric Vergne, who "both did worse with no penalty".
But Whitmarsh admitted Perez had to be more careful considering he was under scrutiny because of the number of complaints about his driving this season.
"He's got to adjust that," Whitmarsh said. "I don't think [the manoeuvre] was that bad but on the other hand he was past, he could have given him another half a metre and he would have been clean and away.
"You can see he is looking over at the corner ahead of him. It's not deliberate but when you're in his position you've got to be careful. When you're under a bit of scrutiny you've got to watch it."