Paul di Resta left baffled by Pastor Maldonado's driving
Last updated on .From the section Formula 1
Paul Di Resta believes he would have been back in the points at the Belgian Grand Prix but for a collision with Pastor Maldonado that left him baffled.
Di Resta was left without the back end of his Force India car on lap 27 at Spa and was forced to retire from the race.
"I don't know what he was really thinking," said Di Resta.
"Points were on the cards. I got off to a bad start, falling to 11th at the first corner, but got back up to seventh."
Di Resta had started from a career-high fifth on the grid but is now on a run of three races without a point after failing to score in Germany and Hungary before the summer break.
"In Hungary, yes, we struggled, but here we bounced back well," said the 26-year-old. "That is where our car is, fighting for ninth, 10th if everything goes well.
"Everybody has done a good job reacting, all the engineers, and the effort put in has obviously paid off.
"It would have been points but for what happened with Maldonado. There was definitely a 10th place in there."
Maldonado clipped Di Resta's team-mate, Adrian Sutil before running into the Scot in an attempt to pit during the .
"In the process of taking me out, he probably could have taken another two cars out at the same time," said Di Resta, whose team-mate survived to finish ninth.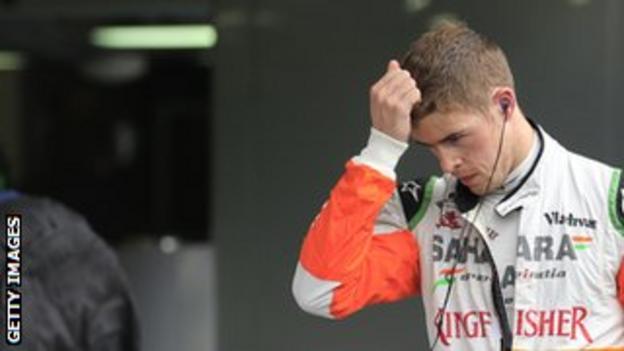 "I'm not going to point a finger, but it's pretty clear I was stuck where I was and there was nothing I could do to avoid it.
"It's a few times here the pit entry has caught a few people out.
"He wasn't going to make the pits, so I don't know what he was planning to do or where he was going.
"He made quite a mess of my car. He ripped the whole side out, from the radiator back. I'm surprised he carried on."
Neither man exchanged views after the race, nor was there an apology from Maldonado, who collected a stop-go penalty for the incident.
Maldonado, who finished 17th in his Williams, said: "Our lines crossed as I was entering the pits.
"It was a difficult situation because I was fighting hard with the Sauber and I didn't see Di Resta on the outside as I turned toward the pitlane.
"I tried to brake to avoid the accident, but it was too late."