Lotus are doing everything to keep Kimi Raikkonen - Eric Boullier
Last updated on .From the section Formula 1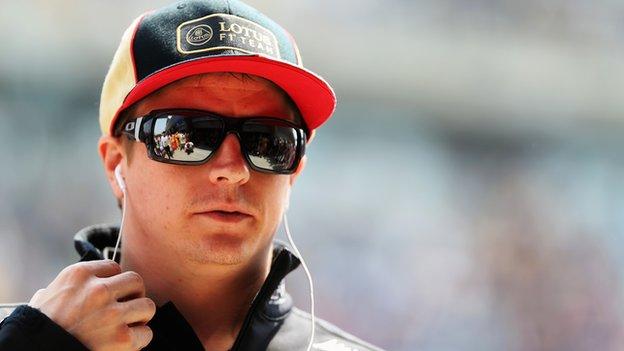 Lotus are doing everything they can to persuade Kimi Raikkonen to stay with them next season, the British team's principal Eric Boullier has said.
While saying he was hopeful that the 2007 world champion would not leave, Boullier admitted several unresolved issues need to be dealt with before any new contract talks could take place.
Raikkonen is 63 points behind leader Sebastian Vettel in the championship.
Frenchman Boullier added: "It's clear Kimi likes racing for us and would like to continue, which is a testament to all the hard work put in by everyone.
"From our perspective, we can see what a complete driver he is and how much he brings to the team in many different areas.
"Kimi wants to be assured we have everything in place to tackle the significant changes we will see in the sport next year.
"We're working hard to assure him Lotus is where he should be, and piece by piece we are getting all our ducks in a row."
In last Sunday's Belgian Grand Prix, brake failure forced Raikkonen out of a race for the first time in 39 grands prix.
Lotus believe the problem was caused by a helmet visor tear-off that blocked a cooling duct, so overheating the component.
Boullier concedes if Raikkonen is to remain in the title hunt over the remaining eight races, starting in Italy next weekend, he and the team cannot afford another retirement.
"We're studying all the data and working on ways to avoid a similar situation from happening in the future," added Boullier.
"It was unfortunate for Kimi to experience his retirement, but this is sometimes part of motor racing, so we must now switch our focus to Monza.
"We need to get Kimi back on the podium and consistently. His 'Did Not Finish' in Spa was the first he has had with Lotus and we certainly don't want to see any more this season.
"We all know the gap to Sebastian is not getting any smaller, but behind Seb the battle is quite tight as we've seen over the last few races."