Lewis Hamilton column: My respect for F1 legend Niki Lauda
Last updated on .From the section Formula 1408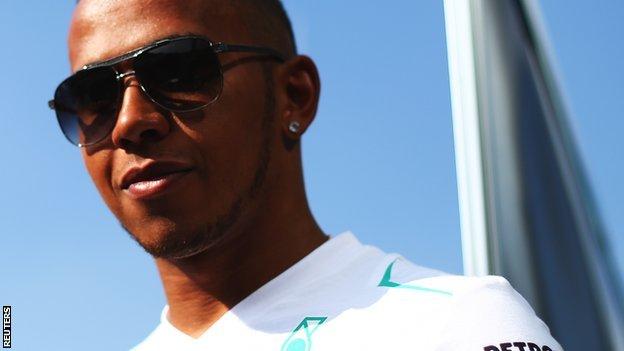 You've probably heard about the new movie Rush, which tells the story of James Hunt and Niki Lauda's championship fight in the 1976 season. I saw it a couple of months ago and can really recommend it.
Motorsport does not often translate that well to the big screen - I can think of one racing movie that has to be about the worst film I have ever seen - so I was a bit nervous to see what this one was going to be like, but it works really well.
The actors have done an incredible job to give an insight into the personalities and it reminds you that F1 back then was properly hardcore. So naturally your respect and appreciation for those individuals takes another step.
It was especially interesting for me because of how closely I work with Niki these days.
He is the non-executive chairman of my Mercedes team and obviously our relationship has grown since we started negotiating my coming here last year, and then when I joined the team in January.
We get on really well and I feel like we are kindred spirits in some ways. I think Niki has realised that we have a lot more in common than he would perhaps ever have thought.
Niki and I don't talk about the old days - we're worrying mostly about how to make the car faster - but I read about his career when I was younger and the big screen brought it to life even more.
He is an exceptional individual and he was a great driver.
I had never really thought much about what he went through after his fiery accident at the Nurburgring in 1976, but the movie really brings it home.
You certainly cringe a little bit when he comes back to racing just a few weeks later and has to force his helmet on over the bandages that are covering his burns.
You can just imagine the pain he was going through and it says a lot about his courage and sheer determination to get back into racing.
I would feel exactly the same. When I was really young, I busted my nose when I was racing.
The first thing my dad asked me was: "Are you OK?"
I said: "Can you fix the car for tomorrow?" And I won the race the next day.
That's obviously nowhere near as bad as what happened to Niki, but it's one of the reasons I feel I can relate to him.
Sometimes it takes time to find people in the sport who share the same opinions and approach to racing as me. Niki is one of the few who seems to - and sometimes I wish we were racing together in F1 at the same time.
It is such a safe sport these days, but some drivers still complain about run-off areas and so on. Niki played an important part in safety back in his day - as he had every right to do, because it was incredibly dangerous - but he still went out and put the car on the limit.
He was an out-and-out racer like I am. That's why we get on really well.
Paying tribute to David Frost
I was shocked to hear the sad news about Sir David Frost's passing earlier this week. He was a great man. His work ethic, will to win and desire to be the best in what he did was inspiring.
I was lucky to get to know him a little over the years and was actually one of the last people he interviewed when we met in London earlier this summer.
It was a big surprise to hear what had happened. When we'd met he was a little frail but sharp as ever.
He was so there in his head. He always had his facts straight and was very clear mentally.
I first met him when he interviewed me for Frost Over The World back in 2007 and we really gelled. We had a great chat on his show and it was always good to meet up with him again.
Sir David was a genuine fan of racing and who would have thought someone of his generation would be so supportive of me?
I was really not expecting it. He came to Silverstone this year and he was always just one of the lads - that's how I thought of him.
I've learnt to be respectful of anyone who manages to remain at the top of their game for so long. He achieved a lot and he was still out there working incredibly hard at his age, still wanting to get to the deep roots of any conversation he had.
It's great to meet people like that, who have touched so many people's lives. I feel very privileged to have that opportunity.
Looking forward to a great race
We're racing in Italy this weekend and it's always been one of my favourite grands prix.
I have spent a lot of time in Italy throughout my career - especially when I was karting, because it's kind of the world centre of that sport - and I love it.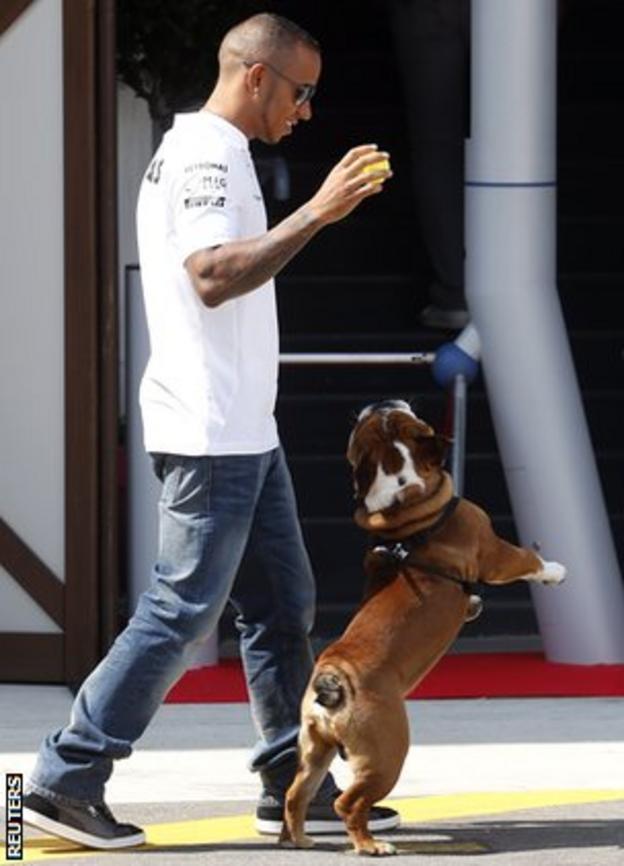 Everyone looks forward to Monza because of the history and the enthusiasm of the fans. The passion they have for motor racing is spectacular and there is so much history to the place.
You've got the old banked circuit, too, which would be really cool to drive, although it would obviously be quite dangerous, particularly at the speeds we do nowadays.
Monza is always a bit special for me because it's where McLaren chairman Ron Dennis first told me he was going to give me a chance in F1. He did it while we were standing on the grid in front of Kimi Raikkonen's McLaren, which was on pole.
I won the GP2 championship here in 2006, and in 2007 was second in my first year in F1 when I remember doing a really good overtaking manoeuvre on Kimi into the first chicane. And I won here last year, which was a really great feeling. It's always nice to be ahead of Ferrari on their home turf.
I've always been racing against the Ferraris here, but surprisingly the fans have been just incredible with me.
I get a lot of messages saying: "Come to Ferrari!" It's a cool feeling to be appreciated like that.
I'm hopeful we can have a strong weekend in Italy - I was similarly confident going into the last race. Spa didn't work out as well as we'd hoped but third place is still fantastic.
It's a reflection of how far Mercedes have come that we get a third place and we are disappointed with it.
I expect Red Bull's Sebastian Vettel and Ferrari's Fernando Alonso to be the toughest opposition again and I hope we can go a couple of places better than last time, even though I know that will be hard.
Lewis Hamilton was talking to BBC Sport's Andrew Benson