Paul Di Resta 'gutted' after Monza crash and reprimand
Last updated on .From the section Formula 1
Force India's Paul Di Resta is "gutted" to have crashed seconds into the Italian Grand Prix in an incident that saw the Scot receive a reprimand.
Di Resta collided with Lotus's Romain Grosjean as the field bunched in front of him at the first chicane.
Asked whether he was lucky to avoid a bigger penalty, Di Resta said: "In a sense but I didn't damage Romain's car.
"He came into the meeting and said I never damaged it. It's the first time I've ever done something like that."
Di Resta could have received a grid penalty for the next race in Singapore after the accident, in which he broke his left-front wheel.
It completed a miserable weekend for the Scot, who crashed into a barrier in final practice at Monza on Saturday morning because of a brake failure.
"I'm pretty gutted," he said after a run of four races without a point.
"It was a hard day on Saturday with the brake failure, ending up in the tyres before qualifying because of that, and then that happened in race.
"It has been one of those weekends to forget."
The problems in qualifying meant that Di Resta started 15th on the grid and was caught up in the accident that led to him being summoned to see the stewards post-race.
"It was one of those things," he added. "I lost sight of the corner because of the cars in front which bunched up more than I expected.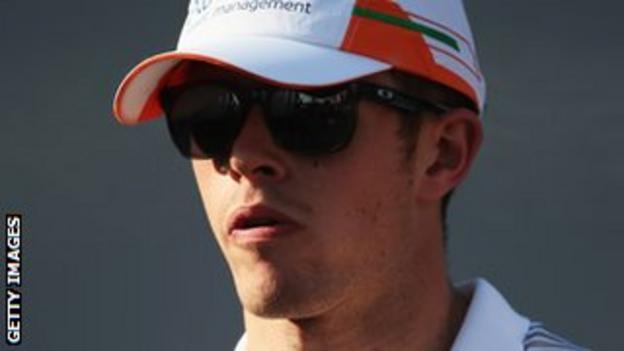 "I tried to take avoiding action, to place my car in the middle, but I couldn't really go anywhere and I hit Grosjean's car fairly hard.
"I obviously didn't mean to do it - I wasn't trying to overtake anyone. It was just the concertina effect I was unaware of.
"I couldn't see what was happening two, three cars in front when they were overtaking each other."
Team-mate Adrian Sutil finished the race but in a disappointing 16th place.
"Adrian and Grosjean were in front of me and they had full sight of it and were able to back out," added Di Resta.
"But, when I tried to stop, it just wasn't happening."