Sebastian Vettel earns starring F1 role - David Coulthard column

By David Coulthard
BBC F1 co-commentator
Last updated on .From the section Formula 1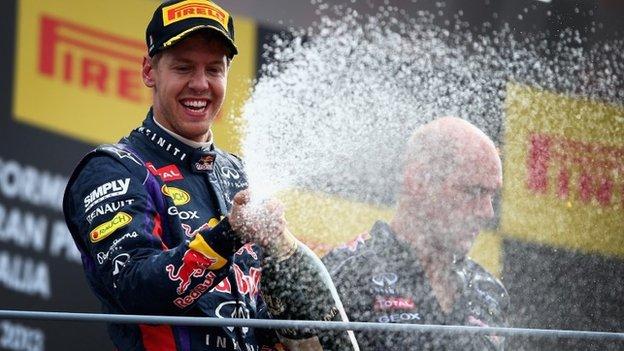 There is a resignation within Formula 1 at the moment that Sebastian Vettel and Red Bull are on the verge of a fourth consecutive world title double.
It is based on a grudging acceptance of both the quality of the job they have been doing in this period and the fact that Vettel is an exceptional driver, although it took a bit too long for that penny to drop with some people.
No longer are there the mutterings about technical irregularities on the Red Bull that we have had since 2010. People are simply saying that they are doing a better job.
Red Bull work hard for their success. The paddock is a pretty quiet place at 10 o'clock at night, but you can bet Adrian Newey (technical officer), Christian Horner (team principal) and Vettel will all still be there at that time.
Is that because they don't know what else to do or because they might find that little piece of gold dust that pops into their minds that can make the difference? Well, you know the old adage about 'the harder I work, the luckier I get'.
In terms of consistency of delivery, which is what wins championships, Red Bull and Vettel are the ones who have been able to maintain that over the last few years.
People might not like it but that's the reality.
Every now and again in F1, you see triple world champion Niki Lauda raise his famous red cap when something impresses him. It is quite a thing for him because it exposes his baldness and his scars from his fiery accident at the Nurburgring in 1976.
I feel as if the paddock is preparing to do the same thing metaphorically to Red Bull and Vettel. And that feeling wasn't there for championships one, two and three.
A LOT OF FUSS ABOUT NOT MUCH
For Fernando Alonso, particularly, accepting Vettel's success is not an easy thing to do. He has been Vettel's most consistent rival - he very nearly beat him in 2010 and 2012 and he's his closest threat again this year.
You can see the frustration mounting a little in Alonso - understandably so - and one obvious example was the critical radio message he gave to Ferrari during qualifying at Monza.
It attracted a lot of attention over the weekend, but I didn't see it as anything particularly awful. In my career, I did much worse several times.
I've asked my team to move team-mates out of the way - and sworn at them when they didn't.
And I described McLaren as the Keystone Cops after one chaotic wet race at Silverstone - and got summoned to then-team boss Ron Dennis's office for a telling off the next day.
In those days, of course, the radio transmissions weren't broadcast.
But it's not like Alonso is the first driver to do something like that now they are - and he won't be the last. If you remember, Vettel shouted at his team to "get Mark (Webber) out of the way - he's too slow" in Malaysia this year.
All drivers have been there. We all say things in the heat of the moment - and qualifying is the emotional peak of the weekend in terms of pressure and stress and the demands of delivering your best on that one lap. Compared to that, the race is a walk in the park.
X Factor boss Simon Cowell doesn't get blacklisted everywhere in the world because he tells people they're not good. He's admired and respected and paid lots of money for saying what he thinks, and he has the skills and history of delivering to back it up.
Fernando Alonso at that moment was no different from Cowell. Ferrari were trying to choreograph something that was incredibly difficult to do and it didn't quite work.
I remember getting frustrated because the team didn't tell me where traffic was. In that moment, looking through your window on the world - your visor - you can't see the big picture.
I don't think teams and drivers should be publicly exposing themselves. They shouldn't because it shows a chink in their armour.
But one of the things that makes F1 so fascinating is that, because it is such a high-pressure environment, people's weaknesses get thrown out into open view. That's just the way it is - and, as long as humans are involved, that's the way it will stay.
ALONSO AND FERRARI IN A ROCKY PATCH
You can't say there is nothing going on at Ferrari, but relative to some of the turbulent periods they have had in the past, it is still relatively calm water.
The car is getting on the podium - in Alonso's hands at least. Alonso has said he hopes he can do better next year, which shows he is looking to the future.
There are all sorts of wild rumours flying around, but there is no way Alonso is leaving Ferrari at the end of this season as far as I can see.
The situation with Alonso is a throwback to the fact there has always been an increased spotlight on Ferrari, and increased pressure as a result.
They have a heightened status in the sport and the craziness of Italy means that something has to be written about Ferrari in the Gazzetta dello Sport newspaper every day. You just don't get that in the UK, however successful F1 is as a business for the country's economy, or even if a British driver is dominating F1.
We've kind of got used to calmer waters at Ferrari over the last few years, with Alonso doing such a good job.
He has shown incredible resilience in not having had the best car for the last three years and still almost winning the championship twice.
Now he is a step further away from that and that is almost certainly the stimulus for the focus on the team and the disquiet that is creating within it.
The longer a period it is that a person does not achieve the success they crave, the more frustrated they are going to get. That's just human nature. Ferrari need him and I'm sure that's where he'll stay.
A WORD ON HAMILTON
Alonso and Vettel have been the stand-out performers in F1 for some time now. Talent-wise, Lewis Hamilton is right up there with them, but he seems to be more emotional and publicly self-critical.
There is much more of Hamilton's career to come and I have great admiration for the fact he is so comfortable within himself that he feels he can say what he feels.
But not many past champions have been that emotional. It will take the fullness of time before we can decide whether that is what makes Hamilton great, or ultimately what holds him back from achieving what he might have done.
It's a question mark, at least.