Kimi Raikkonen would 'destabilise' Fernando Alonso at Ferrari
Last updated on .From the section Formula 1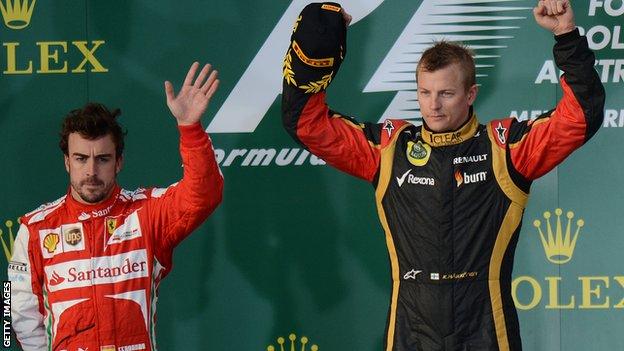 Kimi Raikkonen joining Ferrari would have a destabilising effect on Fernando Alonso that could see the Spaniard look to leave the team, says Sir Jackie Stewart.
His arrival at Ferrari would end Felipe Massa's eight years at the team.
"I think there would be destabilising elements to it," three-time world champion Stewart told BBC Sport.
"If Kimi went to Ferrari, would Alonso deliver as well as he has based on him being the chosen son, so to speak?
"It would be a very confusing element within that team for them to have Kimi and Alonso, who I doubt would really like to have Kimi there."
Massa has not won a race since 2008, when he narrowly missed out on the drivers' championship, and Ferrari had wanted to replace the Brazilian with someone who would provide more reliable performance.
Raikkonen has produced particularly impressive performances for Lotus this year, winning the season-opening race in Australia and finishing second on five occasions.
Ferrari will likely see Raikkonen as being able to provide more consistent support for Alonso.
But Stewart, who works as a consultant for the Lotus team, believes the Finn's arrival may cause Alonso to feel his position as the main driver is under threat, and could lead to the Spaniard seeking a move elsewhere.
Alonso recently dismissed rumours that he was keen on joining Red Bull before they chose to name Toro Rosso driver Daniel Ricciardo as reigning world champion Sebastian Vettel's team-mate for next season.
Stewart said: "It would be the best choice for Alonso if he didn't want to race [for Ferrari] because he felt they were trying to push someone in who he did not want.
"In an emotional breakdown, sometimes you can go off and try to do something but who is there to go to? I don't think there is an offer at McLaren, although it would be good for that team, but I don't know if they have the money for it.
Stewart added: "I don't think Red Bull are going to change their commitment to Daniel Ricciardo, but they have chosen him without any thought that they could have Alonso.
"There would be another destabilising element if Alonso threw the toys out of the pram and tried to go with Red Bull.
"How would Sebastian Vettel feel about that? It would be a much greater threat to his unquestionably privileged position at Red Bull and would Red Bull want to disturb any of that? I doubt it."
Stewart, though, believes if Alonso remains at Ferrari alongside Raikkonen, then Ferrari will be able to mount a strong challenge against Red Bull for the constructors' championship in 2014.
Ferrari are second in this season's standings, 104 points behind Red Bull.
"A team needs two drivers to be able to pick up world championship points," he said.
"For Lotus, the points gain has almost exclusively been in the hands of Kimi Raikkonen, and that has been the same case at Ferrari with Fernando Alonso.
"However, Red Bull have had regular performances in the high points scale from both Sebastian Vettel and Mark Webber. That is why they are leading the championship.
"If you have two drivers picking the points up, you are going to win the constructors' championship."