Kimi Raikkonen arrival not a snub to Fernando Alonso, say Ferrari

By Andrew Benson
Chief F1 writer
Last updated on .From the section Formula 1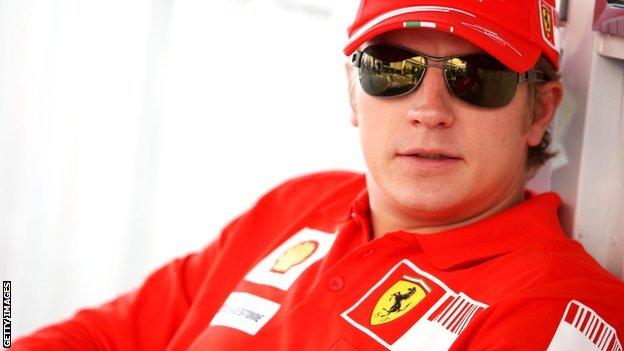 Ferrari say their decision to sign Kimi Raikkonen for next season is not a snub to current number one Fernando Alonso.
Team boss Stefano Domenicali said the combination of the two was "the best one could have today in Formula 1".
"For anyone thinking the choice of Kimi is somehow an anti-Alonso choice, I can put their minds at rest," he added.
"At Ferrari, everyone knows the interests of the team come first. Fernando is a key asset for this team and he will be for a long time."
The Italian team confirmed on Wednesday that Finland's Raikkonen, 33, was joining them on a two-year contract. The 2007 world champion will replace Felipe Massa.
Ferrari's relationship with Alonso has grown tense at times this year as both have suffered from an inability to prevent Red Bull's Sebastian Vettel building a comfortable championship lead.
The frustration has been building at Ferrari over the last four years, after Alonso narrowly missed out on the title in both 2010 and 2012. Domenicali admitted at the Italian Grand Prix last weekend that the experience of last season, when Vettel hauled in a 39-point deficit, "is still burning for us".
Alonso has been supported at times by Massa over the past four seasons, but Domenicali insisted Alonso was "the first to be happy with a choice made to strengthen the group, because he is too intelligent not to realise that a stronger team can only be an advantage".
Domenicali added: "For the first time (since 1953), we will have a driver pairing made up of two world champions, which in itself is already significant, as they are the sort to always try and win and they can help each other by taking valuable points off our rivals.
"Having said that, we are well aware that without a competitive car, not even Superman can win. So our priority on a daily basis is always the same, namely to give our drivers a car capable of always fighting for the top place."
Domenicali said Ferrari would operate on the basis of Alonso and Raikkonen starting the 2014 season as equals.
But he said the team would always consider asking one to help the other if the championship situation dictated it.
"Nothing will change in the way the team is run," Domenicali said. "Since the world began, our drivers have always started on equal terms. It's always been that way and always will.
"Then, during the course of the season, if the situation is such that one driver can help the other based on the points table, it's logical and right that it should happen.
"It's happened in the past and will happen in the future, as all drivers who have driven a Ferrari have demonstrated.
"It occurred at the time of (Juan Manuel) Fangio and (Peter) Collins (in 1956) and more recently with (Mika) Salo and (Eddie) Irvine (in 1999), when the Finn gave up on his only chance of a win in Formula 1 to help his team-mate, as Raikkonen was helped by Felipe (in 2007), before repaying the compliment (in 2008) and again with Felipe and Fernando."