Singapore GP: The heat of the night will test Hamilton & Alonso

By Andrew Benson
Chief F1 writer
Last updated on .From the section Formula 1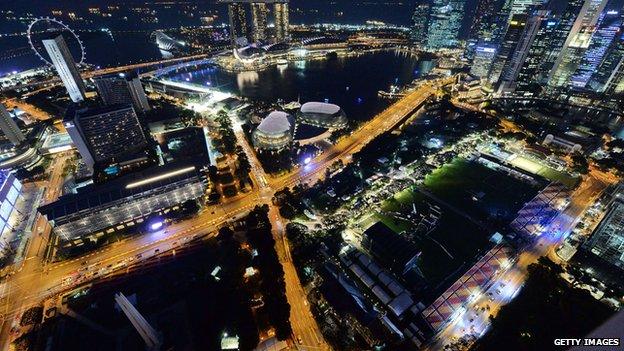 The Singapore Grand Prix is the beauty and the beast of Formula 1 all at the same time.
The only race held completely at night looks gorgeous. The cars glisten and gleam under lights. Lovely coloured lanterns lining the track give a Far-Eastern flavour. Singapore's futuristic skyline provides a dramatic backdrop.
By day, the Singapore sun is hot and bright. The city oozes a luscious tropicality, symbolised by the ubiquitous rain trees whose branches drip with moss. As night falls, the trees recede but the heavy heat and humidity combine with a relaxed ambience to create a heady atmosphere.
In the cockpit, though, the equatorial setting creates an altogether different environment.
The cars buck and dance over endless bumps. To go fast means to skim unforgiving concrete walls that line the track. Every corner. Every lap. One mistake, one lapse of concentration means disaster.
It is, Red Bull's Mark Webber says, "probably the toughest grand prix on the calendar".
Singapore combines the intense concentration required of drivers at Monaco with the severe physical demands of Malaysia, just a couple of hundred miles to the north on the Malay peninsula.
It is a race of extremes. At two hours, Singapore is the longest race on the calendar. The humidity is up about 80%; the air temperatures, even at night, more than 30C.
And there's no respite from the heat. Temperatures in the cockpits of the cars are typically 60C. There is no cool air to refresh the drivers. They are wearing four-layer fireproof suits and helmets, while doing intense physical exertion and being subjected to forces of nearly 5G during braking. Mercifully, the lateral G-forces are relatively low - with a maximum of 'only' 3.3G.
No wonder that after winning the inaugural race in 2008, Fernando Alonso, regarded as one of the fittest drivers, asked if the event could be shortened. It wasn't.
"I'm sure all of us have said it once," says McLaren's Jenson Button, "that we think it's too long, but I think we just have to get over ourselves and go and race for two hours. We do the training; we know how difficult it is."
Mercedes senior race engineer Jock Clear explains: "The braking and cornering forces are not as high as at some other tracks, but the difference is they are doing it all the time.
"It's that relentlessness which is an issue for the driver and the car. Brakes have a really hard time and the problem is they don't have time to cool down.
"You have this cumulative effect that after two or three laps around Singapore, the whole car/driver package is gradually creeping up, getting hotter and hotter as it's working.
"Drivers are no different from cars in that respect - all the time they are working they are generating heat and in an atmosphere that is generally 33C all through the weekend."
Gerry Convy, physical trainer for Force India's Paul Di Resta, says: "In terms of condition, the guys have to be honed athletes. They have to be strong, with good cardiovascular fitness.
"The need for strength is underestimated sometimes. You're digging deep into your reserves in a race like that. It's a mental as well as a physical challenge.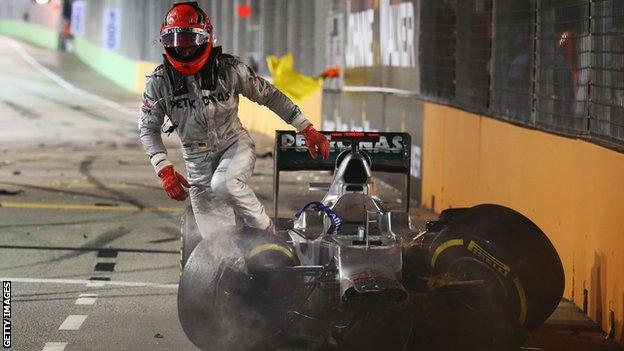 "In the car they have the heat, the intensity, the G-forces, the speeds, and are concentrating on their [race] strategy as well.
"Cardio will only take you so far. Like any sport, people are finding that strength gives you that extra bit of grunt to push to the very end and beyond."
Such an extreme challenge requires a specially focused approach to the race.
"As soon as we arrive in Singapore, we're straight into a hydration programme," Convy says. "You get into it far earlier than normal.
"Everyone's different. Some drivers sweat more than others. Paul hardly sweats at all, so he doesn't take on as much fluid as others. I've worked with some drivers and they've taken in six to eight litres of fluid a day in Malaysia. It depends on how much they're taking in the car.
"We weigh the drivers before and after and all through the weekend. In Malaysia they can lose up to 3kg of fluid during the race. Singapore would be close to that as well."
And this is not just about being thirsty. Fluid loss can have serious consequences when you're doing nearly 200mph.
"The concentration and mental levels are huge," Convy says. "Dehydration can cause lack of concentration and co-ordination and at those speeds they cannot afford that.
"In terms of G-forces, it's not as high as Silverstone, for example, but it's a cumulative thing. It gets harder as you go along, so mental and physical fitness comes in massively."
As Mercedes' Clear puts it: "There are 18 proper corners at Singapore, and there is just no respite. Even on the straights the drivers are pulling G as they go from one side to the other, because usually a left-hander is following a right-hander and vice versa. And the corners really do add up.
"We use the softer tyres there, so although the circuit is not particularly grippy, the tyres make up for that. Then, in the race, as the grip starts to go away, they have to get around those 18 corners without hitting the wall."
Beyond the physical and mental demands, there are the peculiarities of a night race. The drivers - and most other personnel - all stay on European time in Singapore, to ensure they are in peak condition when the racing actually takes place in the evening.
"Getting the drivers into a sleep pattern is very important," Convy says. "Some people take melatonin to help them adapt to the change of light. You have breakfast when everybody else is having lunch. It's a bit surreal, but you've just got to crack on with it and deal with it."
There is, though, one aspect of Singapore no amount of planning can prepare drivers for - the fact that the race is under lights.
This, as Alonso puts it, changes "the vision of the corners from the cockpit".
"The floodlit circuit, I think they've done a good job with it," Button says, "but it's very difficult to get everything the same in terms of light contrast - Turn Five is pretty dark, a couple of other corners too. That's probably the most difficult thing."
Clear adds: "The organisers are very proud of the amount of lumens [light units] they have managed to get on the circuit but we're all aware that when it's daylight there's so much more light than those lights produce, however impressive it looks when you see it all lit up.
"That does make it more difficult for the brain to assimilate visual input as fast as it wants to and as fast as it has to with walls all around."
If that is all beginning to sound like a vision of hell, that's not the way F1 drivers see it.
For them, their sport is about exploring the extremes, testing themselves to the physical and mental limit in the face of the toughest competition possible. Singapore provides exactly that.
"It's unique," says Alonso. "It's a wonderful race."