Formula 1 gossip and rumours from international media
Last updated on .From the section Formula 1
FRIDAY, 11 OCTOBER
The Brazilian Grand Prix will continue to be staged at Interlagos until at least 2020.
Pirelli have rescheduled a tyre test with McLaren at Italy's Vallelunga circuit next month after Formula 1's governing body rejected plans for it to be held in Austin, Texas, ahead of the United States Grand Prix.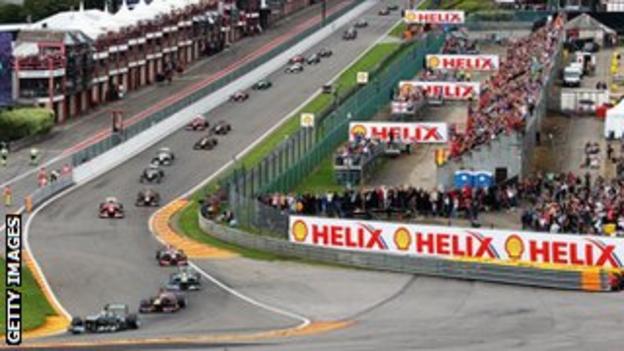 The promoter of the Belgian Grand Prix has made significant losses in both 2011 and 2012.
Full story: Joe Saward's grand prix blog
Kimi Raikkonen has no concerns that long-time Formula 1 engineering ally Mark Slade may not be following him to Ferrari next season.
Venezuelan driver Pastor Maldonado says he is confident of remaining with Williams next season.
Formula 1 teams McLaren and Force India are prepared to enter into competition to sign up-and-coming stars Kevin Magnussen and Stoffel Vandoorne.
THURSDAY, 10 OCTOBER
McLaren driver Sergio Perez says it is unacceptable that he suffered a tyre failure after a lock-up at Sunday's Korean Grand Prix.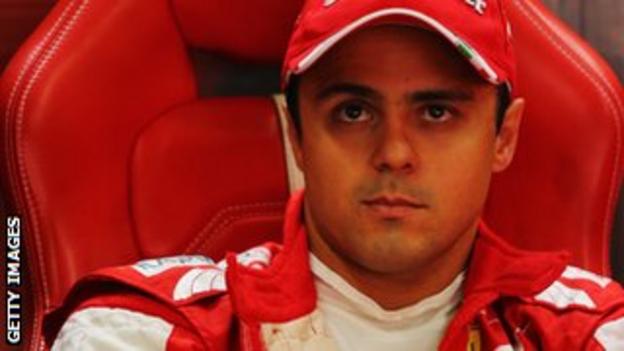 McLaren team principal Martin Whitmarsh has called for changes to the new weight-limit rules set to be introduced next season.
Felipe Massa is worried that F1's new 2014 regulations could make for far less interesting races if outright performance is superseded by efficiency, with Ferrari's director of engineering warning that fuel saving could determine the outcome of races next season.
Ferrari driver Massa still hopes he can pick up a race win before the season ends. The Brazilian is leaving the Italian team at the end of the campaign.
Lotus operations director Alan Permane says he is delighted Kimi Raikkonen and Romain Grosjean are in top form heading to Japan.
WEDNESDAY, 9 OCTOBER
German driver Nico Hulkenberg's chances of replacing Kimi Raikkonen at Lotus have been boosted after the Enstone-based team said weight would not be a major factor in their choice of driver.
Lotus team principal Eric Boullier believes the team have a car capable of fighting for podium finishes in the remaining five races of the season.
Formula 1's independent teams are becoming increasingly concerned they are being priced out of the sport.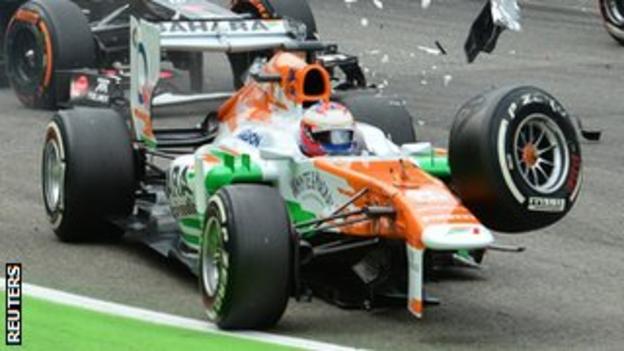 Force India deputy team principal Bob Fernley insists Paul Di Resta's recent run of mistakes does not jeopardise his future with the team. The Scot has failed to finish any of the past five races.
Ferrari team principal Stefano Domenicali has already offered his congratulations to Sebastian Vettel with the Red Bull driver on the brink of winning his fourth consecutive world title.
Red Bull driver Mark Webber will get his first taste of Porsche's 2014 Le Mans 24-hour challenger in Bahrain in January.
Young Danish driver Kevin Magnussen and Belgian Stoffel Vandoorne both deserve to be in F1 and will get there eventually, according to McLaren team principal Martin Whitmarsh.
Japan's Kimiya Sato will be Sauber's reserve driver for this weekend's Japanese Grand Prix at Suzuka. The 24-year-old drove for the Swiss team at the young driver test at Silverstone earlier this year.
SUNDAY, 6 OCTOBER
Korean Grand Prix organisers will not be sanctioned by the FIA for sending what appeared to be an unauthorised vehicle on to the track during the race.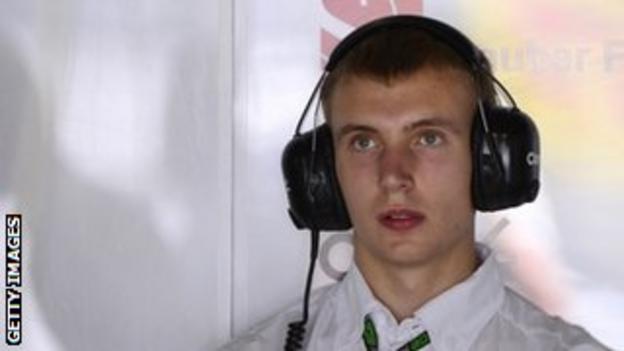 McLaren boss Martin Whitmarsh says the team could afford Fernando Alonso next year. It follows news the McLaren Group recorded a pre-tax loss of £2.5m in 2012.
CVC, the largest single shareholder in Formula 1, has banked an $865m (£540m) dividend from the motor sport championship thanks to a string of major media deals.
Full story: the Daily Telegraph
Russian Sergey Sirotkin, 18, is set to take part in his F1 first test on Monday after the Korean Grand Prix.
McLaren have hinted at the signing of some 'headline grabbing' technical staff to boost its bid to get back to the front of the F1 grid.
SATURDAY, 5 OCTOBER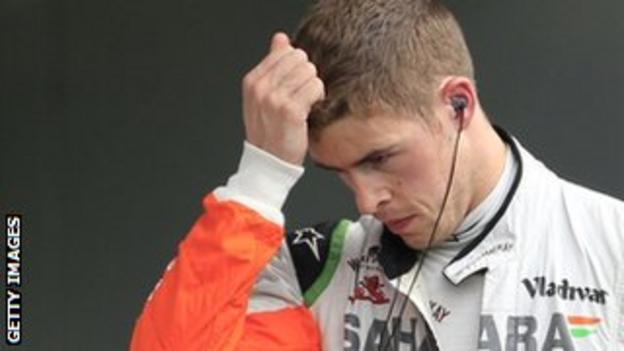 South Korea's loss-making, poorly attended Formula 1 race could be axed after Sunday's event, but local organisers are still hopeful of renegotiating their contract and keeping it on the calendar.
Force India's Paul Di Resta fears new weight limit regulations next season could be bad for his health.
The F1 teams have come up with a provisional test schedule for 2014 that includes two sessions in Europe (Barcelona and Silverstone) and two in the Middle East (Bahrain and Abu Dhabi).
Full story: Adam Cooper's F1 blog
Mercedes driver Lewis Hamilton wants to climb Kilimanjaro, Mount Fuji and Mont Blanc over the next five to 10 years before tackling Mount Everest.
Ferrari sporting director Massimo Rivola says the 2014 schedule will cause problems for the teams, especially if the proposed race at New Jersey keeps its 1 June date to form the start of a triple header of races.
FRIDAY, 4 OCTOBER
McLaren's Jenson Button has called on the FIA to increase the minimum weight limit for next year's cars after claiming that taller, heavier drivers are being unfairly discriminated against.
Sauber team principal Monisha Kaltenborn says Rubens Barrichello is a genuine candidate for a 2014 seat.
McLaren have been forced to abandon plans for a Pirelli tyre test in Austin ahead of next month's United States Grand Prix after objections from other teams.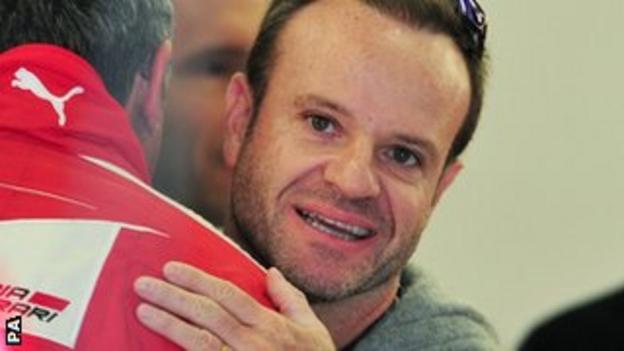 The directors of Silverstone are facing a revolt at its annual general meeting on Friday over a deal to sell a lease on the track that hosts the British Grand Prix.
A record 22-race calendar for 2014 is "beyond the limit" for teams but looks likely to be trimmed before it becomes definitive, according to Red Bull team principal Christian Horner.
THURSDAY, 3 OCTOBER
Kimi Raikkonen does not believe his back problem will prevent him from taking part in this weekend's Korean Grand Prix.
Nico Hulkenberg says a decision on his future should be finalised in the next "one, two or three weeks".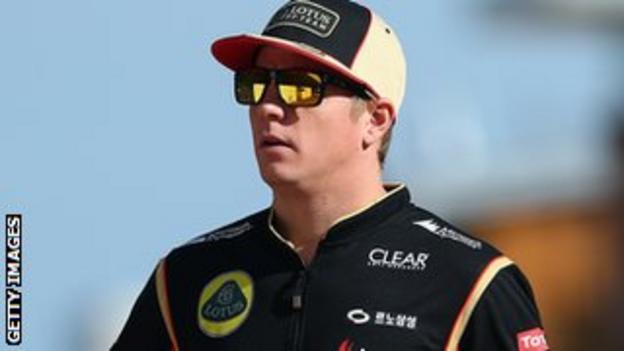 The FIA has backed Sebastian Vettel amid claims he is strolling to the 2013 title with a questionably-legal Red Bull.
The FIA has made clear to teams that it has no intention of introducing a single fuel supplier for Formula 1.
Korea's chances of staying on the F1 schedule next season are "fifty-fifty", the promoter of the event has said.
Felipe Massa insists he won't remain in Formula 1 just to make up the numbers, he wants a competitive drive or nothing.
WEDNESDAY, 2 OCTOBER
Marussia made a loss of £57.6m, more than any other team last year.
Presidential candidate David Ward has written to FIA clubs around the world, who will vote to elect a president in December, suggesting that the FIA's election rules could prevent any candidate from being eligible to challenge the incumbent Jean Todt.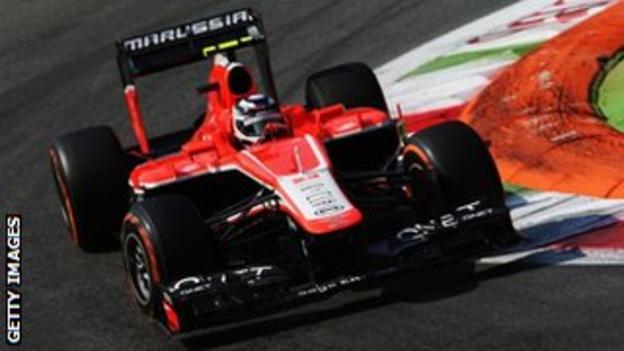 Lotus team principal Eric Boullier has reiterated that he is under no pressure to take on a 'pay driver' to replace Kimi Raikkonen for next season.
Lotus reserve driver Davide Valsecchi says he is "ready" to step in for Raikkonen and make his F1 debut at this weekend's Korean Grand Prix if the Finn can't take part due to a back injury.
Mercedes are confident their car will suit the Korean International Circuit.
Force India is in no rush to finalise its driver line-up for 2014, according to deputy team principal Bob Fernley.
Timo Glock believes his former Marussia team has what it takes to retain 10th position in the constructors' standings.
TUESDAY, 1 OCTOBER
Force India F1 boss Vijay Mallya has insisted his team hasn't given up on beating McLaren to fifth place in the constructors' championship, despite the squad's woeful form of late.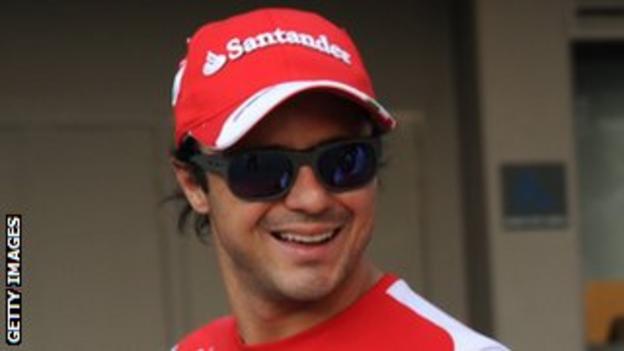 Ferrari deputy chief designer Simone Resta believes any team would be lucky to have Felipe Massa on the pay-roll.
Monisha Kalternborn concedes that while Nico Hulkenberg has been "absolutely good" at Sauber, the team has failed to live up to expectations.
Marussia CEO Andy Webb says he's noticed a "fantastic" level of interest in Formula 1 in Russia ahead of next year's inaugural race in Sochi's Olympic park.
FRIDAY, 27 SEPTEMBER
Christian Horner believes the wave of anger Sebastian Vettel has received from F1 fans in recent races is purely because he is a "serial winner", comparing his situation to that of boxing legend Muhammad Ali.
Force India team principal Bob Fernley believes changing the format of Friday morning practice to allow teams an extra set of tyres and the chance to run reserve drivers is a "good compromise".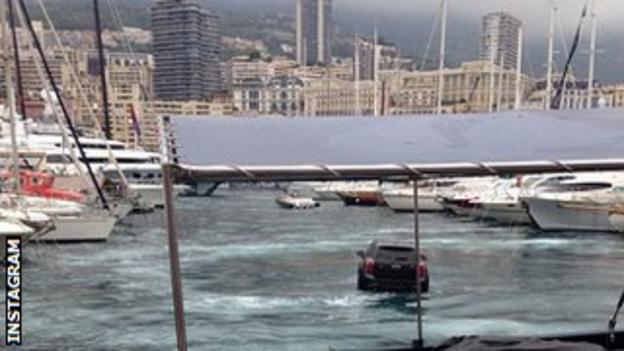 An amphibious car is not something you see every day...unless you are Felipe Massa and live in Monte Carlo. The Ferrari driver tweeted: "It's a boat or a car???"
Full story: Felipe Massa on Twitter
Ferrari has tested this week at the Barcelona circuit with a 2011 car, it has emerged.
Full story: Autosprint (Italian)
THURSDAY, 26 SEPTEMBER
McLaren team boss Martin Whitmarsh and his Mercedes counterpart Ross Brawn have questioned plans by the sport's governing body to extend Friday's first practice session from 90 minutes to two hours in a bid to give rookie drivers more time behind the wheel.
Lotus says a decision on who replaces Kimi Raikkonen next year is on hold until the team has sorted out its financial situation.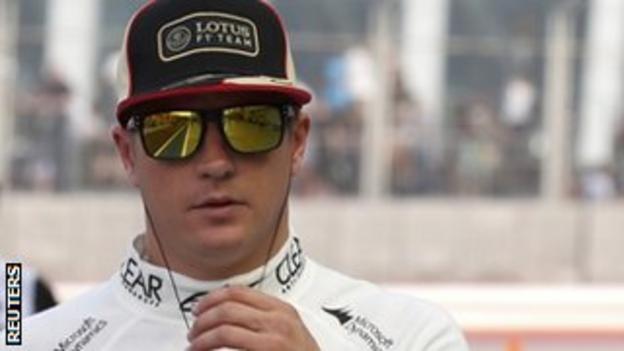 Mercedes motorsport director Toto Wolff concedes Sebastian Vettel's current domination of Formula 1 is far from exciting, but knows he can have no complaints as the stopwatch does not lie.
The final cost of the project to bring F1 to Russia at the Sochi Olympic Park has almost doubled.
Pirelli insists only legal loose ends are preventing the announcement of a new tyre contract with F1 from 2014 onwards.
MONDAY, 23 SEPTEMBER
New Jersey has won a temporary reprieve for inclusion on the 2014 Formula 1 calendar, with a 1 June slot set to be left open when the FIA approves the provisional schedule next week.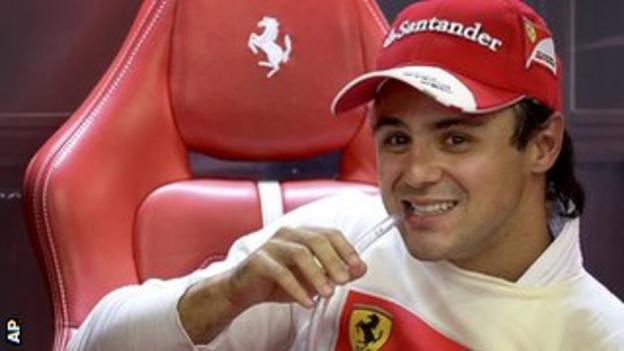 Uruguay's Jorge Tomasi has hit back at "offensive" claims by FIA presidential hopeful David Ward that Latin American clubs were coerced into supporting incumbent Jean Todt's re-election.
Ferrari's Felipe Massa says his management are speaking to a number of teams about a seat for 2014, but the Brazilian does not expect a deal to be confirmed soon.
F1 boss Bernie Ecclestone has insisted plans for a multi-billion dollar initial public offering (IPO) in Singapore are still very much on despite a lengthy delay in the process.
Caterham owner Tony Fernandes says Finnish driver Heikki Kovalainen is in the running to return to a race seat in 2014.
FRIDAY, 20 SEPTEMBER
A Munich court said it expected a decision on whether Formula 1 boss Bernie Ecclestone will have to stand trial after being charged with bribery to be delayed until next year.
Australian Mark Webber, 37, could have stayed in Formula 1 and challenged for grand prix victories for several more years had he not "fallen out of love" with the sport, according to Red Bull team principal Christian Horner.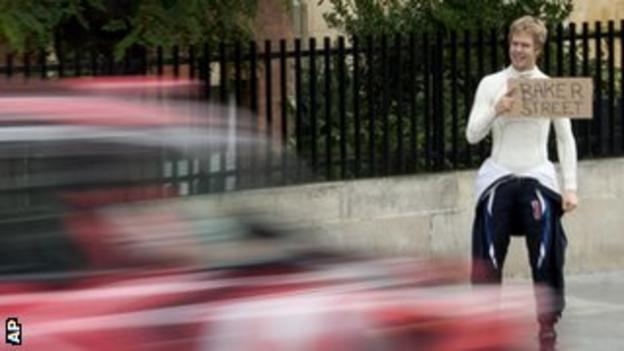 German Nico Hulkenberg, 26, has said that there are no hard feelings between him and Ferrari despite missing out on the seat at the team for the second year in a row.
Formula 1 teams need to wake up and start working together to address much-needed cost cuts if the sport is to survive, says Caterham owner Tony Fernandes.
Lotus team principal Eric Boullier says he has a number of "fun" and "surprising" names on his shortlist to replace Ferrari-bound Kimi Raikkonen, 33.
A wax figure of reigning world champion Sebastian Vettel, 26, will spend three months at Madame Tussauds in London.
THURSDAY, 19 SEPTEMBER
Jenson Button and Sergio Perez both claimed on Thursday night that their deals for next year were more or less signed and that they would be remaining with McLaren for 2014.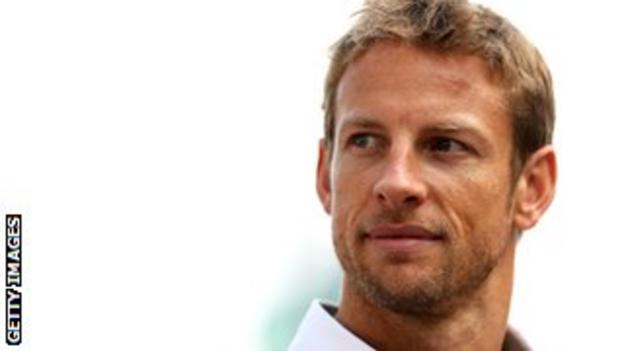 Button does not believe the signing of Kimi Raikkonen will make Ferrari stronger next season.
Felipe Massa insists that he won't stay in F1 'to make up the numbers' in 2014, and would be prepared to walk away from the sport if he fails to secure a competitive drive for next year.
Paul di Resta did not deny speculation that he is contending for the vacant seat at Lotus in 2014 during an interview in Singapore on Thursday.
Lewis Hamilton's main goal this year is to help Mercedes beat Ferrari in the constructors' championship but he also thinks Sebastian Vettel is not unbeatable in the drivers' standings.