F1: Can Kimi Raikkonen's return to Ferrari be a success?
Last updated on .From the section Formula 1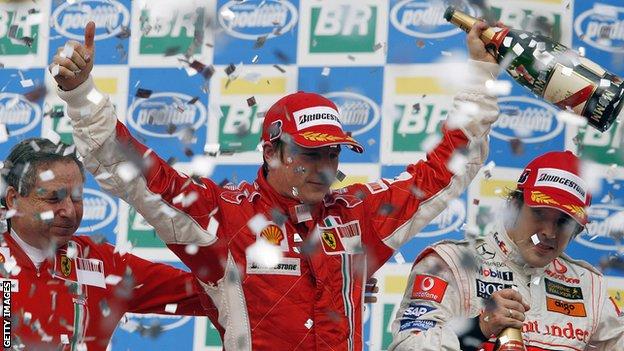 Racing drivers past and present have returned to former teams in the hope of tasting glory, to varying degrees of success.
As Kimi Raikkonen prepares to head back to Ferrari next season, BBC Sport takes a look at five others to have made such moves...
Juan Manuel Fangio - Maserati (1953-54 & 1957-58)
Widely considered to be the greatest Formula 1 driver of all time, Juan Manuel Fangio won the world championship in five of his seven full seasons in the sport.
In total, the Argentinean triumphed in 24 of his 51 grands prix, winning the championship with four different teams and ending his career at Maserati in 1958, the team he had raced under for just one full season five years earlier.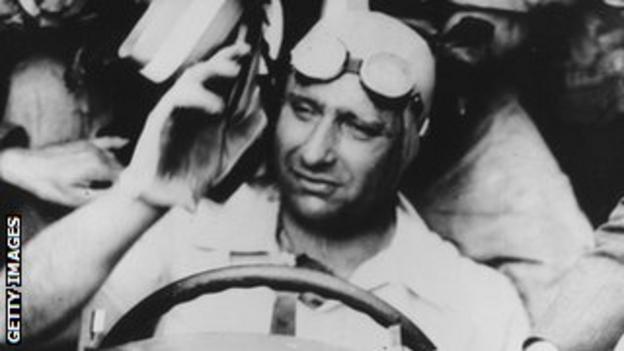 Why did he leave?
Fangio joined Maserati in 1952 but missed an entire season of racing after breaking his neck in a non-championship race at Monza. He returned the following year at a time when Ferrari dominated, but three second places and one victory in five races saw him take second in the championship. Fangio started the 1954 season with wins in Argentina and Belgium but was poached by Mercedes.
Why did he go back?
At the age of 46 and after winning the championship in three successive years - twice with Mercedes and once with Ferrari - Fangio returned to Maserati for the 1957 season after growing tired of team politics at Ferrari. His departure irked Ferrari founder Enzo Ferrari, who said: "Fangio did not remain loyal to any marque, and he invariably used every endeavour to ensure that he would always drive the best car available."
Was it a success?
Very much so. He won four out of seven races, finishing on the podium in a further two grands prix, to win his fifth world championship.
BBC Radio 5 live's James Allen: "Juan Manuel Fangio moved around a lot, possibly more than any other world champion. His return to Maserati was mainly motivated by the fact he fell out with Enzo Ferrari and wanted to go to a rival. The 1957 Maserati car was the most beautiful F1 car ever and Fangio was the best driver and wanted the best car."
Graham Hill - Lotus (1958-59 & 1967-70)
Daring, dashing and charming, the moustachioed Graham Hill was an iconic figure of Formula 1 in the 1960s.
He won two world championships - for BRM and Lotus.
Why did he leave?
After joining Lotus as a mechanic, Hill was promoted to driver in 1958. However, the Lotus car was slow and unreliable and after failing to finish higher than sixth in two years at the team, he moved to BRM.
Why did he go back?
Hill won the world championship with BRM in 1962 but that was to be the height of their success while he was at the team as they slowly started to drop off the pace. Consequently, Hill felt his aspirations would be better served by returning to his former team and in 1967 he made the decision to rejoin Lotus.
Was it a success?
Yes. In his second season he won three races on his way to claiming the world title for the second time in his career. The victory was all the more impressive considering it came against a backdrop of tragedy for the team following the death of two-time world champion Jim Clark early in 1968.
BBC Radio 5 live's James Allen: "Graham had done some very early stuff with Lotus, but BRM gave him his big break. Clark's death was probably one of the reasons Hill went on to win the championship, but it was a great test of character, to be able to perform so well after a tragedy."
Nigel Mansell - Williams (1985-88, 1991-92 & 1994)
Not content with one return, Nigel Mansell strolled back into the Williams garage twice during his career.
He won the world championship in his 13th season as a Formula 1 driver, but he had captured the hearts of the British public long before then thanks to his exciting, fighting driving style and sheer will to win.
Why did he leave?
After first joining Williams in 1985, Mansell narrowly missed out on his first world championship title the following year, before finishing second again in 1987. The following season proved to be a disappointing one as he managed just two podiums in the 14 races he started. Consequently, he moved to Ferrari in order to reignite his title aspirations.
Why did he go back?
After Alain Prost became his Ferrari team-mate in 1990 and gained the number one driver status, Mansell announced after the British Grand Prix he would retire at the end of the season. A couple of months later he was persuaded to return to his former team by Sir Frank Williams.
Was it a success?
Yes. Mansell finished second in his first season back before claiming the 1992 world championship the following year. Nine wins in that season also made him the most successful British driver in terms of race victories. Prost was brought in for 1993 and Mansell opted to take up IndyCar racing in America.
Mansell was to return to Williams once again in 1994 for four races. He won his final Formula 1 race at the season-ending Australian Grand Prix.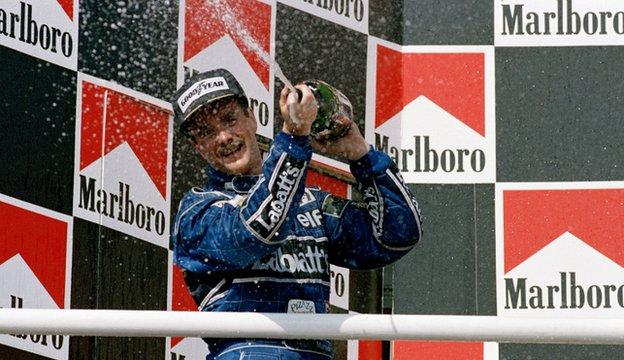 BBC Radio 5 live's James Allen: "Mansell will always be synonymous with Williams. He was their most successful driver, but it was not an easy relationship. Certainly when he left the second time there was a lot of bad blood. But when he did first go back to them, Williams had a tremendous car and ultimately it turned out the right move for him."
Gerhard Berger - Ferrari (1987-89 & 1993-1995)
A winner of 10 races over the course of his 13-year career, a world championship title eluded Gerhard Berger, whose season-best results came in two separate spells at Ferrari in 1988 and 1994 - when he finished third in the championship.
Why did he leave?
Berger showed plenty of potential in his first period at Ferrari, finishing third in a 1988 championship that was dominated by McLaren. Indeed, he was the only driver to break McLaren's stranglehold on the sport that year with victory at the Italian Grand Prix. However, 1989 was a different story as mechanical problems meant it took until September for him to even finish a race. As a result, he moved to McLaren for the 1990 season to partner Ayrton Senna.
Why did he go back?
Having failed to win any races for three years, Ferrari reportedly made a lucrative offer to tempt back Berger to the beleaguered team in 1993, with the hope that his experience would help instigate a turnaround in their fortunes.
Was it a success?
His return certainly had the required impact for Ferrari. In 1994, he ended the team's four-year wait for a win by taking victory at the German Grand Prix. He also finished on the podium in five other races. The year 1995 belonged to Williams and Benetton, but despite their dominance, Berger managed six third-place finishes for Ferrari, before he switched to Benetton, a team he previously drove for in 1986, with Michael Schumacher going the other way to Maranello.
BBC Radio 5 live's James Allen: "Berger was the ultimate number two driver, but he spent almost all his career in a front-running car. When he returned to Ferrari the team was going through a difficult moment. The structure of the team was not very good and Berger went back there to try and kick things into shape. He started the process that led to Michael Schumacher winning multiple world championships."
Fernando Alonso - Renault (2003-06 & 2008-09)
Kimi Raikkonen will need only look across the Ferrari garage next season to see someone who has experience of returning to a former team.
Fernando Alonso had two spells at Renault, but it was in his first that he twice won the world championship with the French team in 2005 and 2006.
Why did he leave?
Shortly after winning his first world title at Renault, Alonso announced in late 2005 that he would leave Renault for McLaren for the 2007 season, stating that it was an opportunity too good to miss. He signed off his time at Renault in style, winning the championship for the second successive year.
Why did he go back?
It became increasingly clear there were tensions between Alonso and his then rookie team-mate Lewis Hamilton at McLaren, with the latter offering a surprise challenge for the championship. After just one tempestuous year at McLaren, Alonso returned to Renault for 2008.
Was it a success?
No. Alonso never looked like mounting a challenge for a third title with the team, and in two years he managed just two race wins - both coming in the 2008 season. In 2009 he finished on the podium just once in 19 races and he subsequently signed a multi-year deal to join Ferrari from 2010.
BBC Radio 5 live's James Allen: "This was not a grand return in any shape or form. The surprise form of Lewis Hamilton meant Alonso's time at McLaren got completely out of control and, after just one season he was back at Renault. They were not competitive and Alonso knew he was not joining a title-challenging team, but made the move to keep his career going, with his departure from McLaren made at such short notice."