Lewis Hamilton column: Singapore Grand Prix an incredible challenge
Last updated on .From the section Formula 1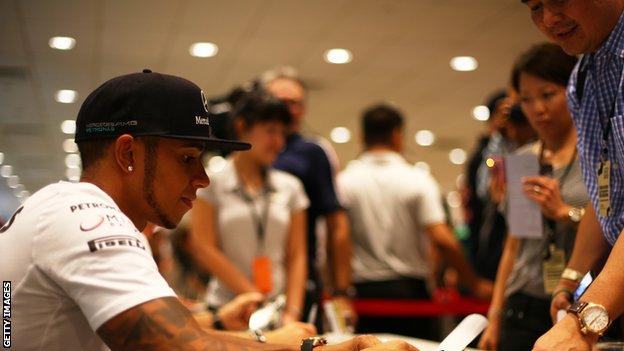 There is something really special about the Singapore Grand Prix - I always look forward to coming here and it's one of my favourite races.
For a start it's a street circuit and I always love that, but it has so many characteristics that add up to make it unique.
Singapore itself is just beautiful. It's so clean, there's a great climate and the buildings are spectacular, particularly at night when all the lights are on. It's one of the most stunning cities in the world.
The ambience is already great before you get to the track and then the track itself is just phenomenal. It's a great street circuit and it is so challenging and really complex to drive.
There are 23 corners and it's such a long lap at 3.15 miles. I think of it like the famous Nurburgring Nordschleife - not in terms of elevation change, but because you have corner after corner after corner.
Perfecting a lap is really difficult - remembering all the braking and turn-in points, all the kerbs and so on. There is so much info to take in.
It is also an incredible physical challenge for all the drivers. It's warm and really humid and there is no respite because you are constantly turning left and right, left and right. It's like sprinting. I'm sure our heart-rate here is higher than in other places.
The intense heat of the day fades a little as the sun goes down, but in the cars it is hot as hell - around 60C in the cockpit. It's really not nice and you just have to deal with it.
One of the strategies I use is to get in the sauna when I arrive just to get used to those sorts of conditions.
You sweat so much but that's actually a good thing because it helps prevent you getting too hot.
It's hard to describe what it's like to drive a two-hour race in those conditions, but try thinking of what it would be like sitting in a sauna wearing a full fireproof race suit and helmet.
If 10 is the hottest temperature of that sauna, then the Singapore race is a seven. And then you do a bit of a workout - some press-ups, running on the spot and so on.
It's exhausting and mentally draining at the same time, so keeping your energy levels balanced and optimised through the race is not easy.
You have sweat dripping down your face and there is so much going on that it is easy to make mistakes.
Driving a lap in Singapore is just so hectic. You are being thrown around in the car, bounced all over the place. There is compression in your spine. Your legs are moving. You're vibrating all the time, hoping not to lock up the brakes. It's crazy.
Another strange aspect to it being a night race is that although we are in Singapore - which is seven hours ahead of the UK - we stay on European time.
Light messes with your mind and body clock, so we try to ensure there are natural-light lamps in the room and outside the little offices we have in the paddock. That helps your body think it's still daylight.
I changed my preparations a little for this race this year to do more swimming. I've realised that I tend to hold my breath when I'm doing stuff and breathing is such an important part of your body flow.
In the gym the other night I was doing pull-ups and sometimes I just held my breath, so the guys had to keep telling me "breathe, breathe".
So hopefully getting in the water and remembering to breathe properly will be a big help. If I'm giving my brain a bit more oxygen, I should be able to calculate things that bit faster.
Despite all the challenges, I just love driving here and I always seem to go well. I won here in 2009 and feel like I have been the moral victor twice as well.
Last year, I was leading comfortably when my McLaren's gearbox broke, and in 2008 I was second behind Ferrari's Felipe Massa and on a strategy that could have won me the race - then came the Safety Car period after Nelson Piquet deliberately crashed his Renault and I ended up third behind Fernando Alonso and Nico Rosberg.
Hopefully I can make up for those disappointments with another win on Sunday.
Meeting a special fan
I had a really nice experience at a PR event in Singapore on Thursday morning. I met an eight-year-old boy called Alex who had apparently been waiting for six hours to see me. He'd even brought me a bag of my favourite sweets.
He wants to be a racing driver - he's in karting - and he was asking me about it.
It's really overwhelming to see a young kid aspiring to be you. He came up and sat on stage and he had tears in his eyes.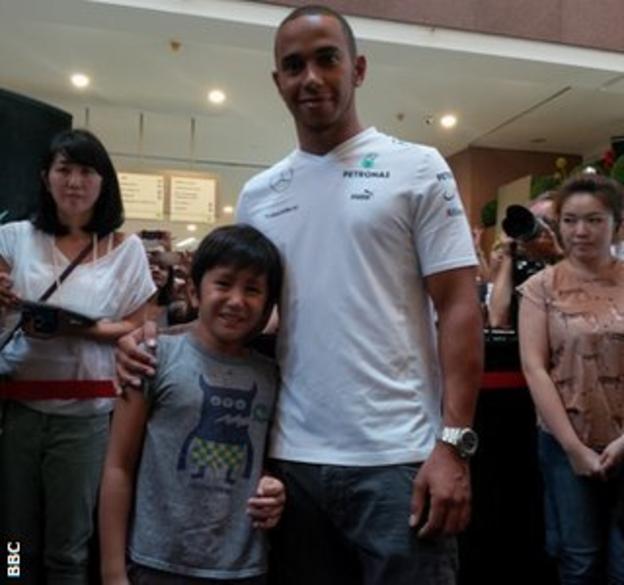 It's hard to grasp how he would be feeling at that time, but I just wanted to reach out to the kid and give him as much positive energy as possible.
I told him I come from a small town called Stevenage in the middle of nowhere and would never have thought I would be coming this far across the world and having so many people supporting me.
I said he should work hard at school - because that will help when you get to where I am - and just make sure he races his heart out every time he's out there on the track.
He asked me if I got nervous when I'm driving. I said I am generally really relaxed but always have butterflies before the start - and that's a good thing. If you have that, never think negatively about it.
My attitude to these sorts of experiences has changed.
When I got to F1, I was doing it for myself and family. I feel like I have got to a transition period now where it is for the fans to some degree - people like Alex.
I want to set the right tone and a good example. Naturally, I want to get in the car and do my best but I also want to spread positive energy.
It's not just about me; it's bigger than that.