Mark Webber given 10-place penalty at Korea after Alonso lift

By Andrew Benson
Chief F1 writer in Singapore
Last updated on .From the section Formula 1
Red Bull's Mark Webber has been hit with a 10-place grid penalty at the Korean Grand Prix.
The Australian and Ferrari's Fernando Alonso were both reprimanded after the Spaniard gave Webber a lift back to the pits after the Singapore Grand Prix.
Webber retired on the last lap and was stranded at Turn Seven. Alonso, who was second stopped to allow Webber to climb onto his car as he drove to the pits.
It is Webber's third reprimand in 2013, triggering an automatic grid penalty.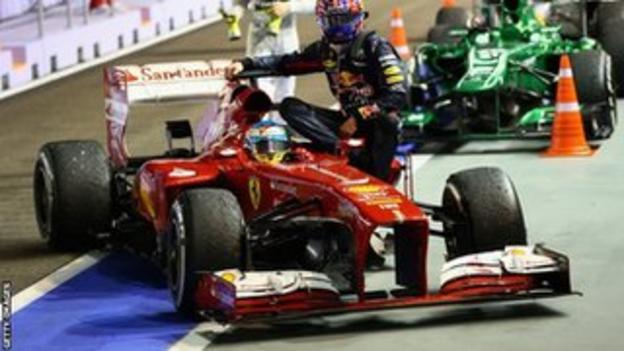 The rules say three reprimands in one season will trigger a 10-place grid penalty if two of them were imposed for "driving infringements".
Governing body the FIA has confirmed this applies in Webber's case.
His previous two were in Bahrain for a collision with Mercedes driver Nico Rosberg and in Canada for not slowing down sufficiently for yellow caution flags.
Both stopping on the track and going on the track without permission are banned.
Webber went out on to the race track to accept a lift from Alonso, who stopped in the middle of the track. The FIA said this was despite the marshals telling him not to.
Alonso's stationary Ferrari forced two cars behind to take avoiding action.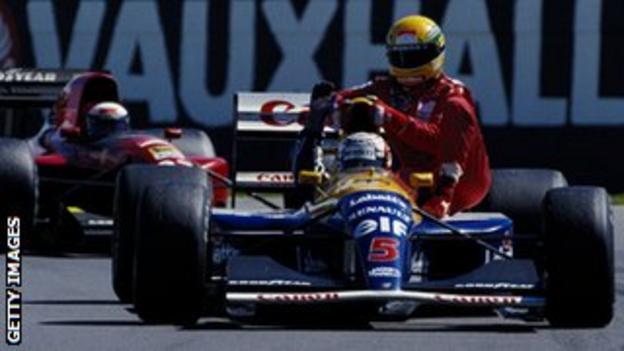 Lotus's Kimi Raikkonen was alongside Alonso when Webber waved for a lift. Alonso stopped and Raikkonen slowed down before realising Webber would get on the Ferrari.
With Alonso stopped in the track and Webber climbing on his sidepod, the two Mercedes drivers were next on the scene.
Nico Rosberg avoided them to the left and Lewis Hamilton ran over the kerbs on the outside as he drove around the Ferrari.
"I was doing my in-lap, came around the corner and Fernando was there, and I was really shocked," said Hamilton.
"I went to the right of him, but if Mark had been walking across where I went then I would have run him over. Fortunately, that wasn't the case.
"It's good for the fans to see and, as long as it's done in a safe manner - you don't stop on the racing line - then maybe it should be allowed for the future.
"In sport, it's cool. There have been times where I've driven past someone else who has stopped and I'd wished I'd stopped."
It's not the first time a driver has given another a lift after the chequered flag. In the 1991 British Grand Prix, Nigel Mansell gave Ayrton Senna a ride back to the pits on his Williams after the Brazilian ran out of fuel.
And in the 1995 Canadian Grand Prix, Michael Schumacher did the same for Jean Alesi after the Frenchman, who had just won his first Formula 1 race, also ran out of fuel.