Ferrari's Fernando Alonso blames world title struggle on tyre change

By Andrew Benson
Chief F1 writer in Singapore
Last updated on .From the section Formula 1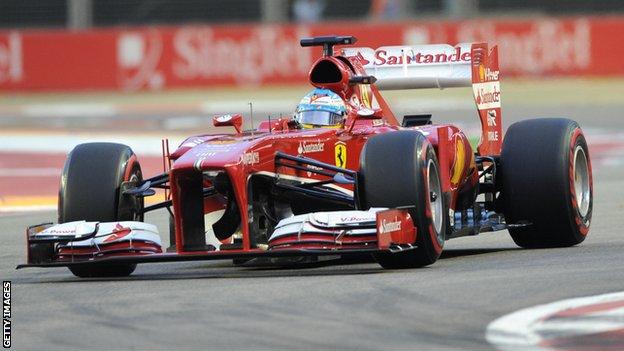 Ferrari's Fernando Alonso thinks his title hopes were effectively ended by the decision to change the design of Formula 1's tyres mid-season.
Alonso can still win but said he needs to be "very, very lucky" to overhaul Sebastian Vettel's 60-point lead.
Ferrari have lost competitiveness since more durable tyres were introduced in July following several failures.
"That was probably our point in the championship: when they changed the tyres, we said bye-bye," Alonso said.
Alonso won two of the first five races of the season and was competitive in all, but the Pirelli tyres, which were of a new design this year, began to suffer a series of dramatic failures.
Pirelli came under pressure from Vettel's Red Bull team, Mercedes, and the Grand Prix Drivers' Association to change the tyres on safety grounds.
But Ferrari, Lotus and Force India were among the teams resisting the change, feeling they had an advantage on the tyres, which had been deliberately designed to wear out even faster than they had in 2012.
After Silverstone, the tyres were changed in two stages for the subsequent German and Hungarian races, ending up with a reversion to the more durable construction used in 2012 from the subsequent Hungarian Grand Prix.
Pirelli have also begun to take more conservative choices in which tyres they use for each race.
Alonso said: "We started (the season) in a good way. We were competitive in Australia, maybe not in qualifying but in the race we were taking care of the tyres very, very well, together with Lotus.
"We won in China, we won in Spain and then we seemed to lose a little bit of performance, especially when the 2012 tyres came back."
Ferrari have lagged behind Red Bull throughout the five-year life of the current set of F1 regulations and Alonso is hopeful they will be able to be more competitive under new rules next year.
There are a series of changes to the cars, and a more dramatic modification to the engines, with 1.6-litre V6 turbos with extensive energy recovery systems replacing the current 2.4-litre naturally aspirated V8s.
"For next year, we start from zero," Alonso said. "Really we will put all our effort and hopes into 2014, because starting from zero is our best opportunity to close the gap with all the top teams."