Mark Webber denies ignoring Singapore marshals
Last updated on .From the section Formula 1
Red Bull driver Mark Webber has denied that he was told to not walk on the track by race marshals during last weekend's Singapore Grand Prix.
Governing body the FIA said marshals had told Webber not to go on the track.
But he tweeted on Tuesday: "There was no interaction at all with any track officials after we put the fire out."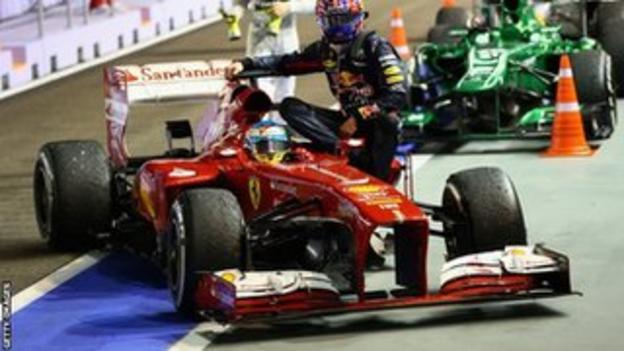 Webber retired after his car ran out of water and the engine caught fire. He ran onto the track to flag down drivers as they completed their slowing-down laps after the race had ended.
Alonso stopped and the Mercedes drivers - Lewis Hamilton and Nico Rosberg - had to weave to avoid his Ferrari as Webber climbed on the sidepod.
Both drivers were reprimanded and because it is Webber's third of the year, it triggered an automatic 10-place grid penalty that will be imposed at the Korean Grand Prix.
Webber added: "To receive reprimands for our actions after the race is comical to say the least. Great moment, and fans loved it."
Britain's Jenson Button also felt the penalty was harsh. He tweeted: "Disappointed to see the penalties for Mark Webber and Fernando Alonso, acts of sportsmanship should not really be punished. (They) could have stopped in a slightly safer place but still think it's a bit harsh."
However, former F1 driver and British Racing Drivers' Club president Derek Warwick, who was one of the race stewards in Singapore, told the Daily Telegraph: "It is not health and safety gone mad.
"A driver could easily have been hurt. I hope we're not seen as killjoys.
"We have become a bit sterile in many ways in Formula 1. But we cannot put drivers at risk. If it had been done in a safer manner then it might have been viewed differently. You can't have cars parked in the middle of a corner."
Webber also posted a picture on Twitter of Warwick hitching a ride on the back of Austrian Gerhard Berger's Ferrari at the 1988 Japanese Grand Prix.
He wrote: "Looks like even one of the Singapore stewards has done it...#C'estlavie."