Bahrain GP suitability 'could be investigated' says FIA candidate

By Andrew Benson
Chief F1 writer
Last updated on .From the section Formula 1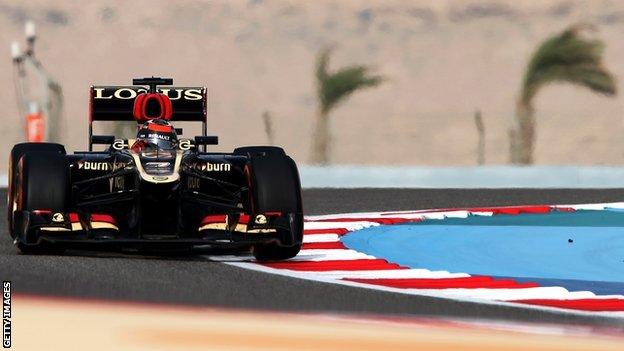 FIA presidential candidate David Ward would set up an investigation to establish whether Bahrain should hold a grand prix, if he is elected.
The event was cancelled in 2011 after civil unrest, but was reinstated last year by the current head of motorsport's governing body, Jean Todt.
But Ward said Todt was guilty of "poor decision-making".
"The important thing is to be neutral. What is merited is an investigatory visit," he said.
"Look at things on the ground, talk to all sides as far as is possible and make a judgement based on that."
The Bahrain GP was cancelled two years ago after the unrest led to a violent suppression of protests and accusations that authorities had engaged in torture and other human rights abuses.
Todt sent the head of the Spanish motorsport federation on a fact-finding mission to the troubled Gulf state ahead of the reinstatement of the race in 2012 but his report was widely criticised.
Ward and Todt are the only candidates to have declared so far for the 6 December FIA election.
Speaking in an interview with BBC Sport, 58-year-old Englishman Ward said: "I think he was rather badly served in that mission. I felt sorry for him, actually."
Ward, a long-time adviser of former FIA president Max Mosley, said he would send "someone with expertise in the area" to Bahrain, citing as an example Edwin Glasgow QC, who chaired the Bloody Sunday inquiry into the actions of British security forces in Northern Ireland in the 1970s.
He said it was a mistake to run the Bahrain race in 2012 and that the FIA and F1 "crossed over a line" in their facilitation of the Bahrain authorities.
"If it looks like the situation is deteriorating or not improving, what there should be - because this could happen tomorrow in another part of the world - is a standard process to handle this, that is immune from suggestions that one place is being treated differently from another," Ward added.
He said that if the FIA put "appropriate processes in place, it would minimise the reputational damage you can get from poor decision-making on the hoof".
He added: "Bahrain had all the hallmarks of decision-making on the hoof right up to 24 hours before the race".
Ward admitted Mosley is an "old friend", but says the controversial former FIA president is not supporting his campaign. "I am doing this entirely for my own reasons," he said.
When Mosley indicated he would not stand again, Ward backed Todt's campaign for the FIA presidency in 2009, and wrote the Frenchman's manifesto.
But now Ward, who worked with former Labour Party leader John Smith until his death in 1994, is standing against Todt, saying the FIA needed fundamental reform because its structure is "not fit for purpose".
He described the FIA as "amateur, antiquated and rather archaic" and says it should appoint a paid chief executive and a special commissioner to deal with F1 on a daily basis.
Ward said he would press for the FIA to "strengthen its provisions" on corruption and bribery, by ensuring the sporting code "would be clear about the requirements we would have in terms of partners".
This, he admitted, would "very likely" mean F1 boss Bernie Ecclestone would fall foul of that code if he is convicted of the bribery charges he is facing in Germany.
Ward said the failure to set up a tender process for the sport's tyre supplier next year - as required by the F1 regulations - could potentially put the FIA at risk of failing in its obligations to the European Commission under competition law.
And he is critical of Todt's decision to have only a fax vote of the FIA World Council - its legislative body - to approve the outline of a new Concorde Agreement, the document that governs F1.
He said it was "rather odd" and "quite strange" not to submit it to the discussion of a full meeting of the World Council.
Describing himself as a "terrible governance geek", Ward said the issues on which he was campaigning "may seem intensely boring but are actually really, really important".
He said: "The reasons I'm running is I can see failures going on in terms of governance that I think are quite serious."
Ward added that the role of the FIA president was too wide for one person to do effectively and that the organisation needed "robust decision-making processes with separation of powers between executive and legislative and judicial".