Korean Grand Prix: 'An unusual but enjoyable circuit'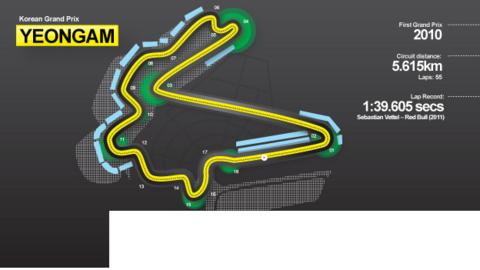 After months of construction delays and missed deadlines the Korean Grand Prix made its debut on the Formula 1 calendar in 2010, only 11 days after receiving the final sign-off from the sport's governing body, the FIA.
Three years later, the race near the port city of Mokpo remains on the calendar and while it struggles to attract the fans and requires a major trek to get there - it is located more than four hours away from the capital Seoul - the majority of drivers enjoy the layout.
It was at this circuit last year that Sebastian Vettel snatched the championship lead from Fernando Alonso. Could this be the Spaniard's chance to exact revenge and, in so doing, put pressure on the German in the title race?
The track
Divided into three sectors, the track requires a compromised set-up to cope with the long straights between Turns Two and Three while retaining enough downforce to negotiate the twisty section between Turn 11 and the finish.
There are several overtaking opportunities, the most obvious of which is in the heavy braking zone after the long straight into Turn Three. There are also chances at Turn Four and 10.
There are two DRS zones. The detection point of the first is 70m after Turn Two, with activation 360m after the turn, while the second detection point is 60m before Turn 16, with activation 95m after Turn 18.
In the previous visits, cool and cloudy conditions have created low track temperatures, making it challenging for drivers to build tyre temperatures. Meanwhile, the sea-level location of the track means the high atmospheric pressure has a positive effect on engine performance and aerodynamics.
Reports suggest this year's race could be affected by a powerful tropical storm. Typhoon Fitow is on course to hit the area on Sunday, bringing with it torrential rain and winds of up to 100mph.
The venue
Built on swampland that sits in the Yellow Sea, the 18-turn 5.615km Korean International Circuit at Yeongam is still very much a work in progress.
It was designed to be a hybrid street-circuit race, but the city which is supposed to have sprung up around the track has yet to materialise.
Indeed, aside from the circuit, garages and grandstands, much of the infrastructure - such as planned boat hotels/viewing decks which would straddle the track and provide hospitality for guests - has yet to materialise.
What the drivers say...
Red Bull driver Sebastian Vettel: "The track in Korea has a bit of an unusual layout. The long straights all come right at the beginning and the turns at the end. I love the curvy part because it is a lot more fun, whereas the straight lines and sharp turns can be a little boring. They are also our weakness, because we often lack in top speed there."
Marussia driver Max Chilton: "The Korea International Circuit marks another new experience. I understand the track to be quite slippery and the wide range of corners make it interesting to drive. I look forward to my first experience of it this weekend."
Sauber driver Nico Hulkenberg: "I enjoy driving there and also, historically, it has been quite a good circuit for me. In 2010 I would have finished fifth but had a puncture just before the end of the race. Last year I had a great race there, finishing sixth. So I have good memories of Korea and look forward to the race weekend."
Lotus driver Kimi Raikkonen: "Last year was my first visit (to Korea) and it's quite a tricky circuit to learn quickly, but I felt comfortable with it after a few laps. When the car is right, you can go well there. Last year we saw it's a good place to race with a good car."
McLaren driver Jenson Button: "If there's one circuit on the F1 calendar that hasn't been particularly kind to me, then it's the track in Korea. I had a pretty tough race there in 2010, an average race there in '11, and I didn't even have a race there last year - someone smashed into me at Turn Three on the first lap, and my race was over. Of course, it would be easy for that to make your head drop, but, in fact, the opposite is true: I travel to Korea even more determined than normal to reverse the trend."
Force India driver Paul Di Resta: "It's an unusual track, but definitely a place that I enjoy driving. The three sectors are all very different with long straights linked by hairpins, some high-speed corners and a slower technical part of the lap."
A classic Korean Grand Prix
2010: The first Korean Grand Prix was arguably the most dramatic, with rain playing a huge part in the outcome. Alonso won as title rivals Vettel and Red Bull team-mate Mark Webber both failed to finish.
So treacherous were the conditions that the race started behind the safety car following a 10-minute delay, but three carefully navigated laps were completed before race director Charlie Whiting opted to suspend the race. One hour later, it resumed - again behind the safety car - as the circuit dried before the 24 cars were released on lap 17.
Three laps later Webber spun and hit the wall, ending his race and prompting another appearance from the safety car. The race was disrupted again soon after as Timo Glock crashed and once racing managed to get fully under way, Vettel and Alonso tussled at the front.
In the closing stages, Vettel had the lead before his engine blew up spectacularly, paving the way for Alonso to win and improve his standing at the top of the championship.
Korean Grand Prix, day one
Friday 4 October:

First practice at 01:55 BST on BBC Radio 5 live sports extra, plus live text commentary online from 01:30. Second practice at 05:55 BST on BBC Radio 5 live sports extra, plus live text commentary online from 05:30.
Korean Grand Prix, day two
Saturday 5 October:

Final practice at 02:55 BST on BBC Radio 5 live sports extra, online live text commentary from 02:30 BST. Qualifying at 05:55 BST on BBC Radio 5 live sports extra plus live text commentary online from 05:00. Qualifying highlights, 13:15 BST on BBC One.
Korean Grand Prix, day three
Sunday 6 October:

Race coverage at 06:55 BST on BBC Radio 5 live, and live text commentary online from 06:00. Race highlights, 14:00 BST on BBC One.