Murray Walker at 90 on James Hunt and Ayrton Senna
By Lawrence Barretto
BBC Sport
Last updated on .From the section Formula 1
It has been 12 years since legendary commentator Murray Walker hung up his microphone for the final time and yet, as he turns 90, his reputation as the voice of motorsport remains intact.
Famous for his high-octane commentary style and memorable phrases that became known as Murrayisms, he retains his infectious enthusiasm for the sport that has been his life.
"I watch all of the races and would still go to all of them if I could," Walker told BBC Sport. "But what did it for me was the travelling. I'm an old man and simply haven't got the stamina to do both."
Walker broke his pelvis earlier this year and while he was in hospital tests revealed he had lymphoma, a form of blood cancer. Encouragingly, though, he is on the mend.
"My pelvis is coming together," said Walker. "And most importantly, I've dodged the chemotherapy as my blood has improved so much. Hopefully I can go on like that for the rest of my life."
Initially, Walker had no interest in motor racing.
He would go to the Isle of Man TT, where his motorcycling TT champion father would be competing, and sit in the stands reading his comic.
"I paid very little attention because it was what my father did for work," said Walker. "If he was a plumber, I don't suppose I would have been interested in that either. It infuriated my mother."
But after serving in a tank regiment during World War II, Walker caught the motorsport bug and began racing motorcycles before realising he would never reach the heights of his father.
"I was alright," he said. "But I would never have been what I wanted to be. So you know what they say, those that can, do, those that can't, talk about it - and that's what I did."
Walker joined his father Graham in the commentary box in 1949 and from there moved on to four wheels, commentating on Formula 1 full-time for the BBC from 1978 until 2001.
"When I started working in Formula 1, all you had was a television screen - which was the same picture as the viewer saw - a microphone and a stopwatch to record lap times myself," he said. "I also had a chap sat next to me who wrote down the numbers of the cars as they went past on a lap chart."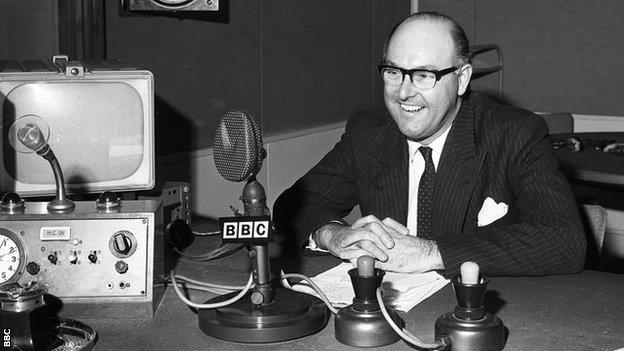 He was a stickler for detail, painstakingly researching and preparing notes on each of the drivers, which would be updated and rewritten before each race.
"I would walk the course on a Thursday and check where all the banners were and talk to the drivers and find out where they changed gear and what revs they were pulling and what speeds they were doing," he said. "I'd put that all on a map and tape it to the desk."
With so little information available, it would naturally make life difficult if a single television feed went down.
"That happened once during the Monaco Grand Prix," said Walker. "I had to pick up the telephone and talk to the producer in London who was telling me what he was seeing on the screen and I was having to turn that into commentary. It went on for about 10 or 15 minutes, which was certainly long enough!"
Walker formed a famous double act with the late James Hunt. The duo fought over a single microphone for more than a decade before the 1976 world champion's death from a heart attack in 1993.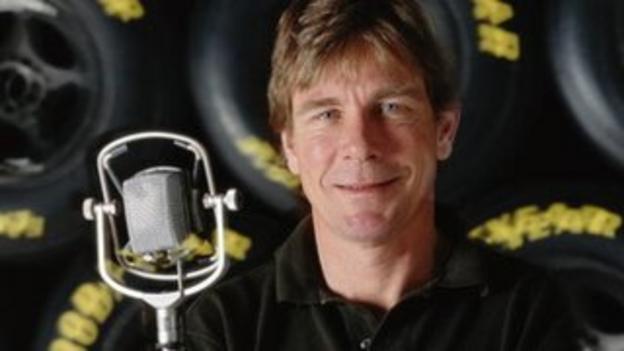 "James and I were oil and water," he said. "We had very different attitudes to life but maybe because of our differences, it seemed to work as a commentator mix.
"There was often a lot of friction in the commentary box because we had to share one microphone between us in order to avoid us talking over each other.
"One year we were doing the British Grand Prix at Silverstone. I had been talking for what James thought was too long and he wanted to say something.
"He grabbed hold of the microphone wire and gave it a good jerk. The microphone flew out of my hands and into his. He started talking and I was absolutely incandescent with rage.
"I actually had my fist back to thump him but I looked across the commentary box and our producer was wagging his finger at me - and I got a 'no, no, no!' expression on his face.
"The blow never landed - and it's just as well as it would have broken up a great friendship."
One of Walker's most famous lines was: "I've got to stop now, because I've got a lump in my throat" as Damon Hill won the 1996 Japanese Grand Prix - and with it his only World Championship.
"That moment was certainly the high of my career," said Walker. "It was highly emotional for me as I had commentated on his double world champion father Graham Hill. I had also watched Damon throughout his career, including when he raced motorbikes and did F3 and F3000 before joining Williams in F1. I was much closer to him then I was to most people.
"The low was that it was my sad duty to commentate on Ayrton Senna's death. I had seen three other drivers crash in identical circumstances at the same corner at Imola in previous years.
"Michele Alboreto emerged unscathed, Nelson Piquet had a slightly hurt foot and Berger was belted into the car unconscious when it was on fire - but survived. So when Senna crashed there in 1994, my immediate reaction was 'my, that was a big one', but it immediately became obvious that it was more than that. You could tell from the body language of the marshals and medical staff.
"It's not difficult to talk when something is going on but it is difficult to talk when there is something happening and you don't really know what it is. I knew he was hurt - but I didn't realise how bad as it was. You had to walk a fine line and it was undoubtedly the hardest job I ever had to do."
And what does Walker, with 60 years of commentary experience under his belt, think of modern day Formula 1? "I think it's brilliant. People say it's deteriorated. I don't think it has.
"They talk about the golden age of motor racing before the war, but sometimes the winner was as much as five minutes ahead of the bloke in second place. It's so much closer now."
A one-hour Murray Walker 90th birthday special will go out on BBC Red Button on Thursday 10 October at 11:00 BST, 12:00, 17:00 and 18:00 and Saturday 12 October at 14:35 and 21:50. You can also listen to a special interview with Murray Walker on BBC Radio 5 live on Sunday at 16:00.