Fernando Alonso believes Sebastian Vettel car is legal

By Andrew Benson
Chief F1 writer
Last updated on .From the section Formula 1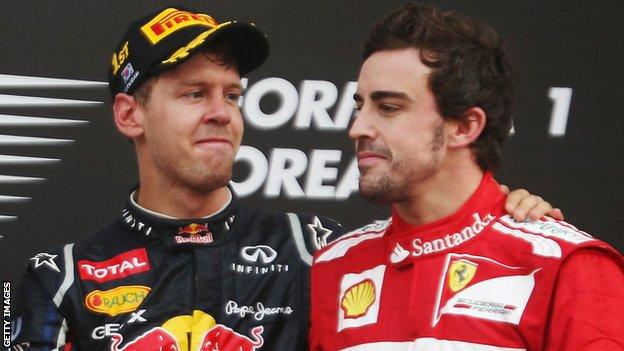 Fernando Alonso has dismissed rumblings in Formula 1 that his title rival Sebastian Vettel is benefiting from illegal driver aids on his car.
The rumours started after the Singapore Grand Prix - Vettel's Red Bull was more than two seconds a lap faster than his closest pursuer on his way to victory.
Alonso said: "They are using something different compared to the other teams but something that is completely OK.
"They pass all the checks every race so it's up to us to do a better job."
Former F1 team boss Giancarlo Minardi started the speculation with comments after watching from trackside in Singapore.
Minardi said Vettel was able to accelerate much earlier than all his rivals, including team-mate Mark Webber, and that his Red Bull's Renault engine was making a "sound similar to the sound made by the engine when the traction control system was used in previous seasons".
Traction control, which maximises acceleration by preventing the rear wheels spinning, has been banned from F1 since 2009.
Mercedes driver Lewis Hamilton heightened the speculation when he said on Thursday, ahead of the Korean Grand Prix: "If you look at the onboard [camera], he is on the power full throttle at least 20 metres before anyone else, which is a huge advantage.
"The last time I was able to put the pedal down that quick was back in 2007 or 2008, when we had traction control."
But Ferrari driver Alonso, who is 60 points behind Vettel in the championship with 150 still available in the remaining six races, said: "This different engine noise has been there all year in the Red Bull.
"It's true it's maybe more obvious in Singapore because it is a street circuit and people can watch in the corners but if you go to winter test, already in Barcelona, we were in corners following the test session and the Red Bull was a different sound.
"It's true when you find a Red Bull you see they are faster than you in the corners but this also happens with other cars and we don't say anything, like Mercedes. Hamilton was pole position in Hungary and winning easy, same feeling. All the things are good and it is up to us to do a better job."
Vettel said he believed Red Bull did have an engine control system that was better than their rivals.
"We were playing around quite a lot with it in practice [in Singapore]," he said. "The first time it worked was in the race.
"We are pretty proud of the system we have because other people will never figure out how we've done it. Constantly we try to improve the car. It is part of the homework we have to do."
He then jokingly played up to the rumours about traction control by saying he would be less strong in Korea this weekend than in Singapore because the nature of the circuit meant such systems would be less effective.
"Since traction control will not matter so much we should probably struggle a little bit more," Vettel said with a smile, "but I think we should still have a strong package."
Red Bull's advantage is believed to come largely from a more effective use of the exhaust gases for aerodynamic effect. This creates more rear downforce than the other cars, meaning Vettel has the rear grip to enable him to accelerate sooner.
Hamilton's team-mate Nico Rosberg was running behind Vettel in second place in Singapore when the world champion's advantage was at its most extensive. Rosberg explained that Vettel's comparative pace looked quicker in that race because he was struggling with his Mercedes.
"Rubber in my front wing cost me 1.7 seconds of downforce, and then more because when you do have such a loss you wear the tyres more, so it probably went up to 1.9 to two seconds a lap," Rosberg said.
Alonso, who was second to Vettel in Singapore, added: "They had a big advantage in Singapore but it was not 2.5 seconds. It was maybe one second, which is a huge advantage, but we see how much it is here."