Korean GP: F1's minimum weight limit unlikely to change

By Andrew Benson
Chief F1 writer
Last updated on .From the section Formula 1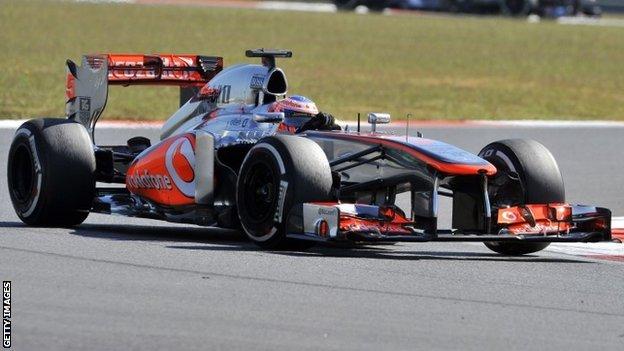 McLaren team boss Martin Whitmarsh admits Formula 1's minimum weight limit is unlikely to change despite it disadvantaging taller drivers.
Teams are struggling to meet next year's minimum weight limit and there are concerns tall drivers such as Nico Hulkenberg could lose seats.
But Whitmarsh said: "There are grounds [to raise the weight limit], but F1 doesn't work like that.
"Self interest will prevail. Teams that think it's OK will block any change."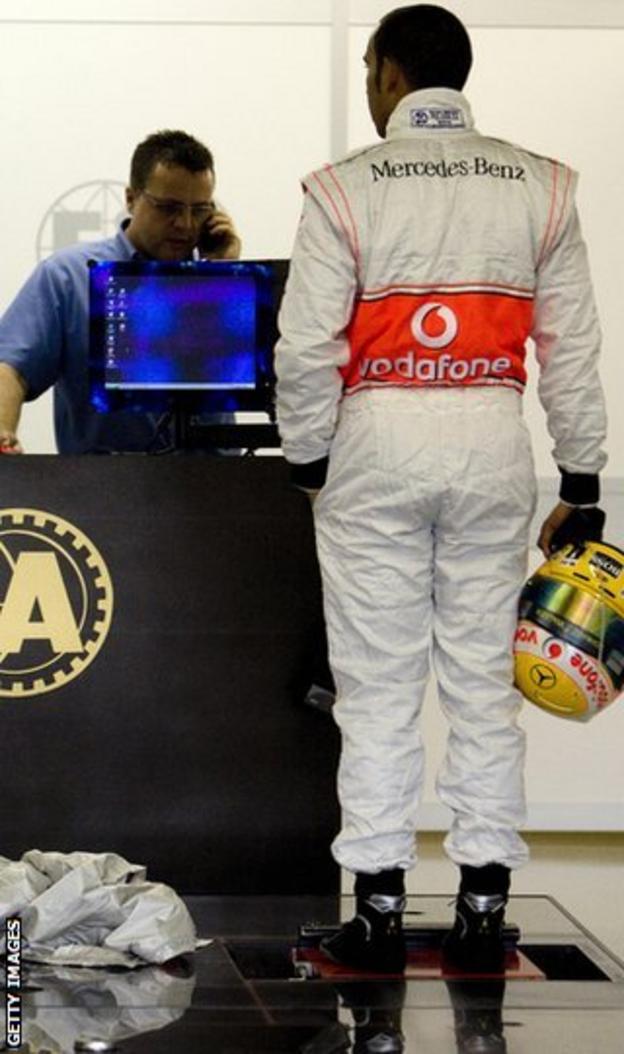 The minimum weight limit has been raised from 642kg for the driver and car together to 690kg for next year to take into account the fact that the engines will be heavier as a result of a switch to 1.6-litre turbos with extensive energy recovery from this season's 2.4-litre V8s.
But the engines are turning out to be heavier than anticipated and teams are still struggling to meet the minimum weight limit as a result.
So having a taller - and therefore heavier - driver can put a team at a disadvantage because it means they are likely to be over the weight limit.
The issue matters because 1kg of weight equates to about 0.035secs a lap on an average circuit.
That means a smaller driver such as Ferrari's Fernando Alonso, who weighs 68kg, is at an advantage over a taller one such as Sauber's Hulkenberg, who weighs 74kg, to the tune of 0.2secs a lap if the team cannot reduce the car by the amount of their weight difference.
And even if they can, the taller driver is at a disadvantage because his weight is high up in the car, which also affects performance.
McLaren have ruled out Hulkenberg as a potential replacement for Mexican Sergio Perez next year as a result of this.
A high-level source said the chances of a change to the weight limit were "quite slim as it would require everyone to agree, and some teams and engine manufacturers don't think they need an increase".
McLaren's Jenson Button, who also weighs 74kg, admitted the issue was "not funny - especially when he [Hulkenberg] is very talented and that can make the difference with him racing or not.
"I'm sure every driver would agree that it's unfair if certain drivers cannot meet the weight limit. It's an unfair advantage you really shouldn't have just by being born smaller."
Button added: "I'm 74-75kg with my kit and I struggle to meet the weight limit. I have done for three years.
"I love fitness training but there are things I can't do because I have to be a set weight - not eat carbohydrates, not build muscle. And next year it will be worse. I don't think any team will have ballast next year.
"I've been a kilo heavy maybe. It's doesn't hurt you over a lap because you can set the car up around yourself but you lose a lot of tools to adjust the car. You can't move the weight distribution because you're so limited.
"Next year we don't know how bad it's going to be, but I think it's going to be very tricky.
"Every year you start the year with ballast but the car puts on weight because you add parts to it. It does hurt the heavier drivers and it's very unfair to say lose weight because some of us can't lose more weight."
Mark Webber, who is just over 6ft tall, has been struggling with this issue compared to his smaller Red Bull team-mate Sebastian Vettel for several years.
"It's nothing new," Webber said. "Especially since Kers [power-boost systems] arrived it's been a challenge for the heavy guys.
"Everyone asks me why I look so skinny but you have to be skinny because it's to your advantage to be as light as possible.
"People say the weight distribution is fixed, but it's still 1% which is a big number you can move around and put the ballast where you want. It is not an advantage to be Nico's size or my size, it doesn't help.
"But that's the way it is, you do your best with what you have. They should look at trying to help the bigger guys in the future.
"We asked them a few years ago but they said no. The light drivers should be pushing as well but obviously they don't."