Sauber boss rules out Rubens Barrichello move
Last updated on .From the section Formula 1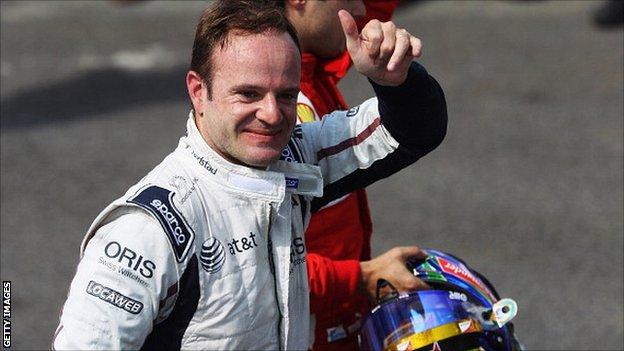 Sauber team principal Monisha Kaltenborn has categorically "ruled out" the prospect of Rubens Barrichello driving for the Swiss team next season.
It had been hinted by Kaltenborn that the 41-year-old veteran of 322 grands prix starts was in the running for a seat on her team.
"I am ruling out he will drive for us," said Kaltenborn. "Maybe it is better one is that clear about it.
"I just felt it would be a bit rude to do that. I was trying to be nice."
There had also been speculation Brazilian Barrichello, could replace one of Sauber's current drivers - Nico Hulkenberg or Esteban Gutierrez - for the final race this season at Interlagos.
But Kaltenborn also dismissed that possibility.
"I fully understand he wants to drive and he is trying his best," she said.
"I talk a lot with him when he is here, we discuss young drivers and so on, but we have never discussed a seat. That's reality.
"It's a bit unfair towards him because it doesn't look good for him. So, just to be very clear on it, we have not discussed a seat for next year and also no drive for Brazil."
Barrichello competed in IndyCar in 2012 but this year has driven in Stock Car Brasil and the Rolex Sports Car Series.