Korean GP: Paul Di Resta apology after mistake
Last updated on .From the section Formula 1
Paul Di Resta has admitted he faces "a long week" after holding his hands up to making another mistake.
The Scot slid his Force India into a barrier at the , two weeks after .
"I'll hold my hands up, it's me who has made the mistake and gone off," he said. "I apologise to the team.
"But the way we are running the car is massively different to the way we were running it before - on edge and pushing to get what we can out of it."
At the Singapore Grand Prix, Di Resta crashed out when a high points finish was on the cards, but this time his accident happened in mid race.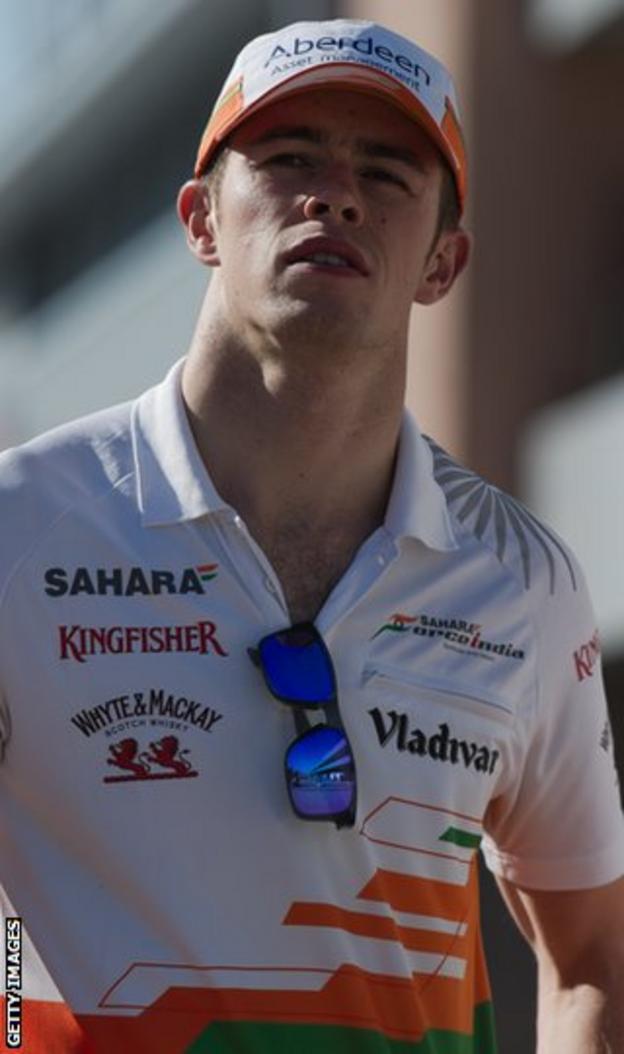 It is now four successive races the 26-year-old has failed to see the chequered flag and he has failed to score a point in the last six overall.
With his future with the team on the line, these are worrying times for Di Resta, who said: "It looks like I've upset somebody in the world!
"The car is very much on edge to get it to where it is.
"It took a mighty effort over a lap to get it to the performance of the cars we were racing.
"Unfortunately, it caught me out."
Di Resta was perplexed by an incident that at first appeared to be something other than driver error.
"It was just a spin, but it didn't slow up and hit the wall," said the Scot.
"It was odd the way the car spun one way but then shifted the other and I've watched the replay and I don't see anything I've done wrong.
"There was a bit of inside wheel lift, the car bounced and set it off.
"I admit I was pushing hard, but it's not like I ran over a big kerb and sent the car flying.
"But it's so on edge to get it to where it is at the moment and little things like that are making things happen."
The Formula 1 circus next heads for the Japanese Grand Prix on Sunday.
"It will be a long week," added Di Resta. "But, when I get back in the car in Suzuka, I am sure I'll be doing something slightly different to get more speed out of what we have."