Lewis Hamilton: Sebastian Vettel dominance could bore fans
Last updated on .From the section Formula 1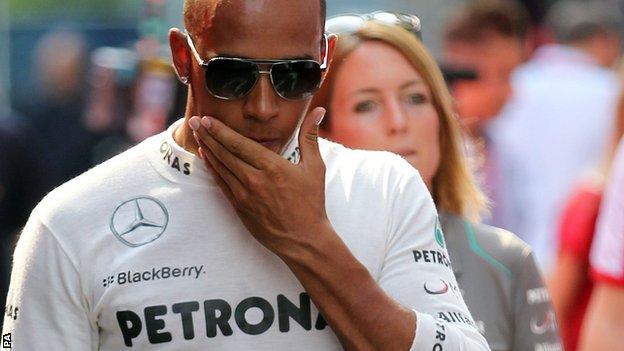 Britain's former world champion Lewis Hamilton says he fears Formula 1 fans will lose interest in the sport because Sebastian Vettel is so dominant.
Hamilton said he did not watch races when Michael Schumacher dominated.
"I remember waking up to watch the start of the race then going to sleep and waking up when it ended because I knew what would happen," said Hamilton.
"I am pretty sure a lot of people are doing that today."
Vettel can secure the title at the Japanese Grand Prix on Sunday if he wins at Suzuka and rival Fernando Alonso of Ferrari is lower than eighth.
Fans have repeatedly booed the German as he celebrated victories on the podium, but Hamilton, who has fallen to fourth in the standings, insists the Red Bull driver deserves to win the title.
"He has driven well all year," said the 28-year-old. "I've just looked at his points and he has had second, first, second, first all year. He's done the perfect job and he deserves it."
Vettel is 77 points clear of Alonso after winning more than half the races this season and could clinch the championship with four grands prix to go.
He has won eight races, Alonso and Nico Rosberg have won two while Hamilton's only success came at the Hungarian Grand Prix.
Vettel's reliability has seen him finish on the podium in two thirds of grands prix for the last four seasons but his best performance was in 2011 when he won 11 of the 19 races from 15 pole positions and only failed to make the podium on two occasions.
In contrast, Hamilton has won 13 races since claiming his only world title in 2008.
Vettel's record is similar to Schumacher's, who won five world titles between 2000 and 2004, winning 48 of 85 grands prix.
And Red Bull team principal Christian Horner believes he deserves to be ranked alongside the greatest drivers of all time.
"He has to be right up there - he has to be," said Horner.
"The level he is performing at is unbelievable in many respects.
"We know Mark [Webber, Red Bull team-mate] is a very talented and quick racing driver and matching him against that, he has been hugely impressive.
"What has been really impressive is he has continued to grow and improve as he has gained more experience, and to have won the ratio of races he has is remarkable."