Lewis Hamilton praises 'great champion' Sebastian Vettel
Last updated on .From the section Formula 1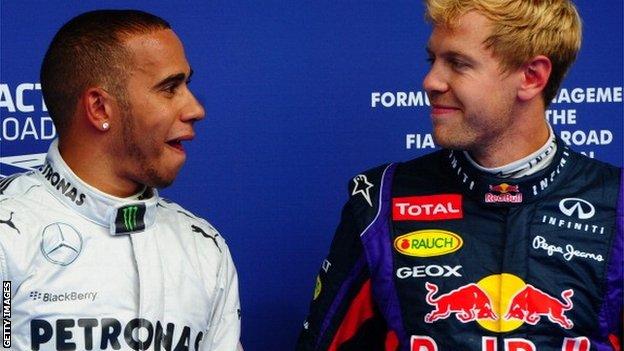 Mercedes driver Lewis Hamilton has described Red Bull's Sebastian Vettel as a "great champion" - only days after saying he feared the German's dominance of the sport could bore Formula 1 fans.
"I admire his dedication and ability to consistently perform without mistakes," Hamilton wrote on Tuesday.
"That is the mark of a true champion. He is a great human being."
Vettel, 26, is on the brink of a fourth consecutive world championship after winning the Korean Grand Prix on Sunday.
The German's success led Hamilton to draw comparisons with seven-time world champion Michael Schumacher, with the 2008 world champion admitting he did not watch races during the Schumacher era because of the predictability of the results.
But in the wake of those comments, Hamilton used the social network to describe Vettel as "funny and humble" and deserving of his success.
"Regardless of what you and I may think about his car, at the end of the day he's doing the perfect job," added 28-year-old Hamilton.
"I'm just grateful I get to drive in an era with so many great drivers like him."