Nico Hulkenberg: Lotus prepared to gamble on driver for 2014
Last updated on .From the section Formula 1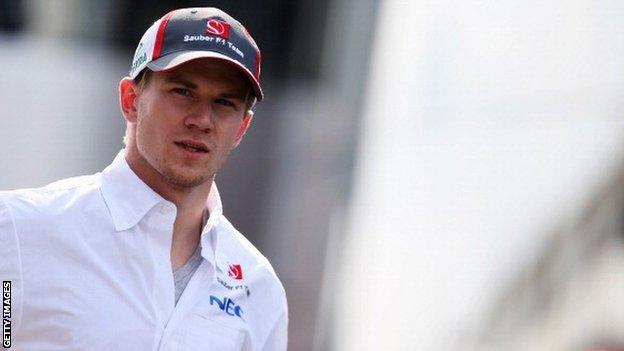 Lotus team principal Eric Boullier is considering signing German Nico Hulkenberg despite the introduction of a minimum weight rule next season.
There are concerns that taller drivers such as Hulkenberg could miss out.
McLaren have ruled out the Sauber driver, who weighs 74kg, for next year because heavier engines mean teams are struggling to meet the weight limit.
But Boullier said: "We know what he is capable of, which is why I have made clear he is a candidate for next year."
The minimum weight limit has been raised from 642kg for the driver and car together to 690kg for next year to take into account the fact that the engines will be heavier as a result of a switch to 1.6-litre turbos with extensive energy recovery from this season's 2.4-litre V8s.
But the engines are turning out to be heavier than anticipated, so having a taller - and therefore heavier - driver can put a team at a disadvantage because it means they are likely to be over the weight limit.
Standing at 184cm, Hulkenberg is one of the tallest and heaviest drivers on the grid which could put his team at a disadvantage.
Asked whether the 26-year-old's height and weight were a factor in his deliberations to find a replacement for Ferrari-bound Kimi Raikkonen, Boullier replied: "Yes, of course".
However, he added: "But just for the sake of a couple of kilos, let's say, you would prefer to gamble on a fast and talented driver than not.
"For me he is not overweight. He is at the limit, but not overweight."