Sebastian Vettel looks for 'special' win in Japan to secure world title

By Andrew Benson
Chief F1 writer
Last updated on .From the section Formula 1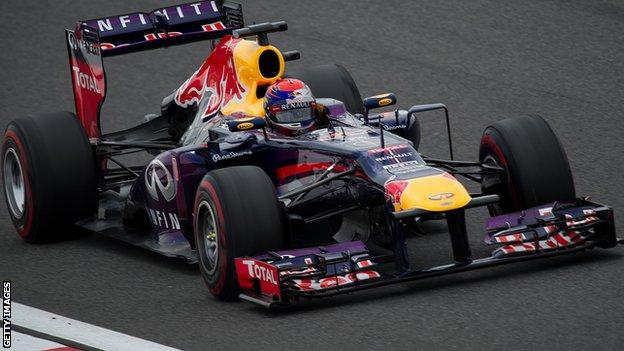 Sebastian Vettel says it does not matter where he finally clinches the title but admits it would be "special" to seal it in Japan on Sunday.
The Red Bull driver will claim his fourth world championship in a row if he wins at Suzuka with Ferrari's Fernando Alonso lower than eighth.
German Vettel said: "It would be special to do it here. It's a fantastic place, special track, crazy fans.
"But our target is to win the title, not to win it in a particular place."
Vettel heads into this weekend's race 77 points ahead of Alonso, with only 125 still available in the remaining five races.
Alonso admitted winning the title was "nearly impossible, so we try to enjoy ourselves [for the rest of the season]. We will attack in the remaining races".
The Spaniard added: "When you end your possibilities of winning the world championship, which is the goal for any season, it is more difficult to motivate yourself no doubt but first we are fighting to be second in the world championship.
"It is not a happy goal, but there are another 22 who are worse than you and there is the big target of [Ferrari finishing] second in the constructors' championship."
Alonso praised Vettel's performance over the last four years - in three of which he has been the German's main rival - but emphasised that a lot of it was down to a car advantage.
"He's been very good, close to perfection over the last few years, winning the championships," said Alonso.
"It's true he has enjoyed an advantage in car performance all these years, so we'll see how good he is later in his career.
"At the moment he's better than anyone and he's winning all the championships, but we saw also [Lewis] Hamilton very good in his first year and nearly won the championship, he won it in the second year and then never won again…
"Sometimes you have the car to win, sometimes you don't, but at the moment the Vettel/Red Bull combination is a very good combination and too good for us."
Mercedes driver Lewis Hamilton said after last weekend's Korean Grand Prix that Red Bull's domination of Formula 1 could turn fans off the sport, but Vettel said they have been less dominant than Michael Schumacher and Ferrari were when they won five consecutive titles in the early 2000s.
Vettel said he routinely won by only small margins such as "three and six seconds for the whole race. If you look at 10 years ago, it was more like 30 to 60 seconds, which is a big difference".
But in fact the German is having to drive within himself during the races - as are all drivers - to ensure they do not wear out their tyres too quickly.
Pirelli entered F1 in 2011 with a mandate to produce fast-wearing tyres that promoted more pit stops and more unpredictable races, but that approach is coming under increasing fire from the drivers.
"It is the new F1," Alonso said. "Unfortunately it is what we are getting used to.
"As I said in Korea, there are two metres (width of) racing line with marbles. We are getting used to this, this was not F1 four years ago. We cannot push (on) any lap of the grand prix, this was not F1 four years ago, but this is something that is the same for everybody. We cannot do anything."
He pointed to the dramatic failure of a front tyre on Sergio Perez's McLaren in Korea last weekend, and the changes to the design of the tyres Pirelli has had to make after a series of problems this year, as evidence that the tyres needed to be improved.
"It is a problem for Ferrari first of all to make the tyres last and try to push harder with every lap in the race," Alonso said.
"What is not our problem is when someone has a puncture, like [the multiple failures] in Silverstone, five changes in one year in construction and compounds, and like when Perez had a tyre explosion again because of lock-up on Sunday.
"If you have a tyre explosion after one lock-up after 20 laps there is something not going in the right direction, this is a fact. It is what we don't want to see for next year so we need to improve that."