Murray's Memories: 1990 French GP - Leyton House v Ferrari
Last updated on .From the section Formula 1
'Murray's Memories' are Murray Walker's personal recollections of some of the most dramatic moments in the history of F1. This time, he focuses on the 1990 French Grand Prix...
Neither of the races at the Buddh International Circuit have been especially inspiring - both have been copybook victories from Sebastian Vettel, leading from the front in his Red Bull.
So, for this weekend I have cast my mind back to a remarkable race in a classic season, a race in which the story behind the result was far more fascinating than the result itself - a win for Alain Prost in his Ferrari, of which there were five that year - would suggest.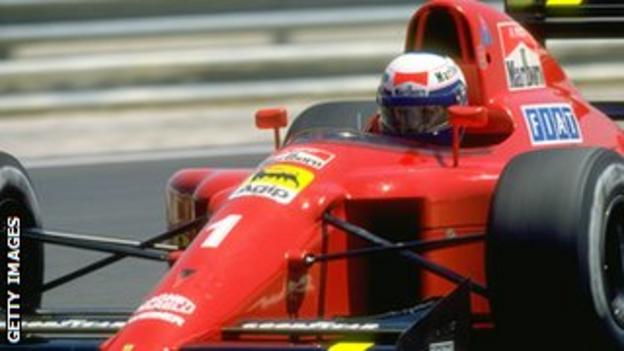 The history books will remember 1990 as the year of Ayrton Senna and Prost, McLaren and Ferrari, but at the French Grand Prix there was a major and unpredictable upset.
It was tyre-stressingly hot, hot, hot at the Paul Ricard circuit near Marseille, but there were no surprises for the first 27 of the 80 laps, with the McLarens of Gerhard Berger and Senna leading Nigel Mansell's Ferrari.
Prost, who had slipped a couple of places down the field from his fourth place on the grid, was the first to pit for new tyres with no problems, but the McLaren stops were disastrous. Nearly 13 seconds for Berger, more for Senna, and they slumped down the order.
Now, surprise, surprise, it was the two yet to stop, Japanese-sponsored, Judd-powered Leyton House cars of Italy's Ivan Capelli and Brazilian Mauricio Gugelmin in the lead, ahead of Prost.
So when would they come in to change tyres?
On and on they went, until it became clear that they were going through non-stop! So could Prost catch them?
The Frenchman fought his way past Gugelmin to second but the unfancied Capelli was driving out of his skin and stayed ahead - until just three laps from the end.
But Capelli still finished a superb second - a glory day for the tiny team and for the man who had designed the car.
That was a chap called Adrian Newey who, in one of the worst decisions in F1 team management history, had already been sacked, and was on his way to Williams.
There, he applied the methods he had used at low-budget Leyton House to the much greater resources of Williams to produce the classic FW14. And the rest is history. Rather like Leyton House, in fact, who disappeared from F1 under a cloud at the end of the season.