Japanese GP: Ross Brawn wants central Mercedes role

By Andrew Benson
Chief F1 writer
Last updated on .From the section Formula 1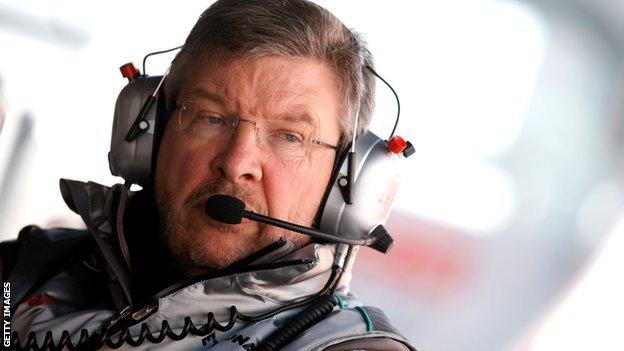 Ross Brawn says he is trying to ensure Mercedes have a role for him in 2014 that will keep him "motivated".
Brawn, 58, has been team principal since Mercedes bought his eponymous team at the end of 2009 but the company is discussing a re-organisation at the top.
"We all want to get the situation clear as to how we are going to go into next year. I want to make sure I'm fulfilling a role I'm motivated by and want to do," he said.
Mercedes believe a single 'team principal' is an outdated concept in modern F1.
"There's a lot of discussion going on," added Brawn. "We have quite a heavy senior management team at the moment and we have to understand what we're all going to be doing.
"Any successful F1 team has to have a senior reference, and that's the big question, we need to make sure if I'm to remain here that I'm the reference. It's a very exciting year next year."
In January, the company recruited former McLaren technical director Paddy Lowe, who started work as executive director (technical) in June.
Initially, the plan was for Lowe to replace Brawn but the strategy shifted and Mercedes say they now want Brawn to stay on, but in a role they have yet to define.
However, the original idea behind Lowe's recruitment remains in place. That was to have him running the sporting and technical sides of the team and executive director (business) Toto Wolff in charge of the financial and political side.
Uncertainty about Brawn's position has led to speculation about his leaving the team, with reports in Germany linking him to a role at either McLaren or Honda, which will be McLaren's engine partner from 2015.
But Brawn - who was speaking to BBC Sport - said he was "not talking to McLaren or Honda".
He added: "We have quite a lot of ingredients to fit into the same pot and that's the difficulty so we're talking and discussing.
"The team's in a great position. We've started the car early so I think the team will be in a very strong position but I just want to make sure that I'm fulfilling a role that I'm motivated by and want to do."
Brawn is one of the most highly regarded engineers in F1, having masterminded Michael Schumacher's seven world titles with Benetton and Ferrari and Jenson Button's with Brawn in 2009.
BBC Sport understands he will not go to McLaren and that he would be reluctant to return to Honda because he was frustrated by a number of aspects of working for the Japanese company when he ran its F1 team in 2007-8 before it quit the sport.
Speculation linking Brawn to Williams is also understood to be wide of the mark.