Lewis Hamilton column: Savouring the Suzuka experience
Last updated on .From the section Formula 1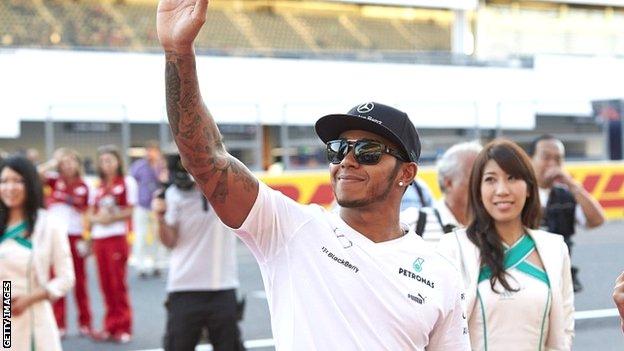 I went to Tokyo after the Korean Grand Prix to prepare for this weekend's race in Japan, which is one of the best of the year.
I trained for a couple of days, made sure I had good food, had a wander around and enjoyed the culture, and then headed down to Suzuka. It's always a trip you make with excitement and anticipation.
Suzuka is one of the older-school circuits. I remember watching Ayrton Senna racing here when I was growing up, so it has a historical resonance for me and it's cool that I'm doing the same now.
For the drivers it is such a challenging circuit. It's unique in that it is the only figure-of-eight layout in the calendar, and it has such a good combination of corners.
It is balanced left to right, in that the tyres wear equally on both sides of the car, which helps, and it is very fast from the get-go on the lap.
You have to have a very good and high-downforce package and a very stiff set-up, so the car reacts quickly and feels more alive.
The track has loads of undulations - up out of Turn Two to Turn Seven, then back down into the double left-hander called Spoon, then up again to 130R, which is a cool corner at nearly 200mph.
That's super-fast, obviously, but we have a lot of downforce in Formula 1, so we probably don't notice it as much as you would think.
The first sector is my favourite: the left-right-left-right-left through the Esses and into Dunlop is so challenging.
The entry into the first left is at more than 150mph and you have to be so accurate with your turn-in point.
If you get that wrong, you miss the apex - the mid-point of the corner we try to hit - and because the corners all follow on one from the other that screws you up for the next corner and the next one and the next one. It all starts from the first turn-in point for Turn Three. It's a real neat section of corners.
You learn a lot from the different drivers you race with. My old team-mate Jenson Button had a different technique from me through there when we were at McLaren.
I would use my aggressive style and he would have a slightly different approach and I am going to adapt some of the approach he had and combine it with my own style this year to try to make my overall performance better.
But it's not just the track that makes Suzuka special. The whole ambience of the Japanese Grand Prix is great - and a lot of that is down to the fans.
They are so enthusiastic - thousands of people were sitting in the grandstand opposite the pits even on Thursday, when nothing was happening. It's great to see.
The fans were allowed out on the circuit on Thursday and I know some of the other drivers met them when they were doing their track walk - when you do a lap on foot with your engineer.
I don't do them any more. I used to, all the way through Formula Three, GP2 and my first four years in F1. Then it got to a point when I wasn't gaining anything from it.
The point of a track walk is to see anything new about the track that might be useful, but we do an 'out lap' at the start of first practice, and you take it real easy, so you see everything you need to see then.
So the only real benefit of a track walk is it is a period of time you can talk with your engineer, but you can do that in the office in the paddock in a much more relaxed environment, and you're not all sweaty.
Hoping to upset Red Bull
I'm optimistic that my Mercedes team could have a good weekend in Japan.
We were very quick in the middle sector in Korea last weekend, and that is the part of that track which is all medium- and high-speed flowing corners, a bit like Suzuka.
In the past few years, the first sector has been the one where Red Bull have beaten everyone, just because they have more outright downforce than anyone else.
This week, I was watching one of Sebastian Vettel's on-board laps from a year or so ago and it was fascinating. His line was interesting, to say the least, in the Esses - certainly not the one I would have chosen - and he was still so rapid through that sector.
It's critical to have a real steady ride-height through there. So if we can be quick there on Friday we should be set for the weekend. We need to be competing with Red Bull through there, and I'm hopeful that will be the case after Korea.
I haven't been able to win since Hungary and that's simply because Red Bull have done such a good job with their car.
We won in Hungary, but we were on pole there and that makes it so much easier to win.
People don't realise that the driver behind can be affected by the disturbed - or 'dirty' - air coming off the car in front even if they're as much as four seconds behind.
We won Hungary on merit, but not because we were the quickest. We were in the right place at the right time, and Sebastian was stuck in traffic for a lot of the race.
Since then, there is no doubt Red Bull have done a great job with their aerodynamic package.
Sebastian was on the front row with me in Spa - and passed me on the first lap because the car was so much quicker - and he has been on pole in Italy, Singapore and Korea.
That's what made the difference.
I had high tyre wear in Korea but we've figured out why I was causing that to happen and hopefully we can take the fight to Red Bull this weekend.
Just finally, I wanted to say a big thank you for the responses I got to the last column. The fans don't realise how much they mean to me and it's really good to have that support.