Martin Whitmarsh says sport 'must never stop pursuing safety'

By Andrew Benson
Chief F1 writer
Last updated on .From the section Formula 1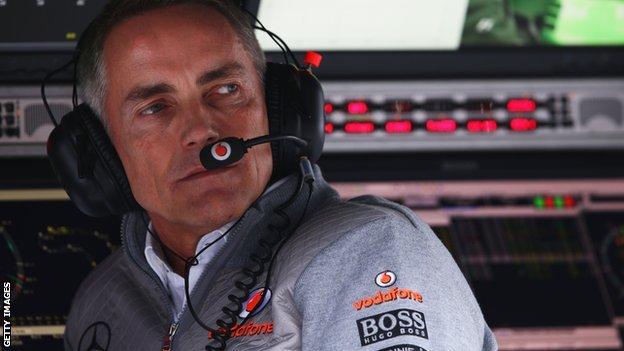 McLaren boss Martin Whitmarsh says Maria De Villota's death is a reminder that Formula 1 must never stop pursuing improvements in the sport's safety.
Whitmarsh said: "It's easy to become complacent and then something happens that brings us back to earth.
"These are extraordinarily brave people who do things most of us would be terrified doing."
Whitmarsh is the president of the Formula 1 Teams' Association (Fota), which represents seven of the 11 teams.
He added: "F1 is an inherently dangerous sport, whatever your gender, quality or speed. I've been around when drivers haven't returned to the garage and I know how shocking that it is.
"An F1 car is very powerful, very quick and things can go from good to bad and ugly very quickly in a racing situation, or even testing and practice. I've been around a few incidents in my career and you don't forget them."
Whitmarsh said safety had been improved enormously since Ayrton Senna became the sport's last fatality at the 1994 San Marino Grand Prix, "but you can never do enough".
He pointed to the accident in which Scot Dario Franchitti broke his spine in an IndyCar race last Sunday as evidence that F1 can always do more. Franchitti has been released from hospital and is expected to make a full recovery.
Whitmarsh pointed out that IndyCar had introduced an energy-absorbing seat structure since Englishman Dan Wheldon was killed in a high-speed accident in 2011.
"We have a lot of peripheral energy absorption which has been developed a lot in F1," Whitmarsh said.
"We have a lot of anti-penetration resistance built into the cars, a lot of protection around the heads post-94.
"But I was only reading a little about the Franchitti accident last week and realising they have some energy absorption around the seat. That's something we currently don't have in F1 and it may be something we need to do in due course.
"All of these changes [typically] cost the teams a lot of money to design these things in the most competitive way.
"But my own experience is that I have always been gratified by the seriousness with which the engineers or management of F1 teams have accepted that [while] it will cost money [it] is in the interests of the sport.
"We have come a long way but we have to keep going every year to make this sport safer than it is."
He said the sport would discuss the most appropriate way to mark De Villota's death during the Japanese Grand Prix weekend.
"We will be talking amongst ourselves," he said. "You have to be careful; a lot of racers don't want these issues to detract from a race weekend.
"Everyone wants to demonstrate the right level of sympathy but the real racers would want the show to go on and wouldn't want a fuss to be made.
"It's not something we need to amplify, it's something we've got to be sensitive about."