Japanese GP: McLaren poach Red Bull's Peter Prodromou
Last updated on .From the section Formula 1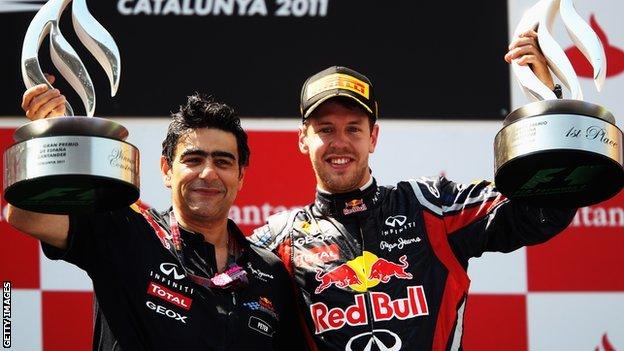 McLaren have poached a key member of the team behind Red Bull's domination of Formula 1.
Red Bull's head of aerodynamics Peter Prodromou, a leading lieutenant of legendary designer Adrian Newey, will return to McLaren in time for 2015.
McLaren managing director Jonathan Neale confirmed they had re-signed Prodromou, who worked for McLaren from 2000-5.
Red Bull boss Christian Horner said Prodromou would stay "for some time".
Neale said: "It is for Red Bull to talk about his leave dates, but yes, we have recruited Peter. We're really excited about him joining the team. It's not a one-off we're doing.
"There are other things we're doing to strengthen our team. It's a series of moves as we head to 2015 with Honda to make sure this team stays at the forefront of F1 and is set for winning ways."
A Red Bull spokeswoman added: "Peter Prodromou has worked with Red Bull Racing for a long time, he's a valuable member of the team and there's some considerable time remaining on his current contract with us.
"We would be very happy to continue working with him in the future, He's part of a very strong technical team, led by Adrian Newey."
Newey, who was at McLaren from 1997-2005, made Prodromou one of his key initial signings after joining Red Bull from McLaren at the end of 2005 and he is understood to be under contract until the end of 2014.
The two have worked closely together since to turn Red Bull into a dominant force that has won three consecutive drivers' and constructors' title doubles, and are on the verge of a fourth, largely thanks to the best aerodynamics in the pit lane.
The job title that will be given to Prodromou is not yet known, but he is likely to be effectively leading the design on the team's F1 cars from 2015.
Prodromou is the "headline-grabbing signing" of which McLaren team principal Martin Whitmarsh spoke at the Korean Grand Prix last weekend.
Whitmarsh said: "We've been recruiting in the technical team, strengthening that quite a lot. There have been quite a few new starters already, there are some as yet unannounced that will be headline-grabbing when they get announced.
"So there are things going on. We have to look to ourselves as a team from the top of our management to our technical team to make sure we return to winning ways as soon as possible."
The recruitment will have been expensive - Red Bull are very protective of their leading players - and it underlines McLaren's determination to return to competitiveness in time for the start of their engine partnership with Japanese giant Honda in 2015.
It will also do them no harm in their attempt to tempt Fernando Alonso to join them from Ferrari.
The team are continuing their efforts to lure Alonso, first revealed by BBC Sport, and if they cannot get him for next season are determined to continue to press for him to sign for 2015.
Alonso has said he will see out his Ferrari contract, which runs to the end of 2016, and would like to extend it.
Prodromou was a man in demand. Williams were also keen on signing him but had to end their chase because of the cost involved.