Japanese GP: Red Bull's strategic thinking helps Sebastian Vettel

By Andrew Benson
Chief F1 writer
Last updated on .From the section Formula 1635
He had to work for this one, but even then Sebastian Vettel's victory in the Japanese Grand Prix had an air of inevitability about it. Just like his victory in the World Championship, for which he will have to wait a little longer following Fernando Alonso's fourth place in Suzuka.
Vettel had to settle for leaving his favourite track on Sunday with another win - his fifth in a row and ninth overall this season, and his fourth in five years at arguably the most demanding track on the F1 schedule.
The German will not be unhappy with that. For his team-mate, though, it may be another matter.
Mark Webber was the lead Red Bull driver for the first 25 laps of the race, as he and Vettel circulated behind the Lotus of Romain Grosjean, which had beaten them away at the start from third on the grid.
Their drivers unable to pass Grosjean on the track, the Red Bull strategists in the pits and back at base in Milton Keynes were scheming, trying to work out a way to win the race. In the cars, so were the drivers.
Vettel knew from very early on he would do a long middle stint and push for victory after his second and final stop.
Webber expected to stay on a two-stop strategy and try to 'undercut' Grosjean at his second pit stop - come in earlier, and use the pace of the new tyres to make up enough time to be ahead when your rival emerges from his own pit stop.
But Red Bull had other ideas for the Australian. After telling Webber following his first pit stop that he was still on a two-stop, they then changed their minds and told him he would switch to a three-stop.
Webber questioned the move, realising that he would not only come out behind Grosjean after his third stop but also become vulnerable to being beaten by Vettel, but was told it would be fine.
It wasn't.
With Webber out of the way, Vettel was able to close up on Grosjean, leaving Lotus in a dilemma. At that point they had to pit Grosjean as early as they dared or risk Vettel undercutting them.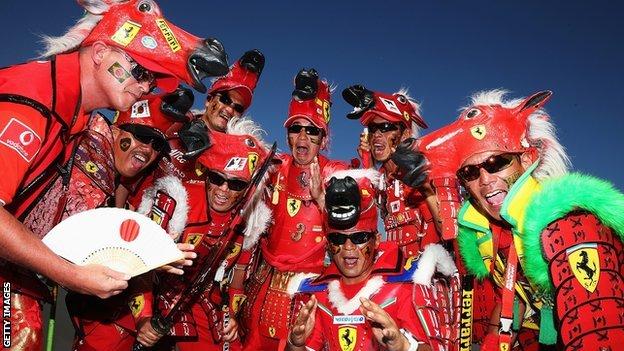 When they did, Vettel put the hammer down for eight laps before his own second pit stop, from which he emerged only two seconds behind the Lotus. Within two laps he was on his tail, then immediately past and gone.
Two laps later, Webber came in for his final stop, and came out 4.2 seconds behind Grosjean. It took him one more lap than Vettel to catch Grosjean, and another seven to get past, by which time it was the penultimate lap of the race and any hope of victory was gone.
You would struggle to find a place in the world more full of cynics than the F1 paddock, and inevitably - given the past history, given Red Bull's desire to close off the title as soon as possible - there were those who questioned the motives behind their strategy.
Did they switch Webber to a three-stop as a convenient way of getting him out of Vettel's way and giving the German a shot at Grosjean? Or were they - as team boss Christian Horner said - effectively forced into a three-stop for Webber by his early first stop, which Horner said was because his tyres were worn out?
And if that was the case, why did Webber say he was told on the radio after his first stop that he was still on a two-stop strategy?
Yes, had Webber passed Grosjean quickly after his final stop, he would have had a shot at Vettel on theoretically faster tyres. But wasn't it convenient that the strategies chosen guaranteed Vettel would be the lead Red Bull in those closing laps and not Webber?
The debate will rage on.
Webber chose his words carefully after the race, but clearly had his doubts about what had happened, too.
If Red Bull did favour Vettel, it would surprise no-one. As a leading figure from a rival team said: "They wanted that guy to win, and they went about it in a very professional manner. Anyone worth their salt would have done the same."
Whatever the truth, it should not detract from another excellent performance by Vettel.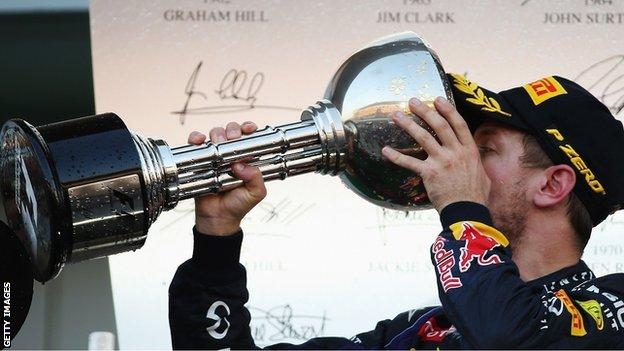 He measured his pace carefully when stuck behind Grosjean and Webber so as to be able to unleash the unmatched performance of his car when in free air and make the strategy work. When he did, his pace was devastating. And when he needed to overtake Grosjean quickly, that's exactly what he did.
It was the performance of a champion, which is what he will again become, almost certainly in India the weekend after next.
To keep the title alive any longer than that, Alonso must score 16 points more than Vettel at the Buddh International Circuit. Which means the Spaniard must win with Vettel lower than fifth, or be second with Vettel out of the race.
India has only hosted two grands prix; Vettel has won both at a canter.
Alonso has not won since the Spanish Grand Prix on 12 May, and Ferrari's form is on the slide. Vettel has retired only once all year - and he has not finished a race lower than fourth.
"It's not over until it's over," Vettel said on Sunday in Japan. Which is true. But not as true as Alonso's verdict: "It's a matter of time."