Gary Anderson: Red Bull keep Vettel on track but Ferrari at sea

By Gary Anderson
BBC F1 technical analyst
Last updated on .From the section Formula 1
Sebastian Vettel scored another impressive victory in the Japanese Grand Prix to make retaining his world title even more of a sure thing than it was before, but all the questions after the race were about Red Bull's strategy.
Vettel won after Red Bull switched his team-mate Mark Webber, who was ahead of him for the first half of the race, to do an extra stop. And you have to question why they did that.
The team said they were forced to put Webber on a three-stop because he made a relatively early first pit stop to change tyres on lap 11. The early stop, they said, was because he had "run out of tyres", as Red Bull team principal Christian Horner put it.
But in my view Webber was not really struggling performance-wise at that point.
OK, he had lost 0.4 seconds to leader Romain Grosjean's Lotus on lap 10, but his lap time was basically the same as he had done on lap eight, which does not suggest his tyres had gone.
Once Webber had pitted, Lotus decided to pit Grosjean too, to make sure he was not 'undercut' by Webber - this is where a driver loses a place because a rival behind who pits for fresh tyres before him makes up enough time to be ahead when the guy in front makes his stop.
That meant Vettel had a clear track ahead of him and could wait until lap 15 before stopping, which was the foundation for being able to go until lap 37 before making his second stop - which was what made his race.
The problem for Webber was that he only did 14 laps on his next set of tyres. Red Bull committed to a three-stop strategy before they had explored how far that second set of tyres would go. Webber could have run competitively quite a few laps longer than that.
Teams went into the race thinking it would probably be a two-stop but might be a three-stop, which was slightly slower on paper.
Red Bull had two cars at the front and I believe they tried to cover themselves in case the tyres did go off.
It's unfortunate - and unusual - that they picked to do the worst strategy with the lead car. That's strange because normally the lead car gets the priority - if there's a better choice, the lead car would get it.
The way the strategies worked out, had Webber been able to pass Grosjean quickly, he would have had a chance to chase Vettel down.
But that was always going to be hard because by the time Webber was right on the Lotus's tail on lap 46, Vettel was six seconds in front and there were only seven laps to go.
Also, by that time Webber's tyres had been used for four laps in the race and had lost their edge and I'm sure Vettel had kept a little in hand to enable him to retaliate if necessary.
Webber caught Grosjean at exactly the wrong point - at Turn One - so had to follow him for a whole lap and then he couldn't get it done in the DRS zone. And by the time you've followed someone for two laps around Suzuka, your tyres are overheating and you become a passenger.
Webber needed to pass Grosjean within a lap or it was all over for him and that's the way it turned out.
The drive of a champion
Whatever the ins and outs of the strategy, Vettel's performance was what you expect of a soon-to-be four-time world champion.
He drives the car well, he does the job he needs to, he doesn't make mistakes, he's on the limit all the time. We almost have to stop talking about Vettel and Red Bull because if he doesn't win, he's done a lesser job than he should.
With a bit of help from his team, he got past the two cars in front of him and won the race. Throughout his career he has proved he is able to win from behind or from the front.
Grosjean's resurrection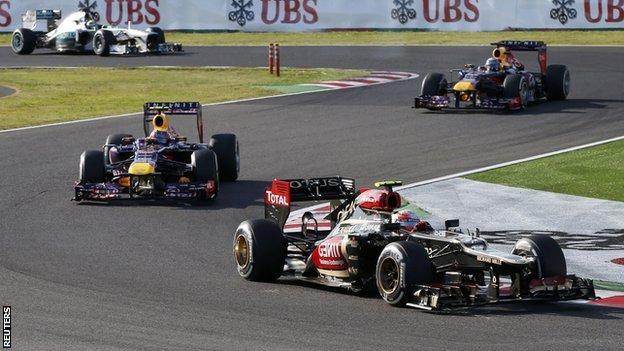 A year ago, Romain Grosjean's Formula 1 career had reached rock bottom. He crashed into Webber on the first lap in Japan 2012 and that was just the latest in a long line of similar incidents.
For a long time, he was the bad boy of F1 and it looked like he might not recover from that.
He had a very shaky start to this season too. But after a very bad weekend in Monaco he has been getting better and better, and since Kimi Raikkonen's move to Ferrari next year was announced in September, Grosjean has grown in stature from being Raikkonen's number two to Lotus's number one.
He knows he has got to do the job and, boy, is he doing it. He's saying to the team they don't need a new lead driver - he's their man.
He's like a whole different guy from a year ago. Japan on Sunday was an impeccable drive by Grosjean in a car that is not as quick as the Red Bulls.
What the race showed, once Grosjean had made a great start and passed both Red Bulls for the lead, was that it is not easy to pass in F1.
We usually see the Red Bulls out front and people wonder why others can't race with them. But when the Red Bulls were following the Lotus at the start, they couldn't get past either, and it was only a different strategy that did it for them.
That's why getting the car to be quick in qualifying is so critical - and why Vettel has been unbeatable since Red Bull took a step forward over the summer break and he has been able to qualify at the front all the time, rather than behind at least one Mercedes.
Ferrari all at sea
That brings us on to Ferrari, whose races are consistently hampered by poor qualifying results.
I really don't know what's going on at that team.
On Saturday morning in Japan, Fernando Alonso sat in his garage for the first 25 minutes of final practice - nearly half the session - while all his rivals were out on track pounding around doing their homework.
The wind direction had changed 180 degrees overnight, and all the drivers said it had completely changed their cars. Lewis Hamilton said it was "like a different race track".
There was lots of stuff Ferrari could have learnt then. OK, they could argue they will have good tyres when they do go out. But that's artificial. Then they are comparing themselves against people on older tyres and who have set times earlier in the session.
In F1, it's vital to compare yourself with people doing things at the same time as you.
If I ran Ferrari and was paying Alonso however many millions of euros a year he is getting, the last thing he would be doing would be sitting in the garage for half of the last session before qualifying when you know you are lacking pace.
Ferrari do that every single race weekend and I would have to question whether they have any structural management.
That is Alonso's biggest problem. When he doesn't see any structural management, he starts to be the manager, and having a driver do that is the worst place a team can be.
I talk to a lot of people and some of the stuff I have heard about Ferrari and how that team functions is absurd for an outfit of that standing. Something has to change there pretty soon if they are to be the team we all think they should be.
More questions on Mercedes
Nico Rosberg finished the Japanese Grand Prix 70 seconds behind the winner and lost, let's say, 20 seconds with his drive-through penalty. So he lost 50 seconds to Vettel over the race, which is about a second a lap.
Mercedes had to tell Rosberg to save fuel towards the end.
If you are going to win a grand prix, you have to fuel the car to do the race distance flat out so that if for whatever reason you end up in the lead, you are able to do those laps.
It's easy to calculate how much fuel that will take - everyone has last year's race time, and knows the difference in performance from last year to this.
If you put in less fuel than you need, you're beaten before you start.
All the teams under-fuel to a degree, but it's about judging that right, and it looks to me like Mercedes went too far in Japan.