Paul Di Resta: 'No guarantees' over Force India driver's F1 future

By Andrew Benson
Chief F1 writer
Last updated on .From the section Formula 1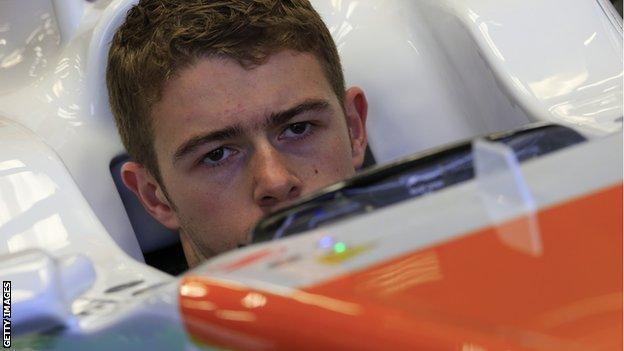 Paul Di Resta's manager admits the Scot faces an uncertain future in Formula 1.
The 27-year-old's Force India team have an option on him for 2014 but there are no guarantees they will retain him.
Richard Goddard, who represents Di Resta, is concerned the team could opt for a driver who brings sponsorship and leave his client without a drive.
"It's difficult to know what will happen. There are a lot of drivers in the sport with money and a lot of teams that need money," Goddard said.
"That is probably the biggest issue, that it is not just outright talent that gets you a seat in the car any more.
"But Force India have always been very fair in that they have tended to put outright talent in the car and they haven't looked to a driver to bring in income, which is great.
"That's because they are well funded by a couple of individuals and corporations who are able to do that - and hopefully they will carry on doing that.
"Some other teams are looking for drivers to bring in income. Unfortunately, Paul doesn't have a government-backed scheme or a rich billionaire standing behind him."
Di Resta's future may not, though, be determined by a so-called 'pay-driver'.
Force India are one of the teams in negotiations with the highly-rated Sauber driver Nico Hulkenberg, who was Di Resta's team-mate in 2012.
BBC F1 chief analyst Eddie Jordan said at the Japanese Grand Prix last weekend that he was "fairly sure" Hulkenberg would race for Force India next year.
"I believe, in my opinion, it is certain," Jordan said, adding: "My reputation rests on it."
Some sources say that if Hulkenberg does re-sign for Force India, the team would drop Di Resta and keep their other driver Adrian Sutil, even though he and Hulkenberg are both German.
Hulkenberg, though, is also in the frame at Lotus. Sources close to Lotus say they intend to sign him but are trying to sort out a partnership with a US-Middle Eastern investment consortium called Quantum Motorsports before concluding the contract.
The proposed deal with Quantum has been dragging on since the summer, when the group were called Infinity Racing, before changing their name to Quantum to avoid confusion with a sponsor of word champions Red Bull, the Nissan luxury car brand Infiniti.
Di Resta's cause has not been helped by an abject run of form in the second half of the season, which is partly due to the team's loss of pace following a change in the construction of the Pirelli tyres.
He scored points in seven of the first eight races this year but the team have earned just three points - all won by Sutil - since the tyres were changed.
Goddard said: "It is a tricky situation. We're still under option - we haven't been told we're not going to be signed.
"But if the option lapses and doesn't get taken up, then it is a case of waiting to see if Force India come back to us.
"It's difficult to determine because this last half of the season he [Di Resta] has been adversely affected by the tyres.
"He hasn't produced the results he would want to produce, but overall it is the team under-delivering on what it should have delivered."