Paul Di Resta 'on the minds' of top teams, says Eddie Jordan
Last updated on .From the section Formula 1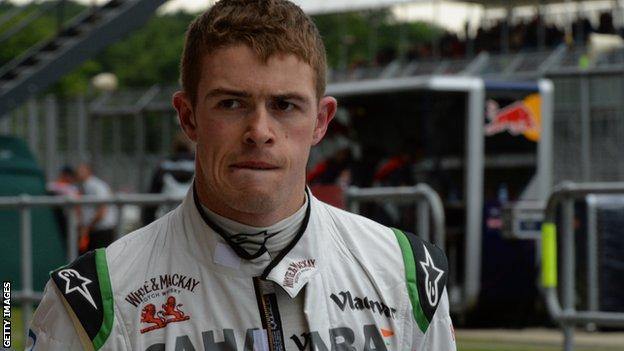 Former Formula 1 team boss Eddie Jordan is confident Paul Di Resta will have a seat for the 2014 season.
"He's on the minds and lips of lots of the team bosses, right up to the highest level," said Jordan of the 27-year-old Force India driver.
"I remember interviewing [Ferrari president] Luca Di Montezemolo and of the three or four drivers that he mentioned, Paul was one of them."
Force India have an option on Di Resta for 2014 but there are no guarantees they will retain him.
His cause has not been helped by an abject run of form in the second half of the season, which is partly due to the team's loss of pace following a change in the construction of the Pirelli tyres.
Jordan, who founded the Jordan Grand Prix team in 1991 and managed it until 2005, reckons the driver from West Lothian has too much ability to be discarded completely.
"What he has in abundance is speed - he then has talent," Jordan told BBC Radio Scotland.
"He's having a particularly torrid time at the moment but that doesn't mean he's lost his talent or his speed. There are other teams. We must not forget about the opportunity that Paul has."
Force India are one of the teams in negotiations with the highly rated Sauber driver Nico Hulkenberg, who was Di Resta's team-mate in 2012.
Some sources say that if Hulkenberg does re-sign for Force India, the team would drop Di Resta and keep their other driver Adrian Sutil, like Hulkenberg a German.
But Jordan is not convinced two countrymen in the same team would work, so hopes Di Resta can remain with Force India.
"I'd stay where I am if I was him," added Jordan, now the BBC's F1 chief analyst.
"It's not always a barrel of laughs in there but he can use it as a diving board into much bigger and greater things.
"It would be fantastic if Paul had some fairly significant commercial backer who would use that backing to support him in making sure he got the seat, wherever that might be , whether it was at Ferrari or at McLaren, because I knew there was possibility there.
"We don't know what's happening to [McLaren's Sergio] Perez. It doesn't look good for him there. So that's a wild possibility I suppose."