Indian Grand Prix - 'fast, flowing and challenging'
Last updated on .From the section Formula 1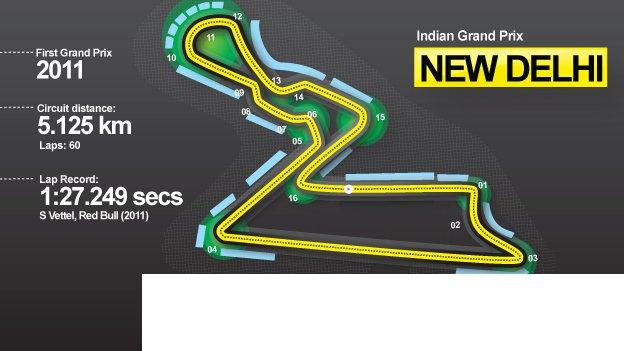 After winning the previous five races in 2013 and the only two previous Indian Grands Prix, you wouldn't bet against Sebastian Vettel sealing his fourth consecutive world title in New Delhi this weekend.
But that does not mean the race cannot be one to be savoured, as many of the drivers relish the chance to compete at the Buddh International Circuit.
The track
Another from the portfolio of circuit architect Hermann Tilke, the track features two long straights and a wide range of corner types, including an uphill corner heading straight into Turn 11, forming one of the most exciting parts of the circuit which is overlooked by a grandstand with a capacity of 13,000.
The 1.2km back straight, where a speed of 200mph can be achieved, provides the best chance for overtaking, though clever driving means opportunities could also open up into Turn Three and Turn 16.
The track also has changes in elevation and off-camber corners that make it a challenging combination for the team's engineers.
The venue
Located in Greater Noida, the Buddh International Circuit is around 40km away from the Indian capital city of New Delhi.
It is situated in the Jaypee Sports City complex, which also houses one of the largest golf courses in Asia, while a state-of-the-art 40,000 capacity cricket stadium is scheduled for completion next year, with capacity eventually increasing to 100,000.
Famous faces from Bollywood and Indian sport have been a fixture of the last two years, adding glitz and glamour to the race weekend, while curious locals and racing fans have ensured attendances have been good.
This year, however, sales have been slow. Around 65,000 tickets were put on sale in August, with less than one third sold by early October. But, with the prospect of seeing Vettel crowned 2013 champion, coupled with the race's uncertain future after its exclusion from the 2014 F1 calendar, there could well be an uptake in ticket sales.
What the drivers say...
Red Bull driver Sebastian Vettel: "It is not an easy track, because of a few complicated rhythm-breakers that are in there. The most difficult part is the uphill entry to Turn 3, because seeing the apex is practically impossible. So to drive a perfect lap around the Buddh circuit, you need a good driving instinct.
Lotus driver Kimi Raikkonen: "The Buddh International Circuit is quite an interesting track; one of the better ones from the modern circuits. It's quite similar to Korea; long straights, not terribly challenging corners and hard braking. It's not as technical as Korea which was another new track for me last year, but it's good."
McLaren driver Jenson Button: "This is such a great race track - it's fast, flowing and challenging. It's pretty technical too, which is quite unusual for a fast circuit, but the flow from one corner to the next means that positioning the car is quite critical if you don't want to fall out of the rhythm and lose time."
Force India driver Paul Di Resta: "I think the layout is one of the best from the new generation of tracks. Sector one stands out because it's where you can really challenge - it's got long straights and big braking zones and can make for some exciting battles.
The highlights
2011 Red Bull's Sebastian Vettel became the inaugural winner of the Indian Grand Prix as he led from start to finish.
It was a straightforward victory for the German, with McLaren's Jenson Button climbing up from fourth to second before fending off the challenge of Vettel's team-mate Mark Webber.