Indian Grand Prix: BBC F1 analyst Gary Anderson's guide

By Gary Anderson
BBC F1 technical analyst
Last updated on .From the section Formula 1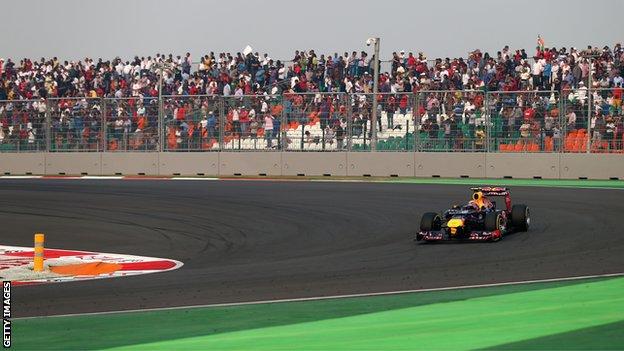 The Buddh International Circuit that hosts the Indian Grand Prix this weekend has some really good, fast sweeping corners and is a good test of both car and driver.
Primarily, the car needs to have a good aerodynamic balance as a lot of the corners lead into one another - such as the combinations at Eight and Nine, 13 and 14 and particularly through 10, 11 and 12.
It's a reasonably high-speed track but braking stability is vital into Turns One, Three, Four and 16 are all about getting the car stopped and turned in.
Because of that, the track requires a real compromise set-up.
It is not possible to have a forward aerodynamic balance, as would be the tendency on a circuit with predominately slow corners, as this would make the car very nervous in the fast corners.
One of the most interesting parts of the track is the complex at Turns Five, Six and Seven.
Turn Five is a left-hander with a fast entry - just over 130mph - but as soon as the driver is into it, he has to slow down for a second left-hander, which is less than 100mph, and immediately after that there is the quick right-hand kink at Turn Seven.
A good car really shows up there.
The driver needs good rear-end stability for braking and turning into Turn Six and then he needs to get on the accelerator as quickly as possible to accelerate towards the 130mph right-left kink at Turns Eight and Nine and then the long, long double apex right-hander at Turns 10 and 11.
Turns 10 and 11 are effectively one corner and it's quite unusual in modern F1. It has an element of banking to it but it then drops away on the exit, which is always going to make the rear unstable.
But the layout actually helps the drivers a little there. They come through Turns 10 and 11, holding, holding, holding the car into the corner and it's very easy to lose the rear on the exit kerb. But because Turn 12 is a left-hand kink, it sort of catches the car for you, because that's the direction you're turning next anyway.
Good for drivers; not so good for racing
With good corner combinations like that, it's no surprise the drivers all like it, but unfortunately that does not mean it will produce a great race. It certainly has not yet.
Quite often, the tracks the drivers like are not so good for racing because they lean towards the faster, more demanding corners, rather than stop-and-go corners.
So in India, while Turn 10-11-12 is immensely satisfying to drive around, there is no way a driver could think about overtaking anyone through there.
Turn One looks like it should be a decent overtaking spot at the end of the pit straight, but it's deceptively fast, and then the curve to the track in Turn Two means you'd have to be very brave to try to get inside someone at Turn Three.
There's then a long, long straight down to Turn Four, which is the best overtaking opportunity on the track.
After that, the lap is fast and flowing, which makes it very difficult to follow someone closely, so drivers are often a fair bit behind when they arrive back at the section where they might have a chance of overtaking.
The track was made nice and wide and open to try to encourage overtaking, but actually that works against it.
That's because the extra width means the drivers can always carry good corner speed without worrying too much about things going wrong. They don't have to play safe and worry about going off the track because there is plenty of room to get back onto the track if they do go off.
By contrast, on some of the tracks where the drivers have to be a bit more wary of what can go wrong, they have to slow down much more, which leaves room for somebody brave to have a dive up the inside.
Hard to see past Vettel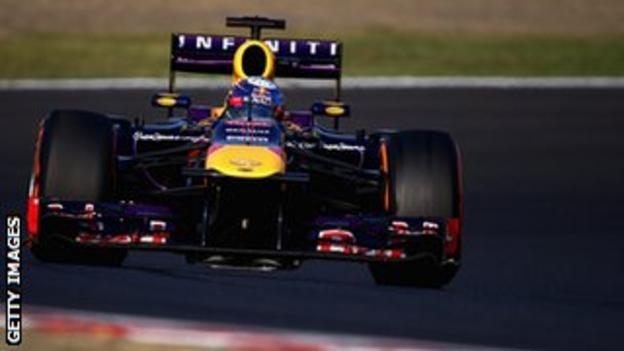 Sebastian Vettel has won both Indian Grands Prix so far in dominant fashion and it's hard to see anyone stopping him doing the same again this year.
The need for braking stability, good corner entry, change of direction, traction and strong aerodynamics all play to the all-round strengths of the Red Bull.
Having said that, Mercedes and Lotus will be knocking on the door. They are not far away and if they get it right and Red Bull trip up for whatever reason, there will be an opportunity for someone else to win.